London's Commute Recovery Polarised Across Home Counties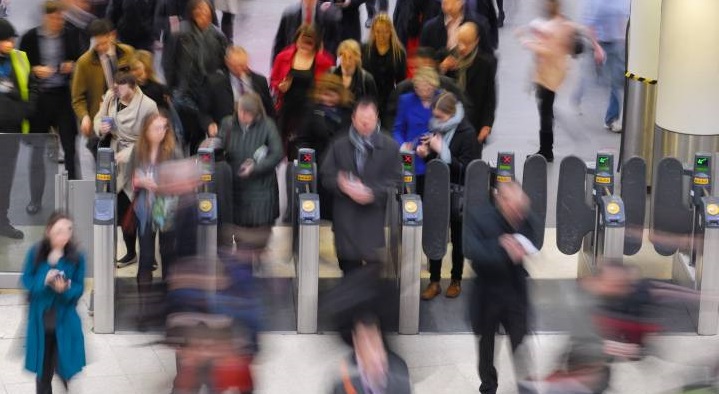 Can we expect a rush back to the office as UK restrictions lift on July 19th? In recent weeks Huq has studied the return of the commute through a range of lenses. We have observed the shape of the London rush hour and shown how that has changed. We have carried out a related study showing how workers now favour different days in the office too.
Today's analysis shows how enthusiasm for the office is polarised across London's commuter belt. Further, we find that the contrasts are particularly stark within counties that comprise it. Counties with towns showing most enthusiasm for prior work patterns are also home to those showing the least.
A polarising issue
We measured the number of Home Counties town residents traveling daily into the City. The daily value is compared to the 2020 pre-pandemic mean (Jan-Mar) and based at 100. Across the board, commuting levels stand at 52.6pts – that's 50% of previous levels. Towns across Berkshire show the least recovery, at 27.4pts. East Sussex shows the most at 69.5pts. That's a spread in opinion of over 40%.
Home Counties divided
Within the counties that make up London's commuter belt there are stark differences. A pattern has emerged. Counties with towns showing the greatest appetite are also home to those with the least. The chart below shows clear evidence of this polarisation.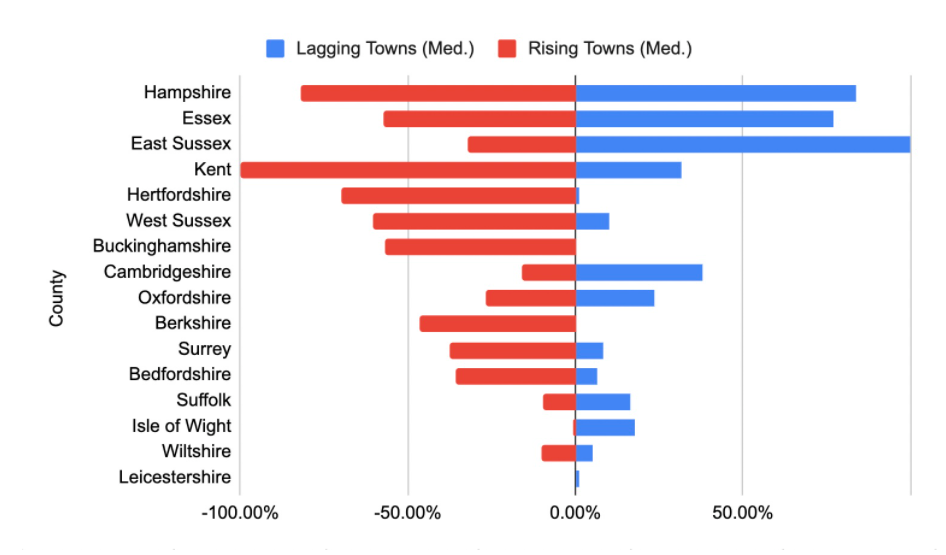 Hampshire for example paints a picture of extremes. It is home to towns like Andover where commuting stands at only 13.9pts versus Tadley at 73.4pts. Halstead, in Essex, is 20% above pre-pandemic levels at 120pts. Saffron Walden by contrast is at just 33.9pts. At the other end of the spectrum is Wiltshire – home to Swindon, Amesbury and Salisbury – where the spread is 15.3%. Towns in Suffolk also show a modest spread of 26.1%.
Environmental factors at play
What are the themes that underpin this trend? Counties that feel polarisation the the most lie in closest to London. Their location and choice of communications reflect their history as commuter areas. It follows that changes are most pronounced as the starting levels were highest. And the commuter economy of the Capital is most determined by the choices of their residents.
Across the Home Counties, certain towns show greatest apathy for central London working. These include Andover (13.9pts), Farnborough (17.6pts), Shefford (18.2pts) and Goldalming at 20.7pts. Canvey Island (129.5pts), Uckfield (109.8pts) and Romsey (102.8pts) are among the fully recovered.
Among other factors, the two groups are delineated by income. This suggests that career-stage and home-working comfort may determine the trajectory of recovery. It may also define the demographic make-up of London's commuter market. That is significant for The City's restaurants and retail as the demands of that market take hold.
To learn more about the data behind this article and what Huq has to offer, visit https://huq.io/.