July 4th 2021: Spending Patterns and Surprises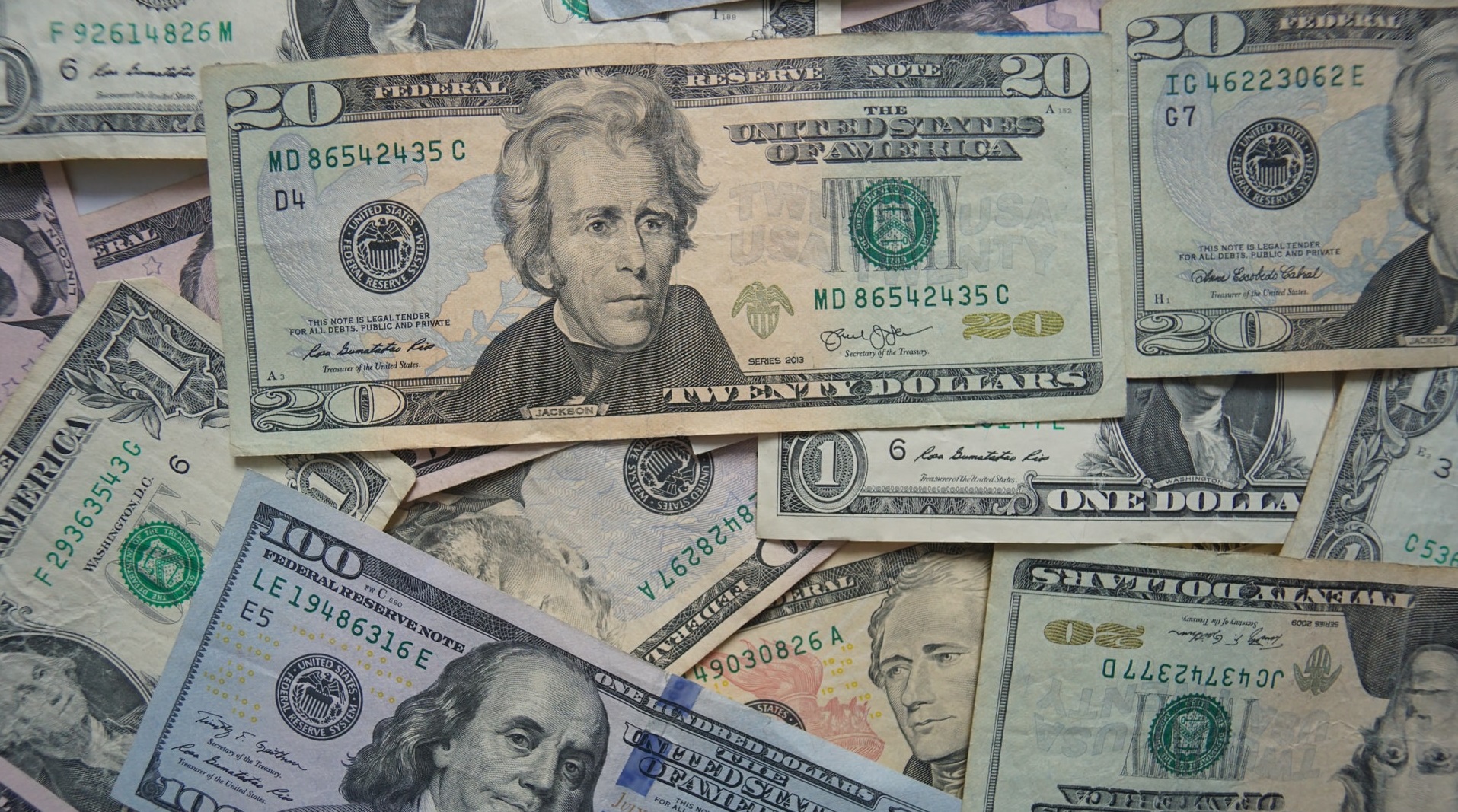 The period around the July 4th holiday is typically regarded as one of the biggest summer sales times for retailers, both in terms of traditional Independence Day celebration supplies and other summer products going on sale, and even the early signs of back-to-school spending. This year's July 4th promised particularly high sales, both because of the holiday's weekend timing and pent-up demand as the country reopens. Using granular inventory statistics from Target brick-and-mortar stores, we analyze which products and categories did particularly well, how the holiday's sales compared to Memorial Day, the other major summer holiday, and what inventory accumulation means for future sales patterns.
First, we look at a couple product categories expected to be in high demand on both Memorial Day and Independence Day — sunscreen, beer, condiments, and rolls/buns for hamburgers and hot dogs. While the two food categories see modest sales share spikes on and leading up to both holidays, those increases pale in comparison to that of beer. Beer's share of sales was roughly double the previous few months' average around Memorial Day and even higher around Independence Day. Finally, while one might expect sunscreen sales to spike around these beach and outdoorsy holidays, in actuality sunscreen's sales share has remained relatively constant since late May, after roughly doubling throughout May. In fact, while sunscreen sales were still slightly higher than beer sales around Memorial Day, July 4th weekend was the first time since the beginning of May that beer sales surpassed sunscreen sales.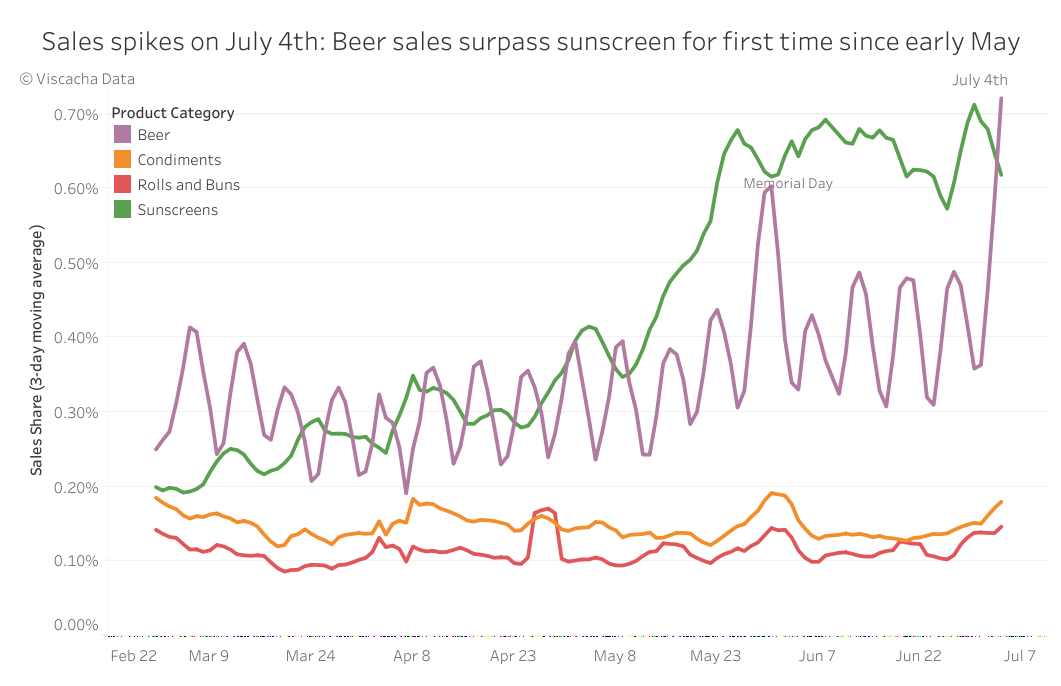 Next, we dive into specific bestseller SKUs for burgers, a major holiday staple. Shown here are two of the most popular beef burger products at Target, the top-selling plant-based imitation burger products from Gardein, Impossible, and Beyond, and the top-selling veggie burger from Morningstar Farms. Beyond, Impossible, and the two beef burger products all saw sales spikes around both Memorial Day and Independence Day, with the July 4th sales up to almost 30 percent higher than Memorial Day sales. While Gardein burgers didn't spike on Memorial Day, their sales steadily rose in the two weeks leading up to July 4th, so much so that they surpassed the Morningstar product which had almost double Gardein's sales throughout May. Evidently, shoppers find veggie burgers a lot less appealing than plant-based burgers attempting to more closely imitate meat for these barbecuing holidays, even for products that at other times are more competitive with imitation meat.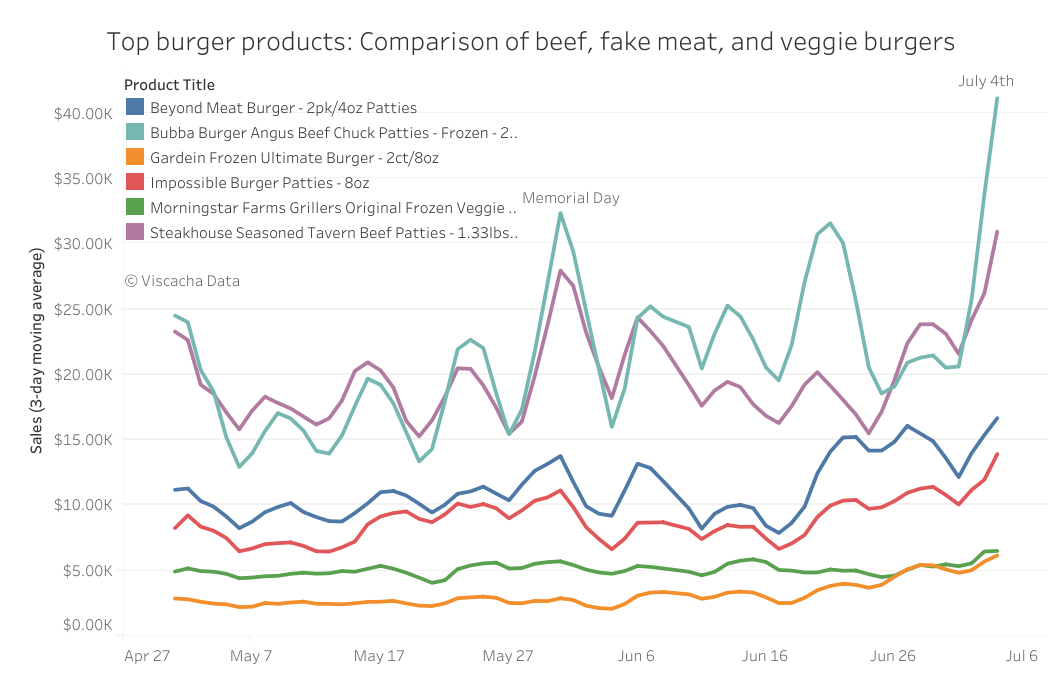 In an effort to distinguish July 4th weekend sales spikes from more general summer trends, we look at how average daily sales on July 1st through 4th compare with average June sales by category. A number of the categories with the highest July vs. June difference are unsurprising given traditional Independence Day staples, such as snacks, lawn supplies, alcohol and decorations. However, based on the number of furniture categories that make the list, consumers were clearly taking advantage of July 4th promotions on pricey items like mattresses, furniture and appliances at least as much as they were focused on holiday-specific products.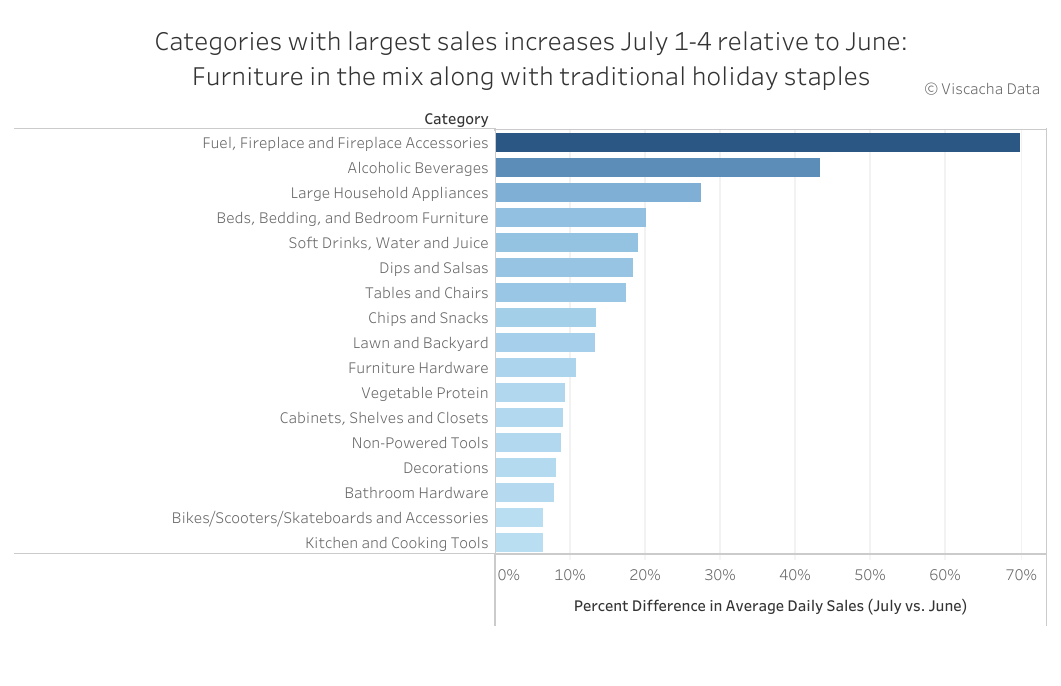 Finally, although it's still a bit early to see actual school supply spending ramp up, historical patterns suggest we're not far off and that back-to-school season starts up almost right after July 4th week. After a year filled with remote learning, parents and students are probably more excited than ever to buy school supplies, so one would expect retailers like Target to be preparing for a large wave of spending. Inventory accumulation patterns reveal just that: While inventory levels at Target storewide were in a drawdown period, school supply inventory has been steadily increasing since the beginning of June with particularly significant accumulations over the last two weeks. In the one week leading up to July 4th, inventory of school supplies increased nearly 25 percent. Although sales of these products haven't quite picked up yet, the stock-up suggests retailers are anticipating significant spending on the heels of the holiday.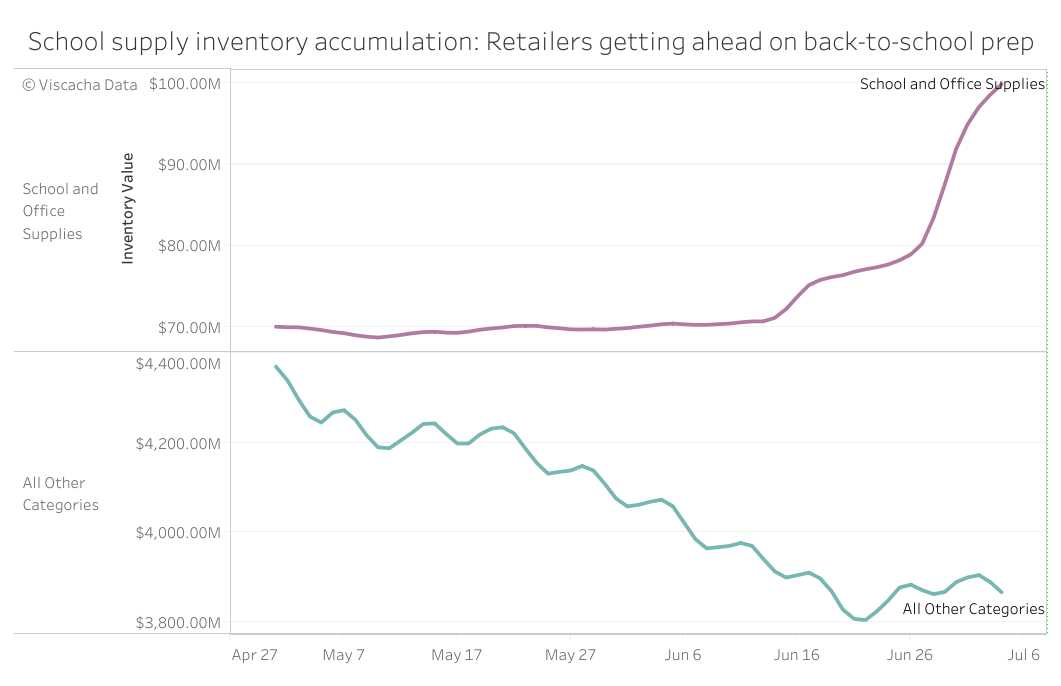 To learn more about the data behind this article and what Viscacha Data has to offer, please reach out to at loften@viscachadata.com.