Amazon vs. Walmart: The Race to the Top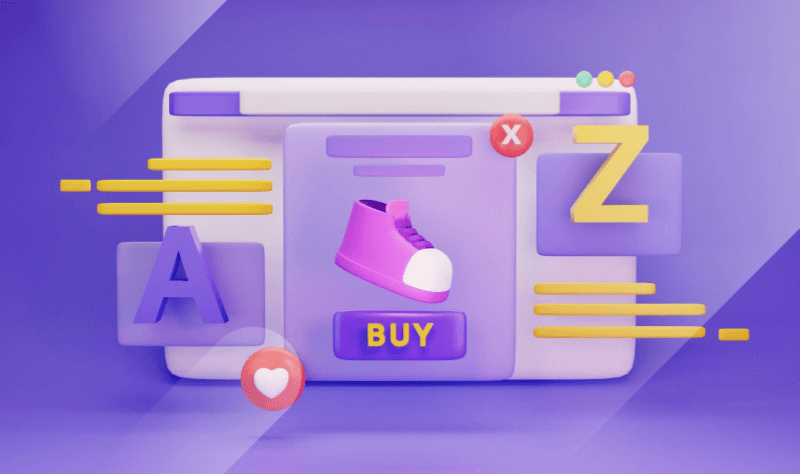 Amazon vs. Walmart: Key takeaways
The two retailers are going head to head with one another in the eCommerce markets.
Amazon and Walmart share one of the top five affiliate networks, signaling that they are both competing over the same market share.
Walmart is slowly starting to gain on Amazon's top website traffic – and the U.S. market in particular.
Walmart and Amazon, the largest retailers in the world, brought in nearly $1 trillion combined revenue last year. Though Walmart's $559 billion edged out Amazon's $386 billion, the retailers are neck-and-neck. Who will win in the battle of Amazon vs. Walmart?
To analyze this nail-biting race and determine which retailer may be the best fit for your brand, we'll dig into the history, strategies, and digital performance of Amazon and Walmart, pulling in insights from Research Intelligence, one of our eCommerce tools for online sellers and brands. Let's see how the battle plays out.
A brief history of the two online retailers
Walmart
Sam Walton opened the first Walmart in 1962 in order to offer shoppers low prices and great service. Proving that his formula was a success, the company went public in 1970 after generating more than $12 billion in sales.
More recently, Walmart made moves to grow its online retail business — walmart.com — and fend off Amazon, which was attracting its customers online. Walmart acquired its eCommerce platform jet.com in 2016 for $3.3 billion, which jump-started its competitive advantage in the eCommerce space.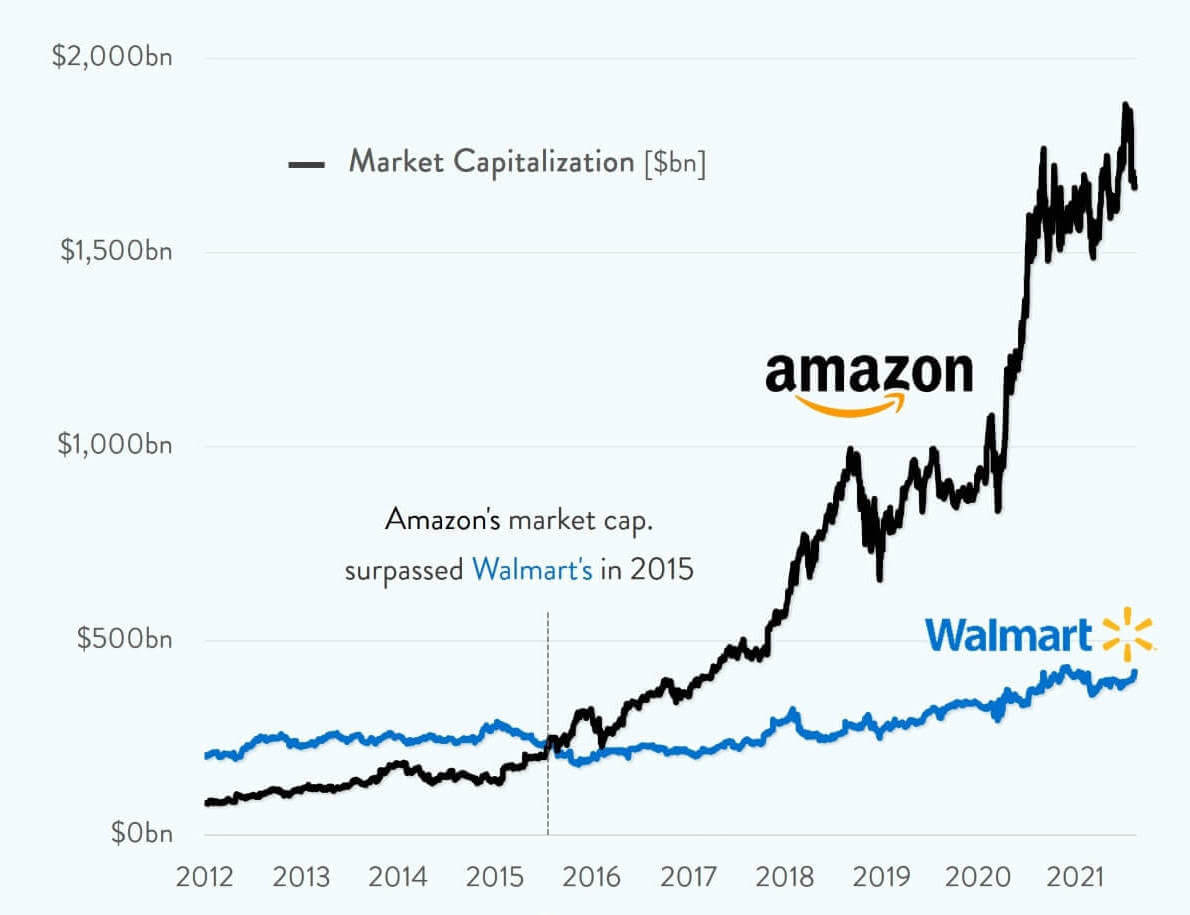 Amazon
Unlike Walmart, which started as a brick-and-mortar store, Amazon launched fully online with its website, amazon.com. Jeff Bezos founded Amazon as an online retailer specializing in books in 1994.
However, Bezos always envisioned Amazon as becoming a one-stop-shop for everything. Reflecting this, Amazon has a history of continual expansion. Recent acquisitions include MGM movie studio this year, a small online pharmacy by the name of PillPack, and Whole Foods.
Amazon also opened Amazon Fresh, a brick-and-mortar grocery store across the U.S. in an opposite trajectory as Walmart which expanded online after starting with physical stores.
Digital growth
Notably, Amazon gets significantly more visitors through direct traffic than Walmart worldwide. Amazon generated 57.9% of its desktop traffic (5.7 billion) through direct channels vs. Walmart's 46.8% (465 million). Organic search traffic tells a different story, with Walmart taking the lead. Almost 32% of Walmart's visitors come to the site through organic traffic vs. nearly 25% for Amazon.

Comparing traffic to the two sites over the past six months, we see that amazon.com generated close to six times the amount of traffic than walmart.com. Amazon.com visitors also visited four more pages on average in contrast with walmart.com counterparts.
Where does the traffic come from?
Both eCommerce marketplaces receive a majority of their traffic from the U.S. Although Walmart has started to encroach on Amazon's traffic from most of the top countries in the last six months, it is most significant in splitting traffic share from the U.S.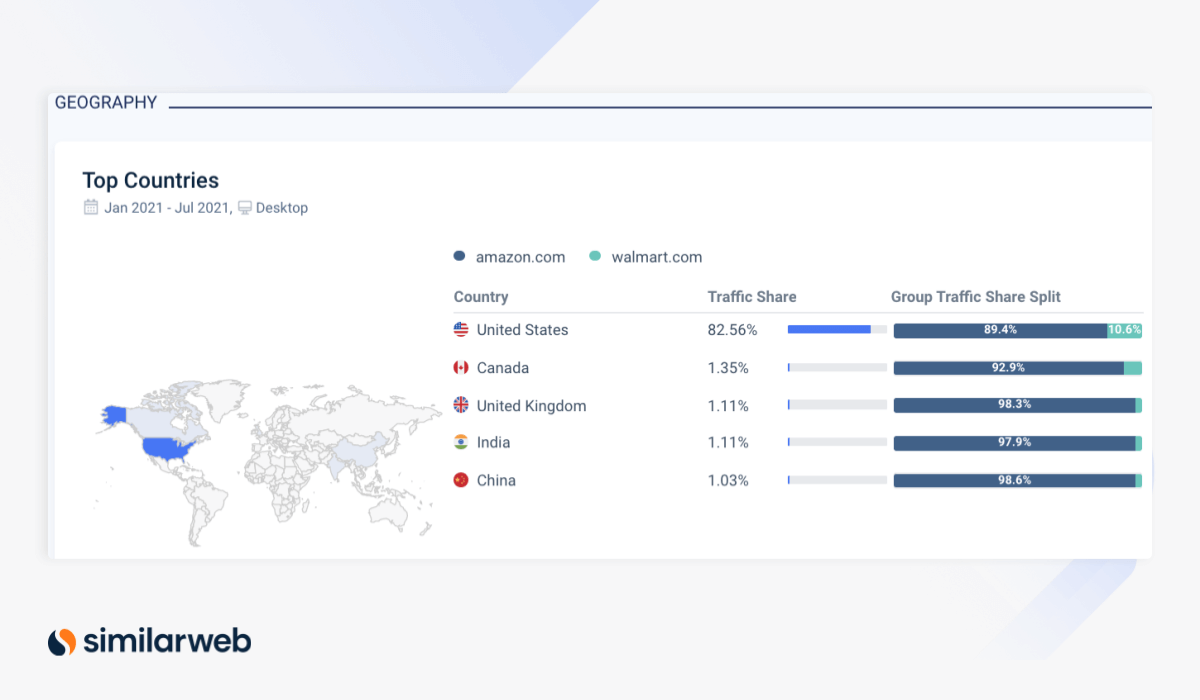 Over the past year, there is heavy overlap with Walmart and Amazon's unique visitors in the U.S.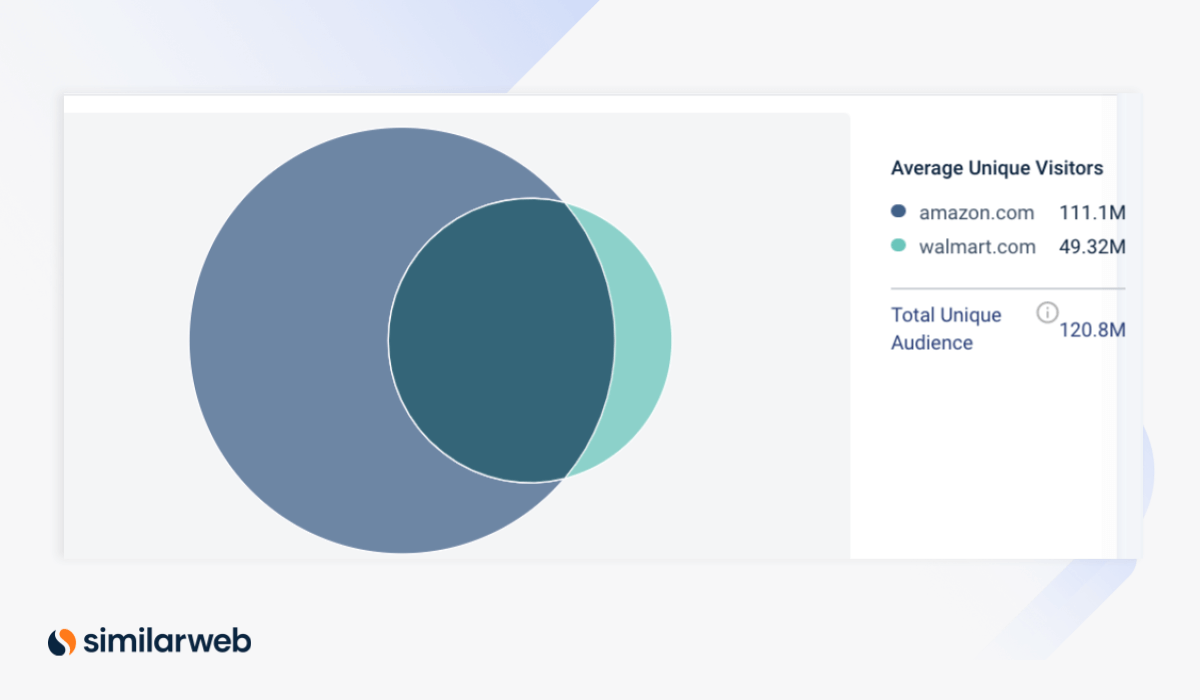 1. Desktop vs. paid search
Although Amazon spends far more than Walmart on SEM, PPC, and paid search marketing in absolute terms, paid search accounts for 12.1% of Walmart traffic, but only 3.1% of Amazon's traffic. In other words, Walmart is more reliant on this channel to drive visitors to their site. is spending significantly more of its resources to protect its brand.
2. Referral traffic
Overall, Amazon focuses more of its marketing spend on affiliate marketing traffic sources: Referrals make up 6.5% of Amazon's total traffic vs. 3.1% of Walmart's.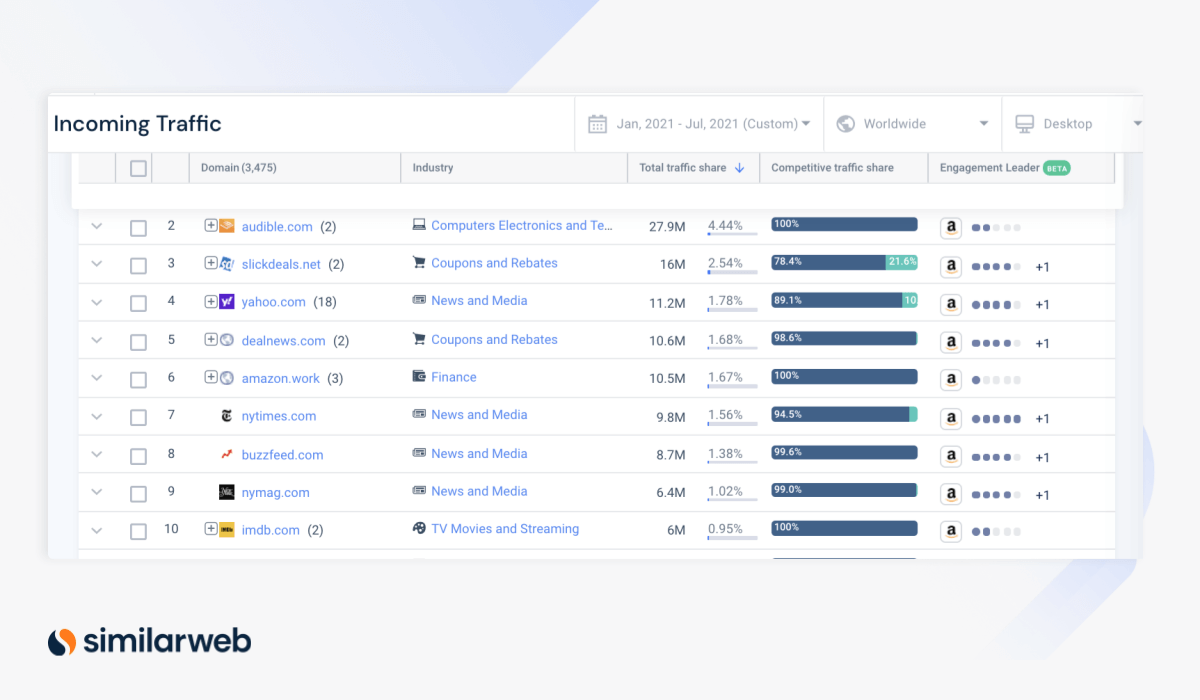 Both platforms have slickdeals.net as one of their top affiliate sites. Amazon captures 78% of its traffic from slickdeals.com in the last six months compared to Walmart, which receives almost 22% referral traffic share of its referral traffic from the site. This again shows that both platforms are vying for the same market share.
Marketplaces: Selling on Walmart vs. Amazon
Both Amazon and Walmart have their own online marketplaces with differences in registration, price, and reach for sellers. While Amazon hosts 1.9 million active sellers on its marketplace, a far larger audience than Walmart, Walmarts' marketplace is steadily increasing – it now counts more than 100,000 – up 50% from the same time last year.
Another important difference for sellers getting started is that the Walmart store requires application and approval to start selling. Amazon sellers simply open an account to get started.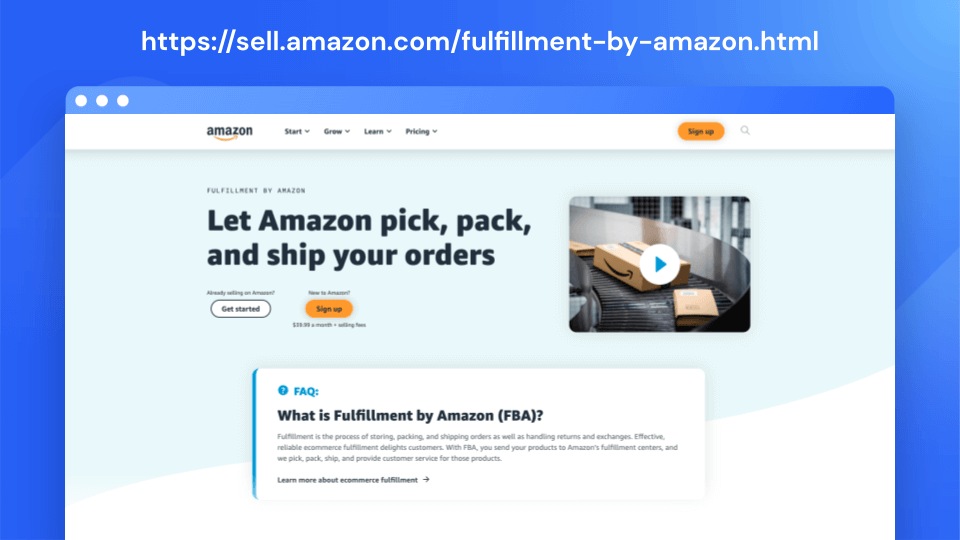 1. Account fees
Amazon sellers have two options when opening an account – individual or professional. Individual accounts are limited to 40 listings while professional accounts are unlimited but have a monthly subscription of $39.99. Individual account members also pay $0.99 per item sold. There are also referral fees that average between 8% to 15% depending on the item category. Fulfillment fees are charged according to the category, size, and weight.
Walmart, on the other hand, has no monthly subscription fee to sell on its platform. Referral fees range from 6% to 15% depending on the item category. Fulfillment fees are charged according to weight and size.
2. Product listings
Optimizing your listings is crucial regardless of which platform you are using to increase the chance of customers discovering and purchasing your items. Advanced listing options, or A+ content, help you do this by allowing you the option to include product descriptions with images, logos, infographics, and module layouts.
Amazon only offers advanced listing options to branded buyers, however, while Walmart offers this feature to any seller using WFS.
3. Shipping and fulfillment
Amazon started its shipping and fulfillment services in 2006, which have become extensive and established.
Its Fulfillment by Amazon (FBA) program includes 100 active fulfillment centers in the U.S. and 195 around the world. Participating sellers have the option to store products, pack and ship them in addition to dealing with returns and customer service. Sellers using this option can more easily scale but it can be pricey depending on the item weight, size, packaging, and category. An option for free two-day shipping is available for Amazon Prime members.
Right before the onset of the pandemic (February 2020), Walmart launched Fulfillment by Walmart (WFS), to further up the ante to compete with Amazon on the eCommerce front.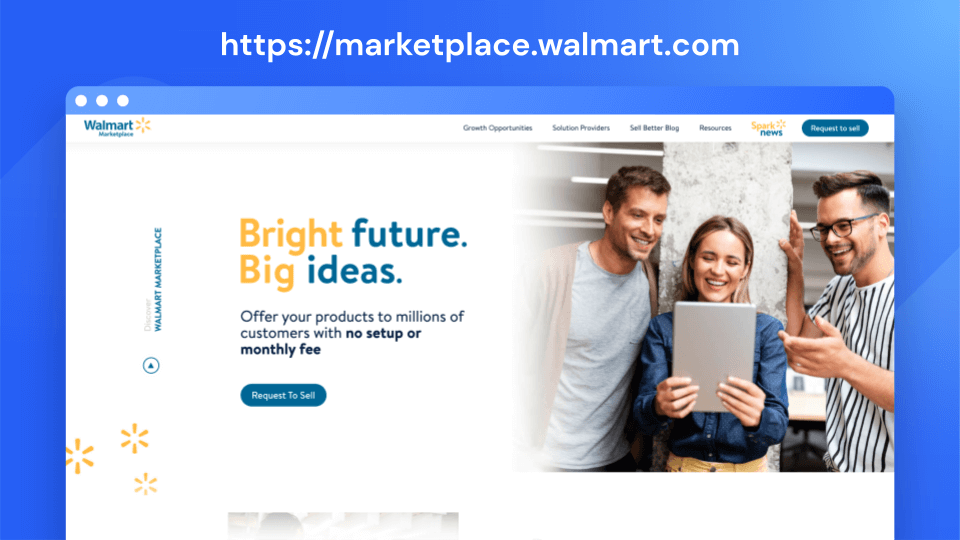 Walmart offers free two-day shipping to all sellers for millions of items that are orders of over $35. For items that don't qualify, three to four-day shipping is available. Similar to FBA, storage and fulfillment fees may be applicable as well.
Although Walmart's fulfillment centers are limited to the U.S. currently, it announced plans to scale these centers in the near future, signaling a continued investment in eCommerce.
4. Special features and offers
Both eCommerce platforms offer sellers a number of special features and offers. While Amazon's are more advanced, not only is Walmart quickly catching up, with its fulfillment option, but, also with more features, as we see below.
Amazon's special features
Amazon Buy Box: A coveted prime real estate that allows customers to easily discover items and quickly add a product to their online shopping cart.
Amazon Subscribe & Save: Lets you offer customers discounts in return for regular shipments of items.
Amazon Product Bundles: Bundles you to offer several items together in a package for a lower price than what consumers would spend to purchase them individually.
Amazon Inventory Management: This feature lets sellers process and store products and deliver items to customers quickly and efficiently.
Amazon Revenue Calculator: Helps you decide whether or not to use FBA by taking into account the different fees involved.
Walmart's special features
Walmart's Buy Box is similar to Amazon's. You can win it by offering the best pricing for that item.
Walmart also has a Subscribe and Save subscription service similar to Amazon.
Walmart has an option to bundle items called Inflex Kits.
Walmarts' Listing Quality Dashboard helps you optimize your listings.
Walmart has a tool called Item 4.0 Spec that helps you increase product discoverability.
The marketplace for customers
Both retail giants place a premium on the customer experience with loyalty programs, special offers, and next-day delivery services.
Amazon vs. Walmart loyalty programs
Amazon offers its 147 million Amazon Prime members in the U.S. free, next-day delivery. This includes two-hour grocery delivery as well as daily essentials. Membership is $119 per year.
Walmart has a similar (and slightly cheaper) loyalty program, Walmart+. It costs $98 per year and includes perks such as unlimited free, next-day delivery, access to Walmart's Scan & Go app for contactless purchases, and fuel discounts.
Annual shopping events
Amazon's Prime Day is a special annual event exclusively for Prime members. It focuses on Amazon's digital devices but also includes other electronics.
Walmart has a Deals for Days sale that runs simultaneously and lasts for longer than Amazon's Prime Day.
Final thoughts
Amazon is still by far the leader in the massive eCommerce landscape, while Walmart remains the top grocery retailer in the U.S. Walmart's acquisitions, loyalty programs, delivery options, and marketplace tools for sellers and customers demonstrate that it is building a long-term strategy to compete with the #1 retail website head-on.
At the same time, Amazon has a similar strategy to take on Walmart's top place in the grocery retail market. For example, its recent acquisition of Whole Foods Market strengthened its position in the online grocery space. Only the future will tell how successful each retail giant is in penetrating new markets.
To learn more about the data behind this article and what Similarweb has to offer, visit https://www.similarweb.com/.