Top Crypto Websites: Who's Winning Online and Why?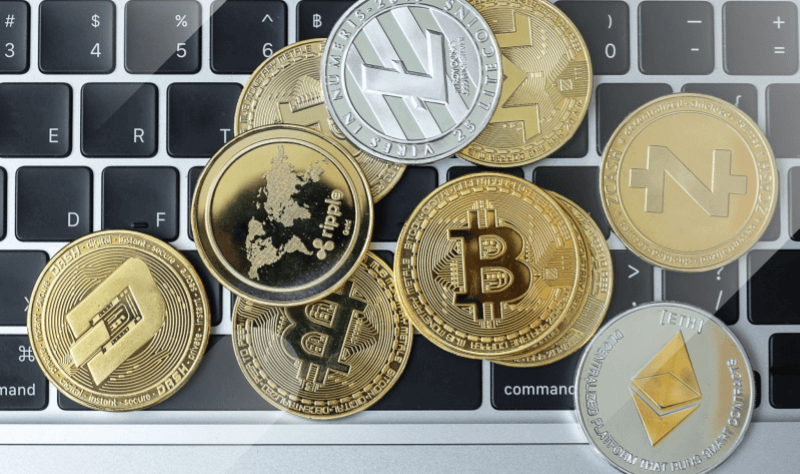 The cryptocurrency market has been one of the more disruptive elements of the finance industry since it sprung to stardom in 2017. Where once cryptocurrencies seemed like a figment of the future, they're now a household name.
As key currencies rise and fall and the pundits have their say, the question is: How does the buzz surrounding cryptocurrencies translate into customer behavior online?
Using Similarweb Digital Research Intelligence, we ranked the top 10 crypto websites by traffic share and trending fan favorites, considering both user engagement and monthly visits.
Crypto industry overview
In August 2021 there were 969.5 million total visits to the top 60 crypto websites worldwide. That's a whopping 200% increase from the year before. Despite a slight dip in traffic this summer, visits to top crypto sites have been consistently growing.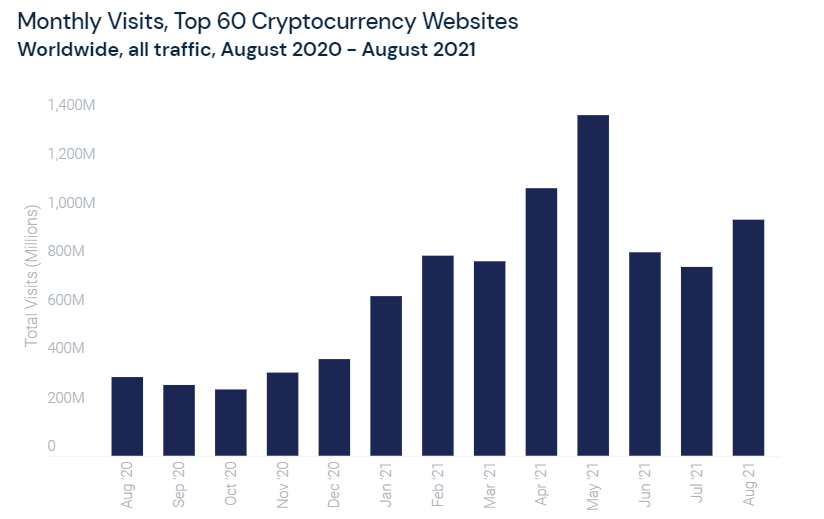 A more historical view of the industry reveals that over the last 24 months, the crypto world has seen particularly explosive growth, peaking in May 2021 with 2 billion monthly visits.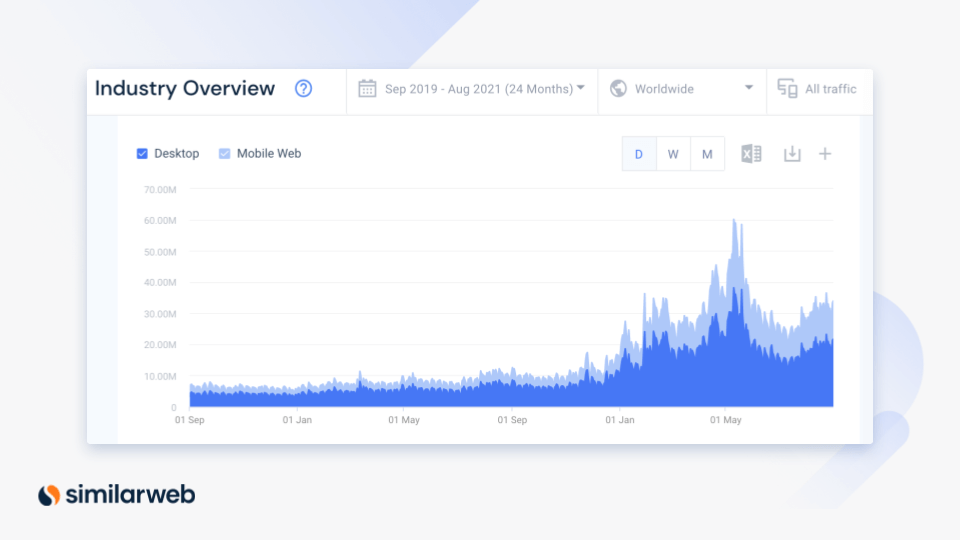 Top 10 crypto websites
We examined data from 60 of the leading top cryptocurrency exchanges and websites worldwide, by traffic share. We also analyzed monthly visits and engagement rates to give you a better idea of where the industry stands.
See below for the top 10 most visited crypto sites as of August 2021.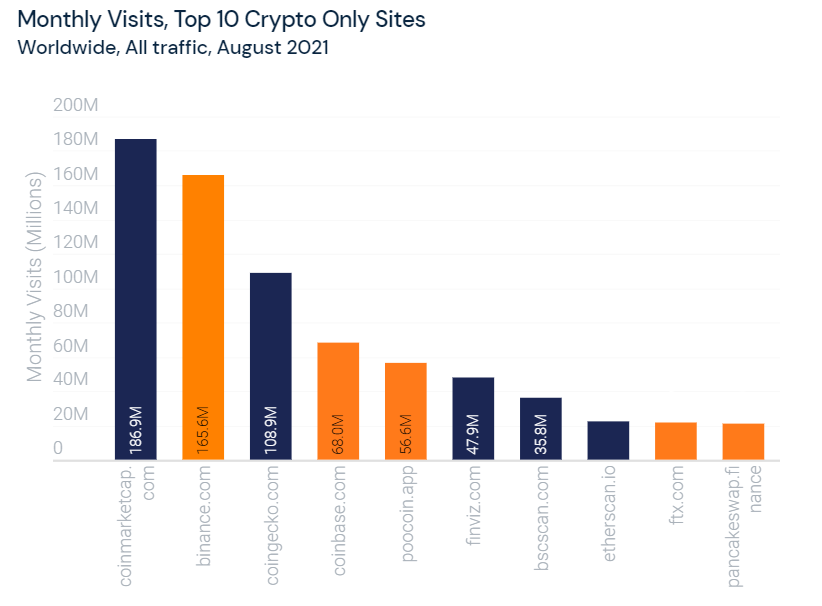 Orange – crypto exchanges
Navy – crypto information and news sites
In August 2021 there were approximately 735 million visits to the top 10 most visited crypto websites – including news, trading, and general information sites. By comparison, the entire competitive set of 60 crypto websites experienced 970 million visits in August 2021. That means that these top 10 websites are responsible for 75% of the total traffic.

For August 2021, Coinmarketcap.com was the most popular crypto-specific information website by traffic share with 19.3%, followed closely by coingecko.com (11.2%).
In terms of crypto exchange websites over the same period, binance.com won for traffic share with 17.1%, followed by coinbase.com (7.0%).
Take a look at how the total crypto market share, including exchange sites and information sites, is divided to see just how much of the industry the top websites own: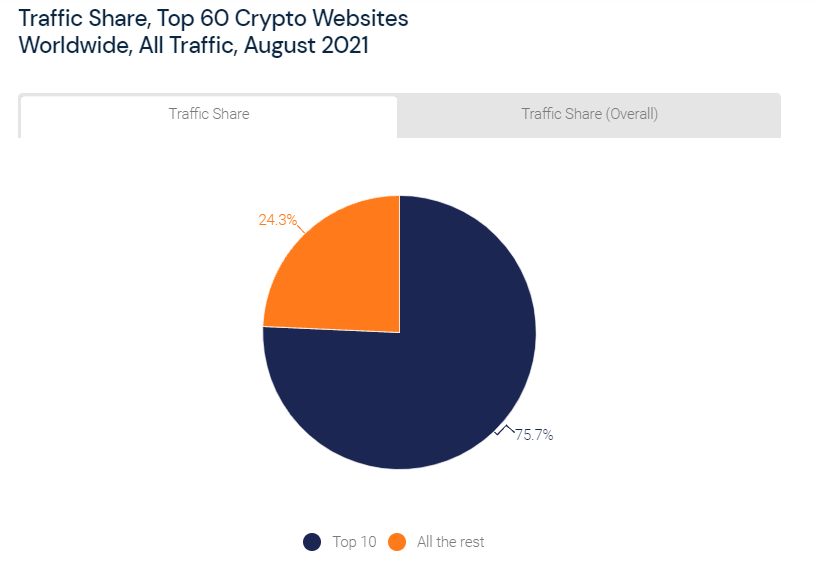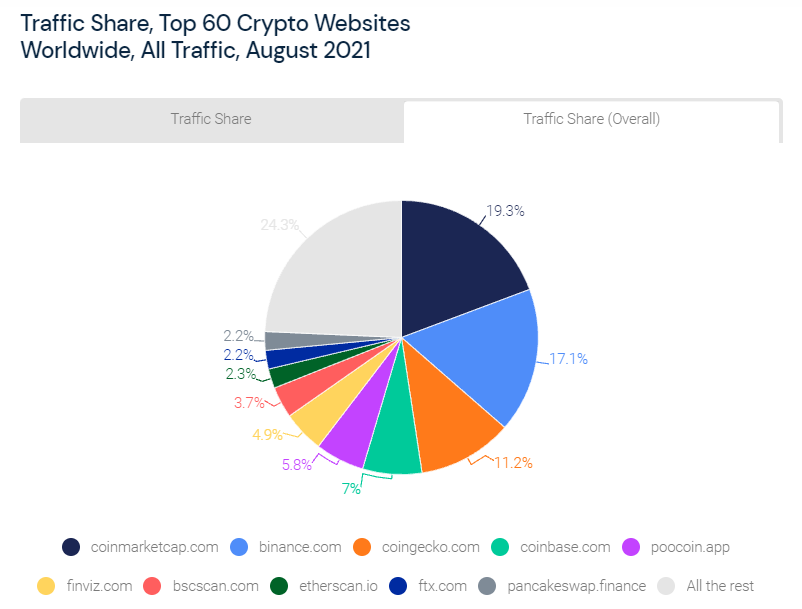 Geographic distribution
For the crypto community, 10 countries made up approximately 52% of the market share for the top 60 websites by visits. These countries account for approximately 776.6 million total visits from July–September 2021. Take a look at how the traffic share is split worldwide – note that for the crypto industry specifically this metric can fluctuate based on regulations or restrictions.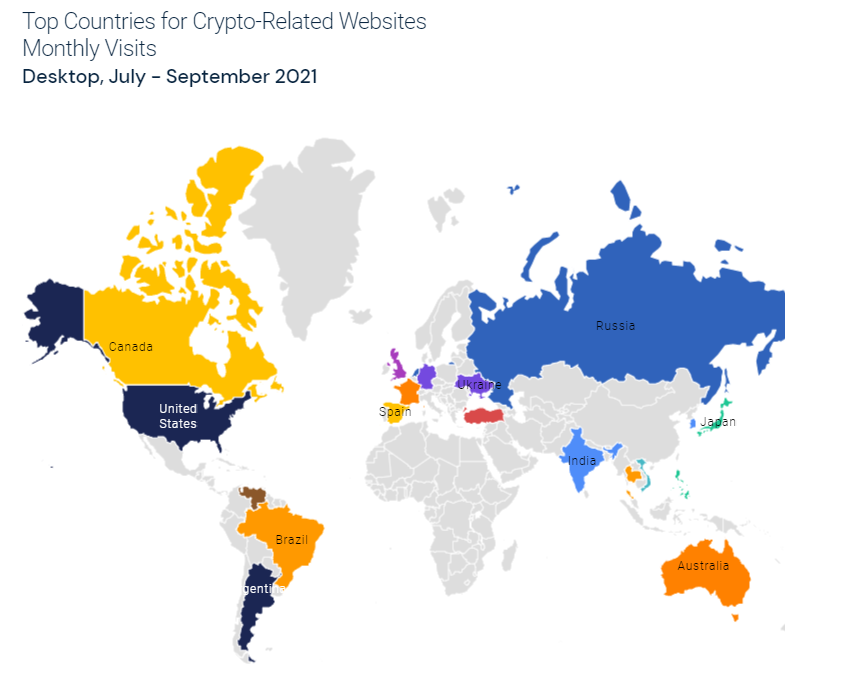 Engagement benchmarks for top 10 crypto websites
Comparing your performance to industry leaders can help you track your own digital growth, pinpoint competitive threats, and adapt to emerging industry trends. Keep these benchmarks in mind as you track the crypto industry. Data is as of August 2021 for all traffic worldwide.
Average monthly visits: 734.7 million
Month-over-month (MoM) change in traffic volume: +28%
Average session duration: 6:14
Pages per visit: 4.2
Bounce rate: 48.6%
When looking into audience website demographics, male visitors are more likely to visit cryptocurrency websites than females, with a gender split of 73% to 27%. Additionally, 25-34 year-olds are the most prominent age group, responsible for 34% of the total age distribution to the top 10 crypto websites.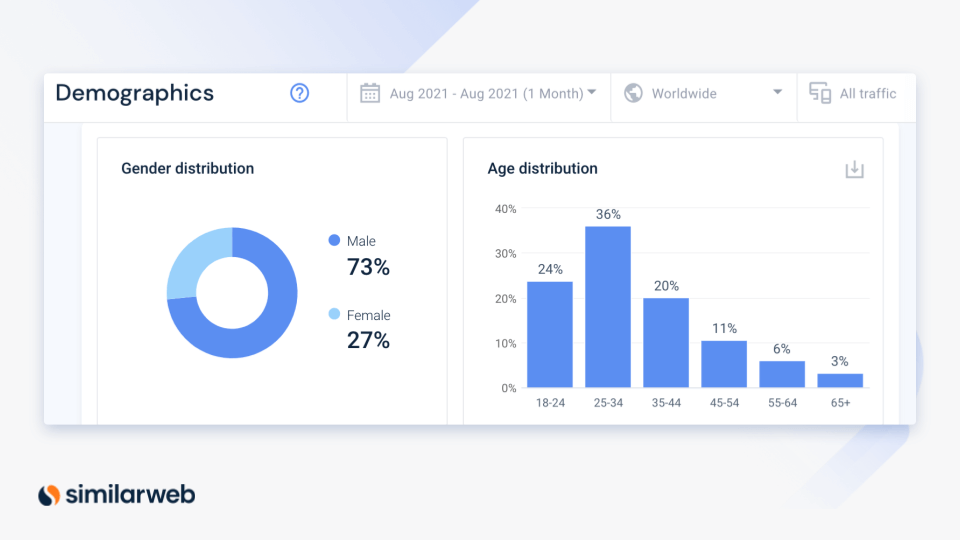 Traffic breakdown
Marketing channel performance reveals how crypto enthusiasts arrive at their go-to websites and can give you an idea of where you'll see results for ad spend or social campaigns.
It makes sense that direct and organic search are the most prominent sources of traffic for these sites, as most users are familiar with and actively searching for them. Up until recently, crypto websites were prohibited from using PPC ads in certain countries, which can also account for the high organic search volume. With new regulations in play, we could see a new trend in the coming months.
Referrals and social media also perform well, proving the importance of an effective affiliate program and a strong marketing strategy.
Deep dive into 4 fan favorites
Behind every crypto enthusiast, there's a digitally savvy site. Here's how these four became fast fan favorites in the crypto world when considering both traffic and engagement.
1. CoinMarketCap
CoinMarketCap is largely acknowledged as the most popular crypto website, offering news, updates, and current market leaders. There were 187 million visits to coinmarketcap.com worldwide in August 2021 – more than any of the other fan faves on our list.
The site rules organic search, receiving much more traffic than its competitors from the channel. From June–August 2021, it received 75 million visits from organic search worldwide, almost twice as many as binance.com, which received 46.2 million. Meanwhile, coinbase.com brought in 16.1 million visits from organic search while robinhood.com came in at 6.8 million.
Finally, coinmarketcap.com takes the crown for organic traffic split for five of the top traffic sources: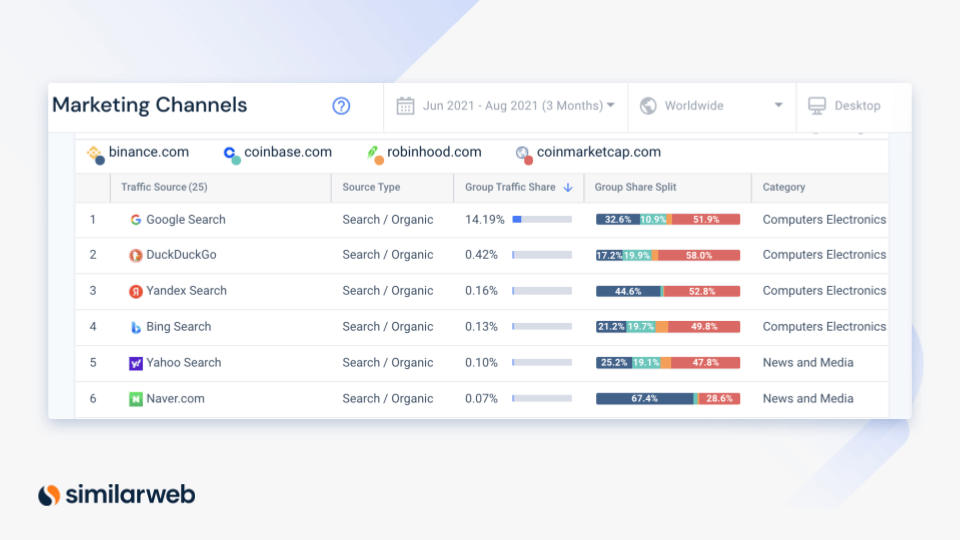 2. Coinbase
Since 2012, Coinbase has been a major player in the crypto market, offering an accessible, efficient, and transparent platform. Strong traffic growth over the last four quarters spotlights a knack for messaging that resonates and an indication that its popularity with users is far from peaking.
Indeed, global visits to coinbase.com grew 114% year-over-year (YoY) from August 2020 to August 2021. We can see the same growth patterns in specific countries, especially in the U.S., German and U.K. crypto market, where coinbase.com receives a majority of traffic share. Traffic growth has been ramping up the most in the U.S. and Germany the past month.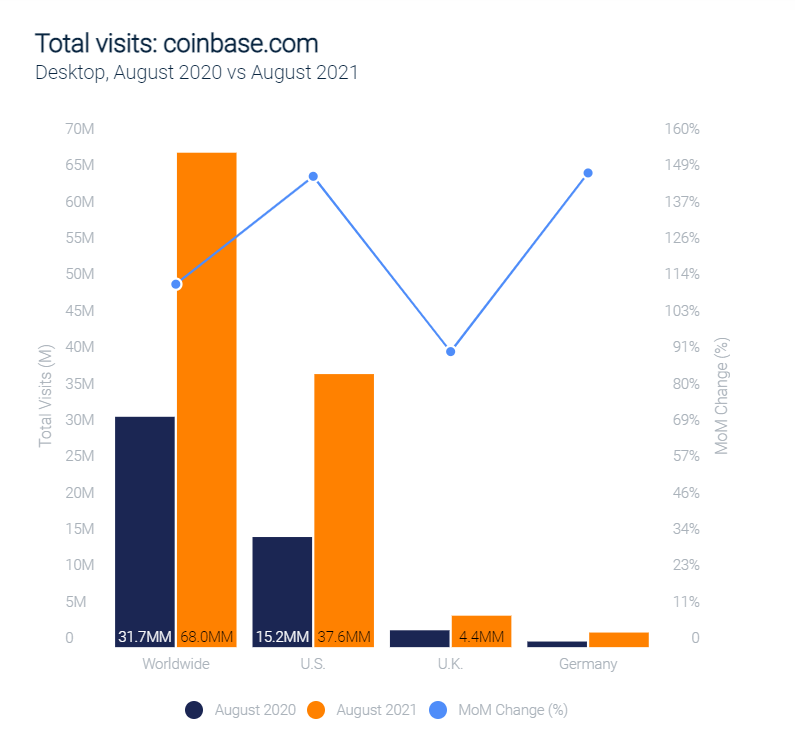 3. Binance
Binance breaks through as the third site experiencing impressive growth this year. Since 2020, traffic to binance.com has shot up 284%, reaching 165.6 million total visits in August 2021. Although the site falls slightly behind coinmarketcap.com in terms of monthly traffic worldwide, it wins the majority of the local market in countries with strong crypto interest – Russia (67.7%), Turkey (65.7%), Brazil (56.9%), Vietnam (56.5%), and South Korea (79.3%).
Binance.com also receives higher-than-average traffic from desktop compared to mobile web across the industry.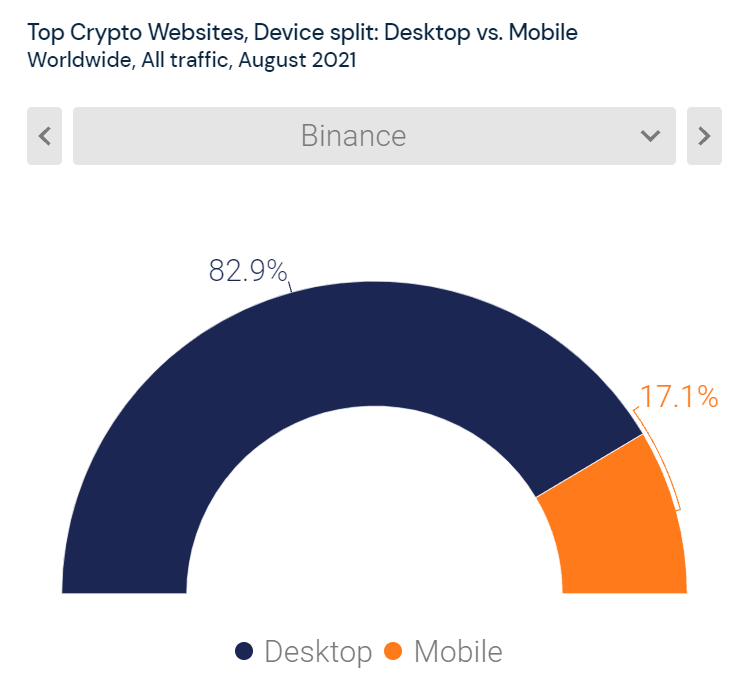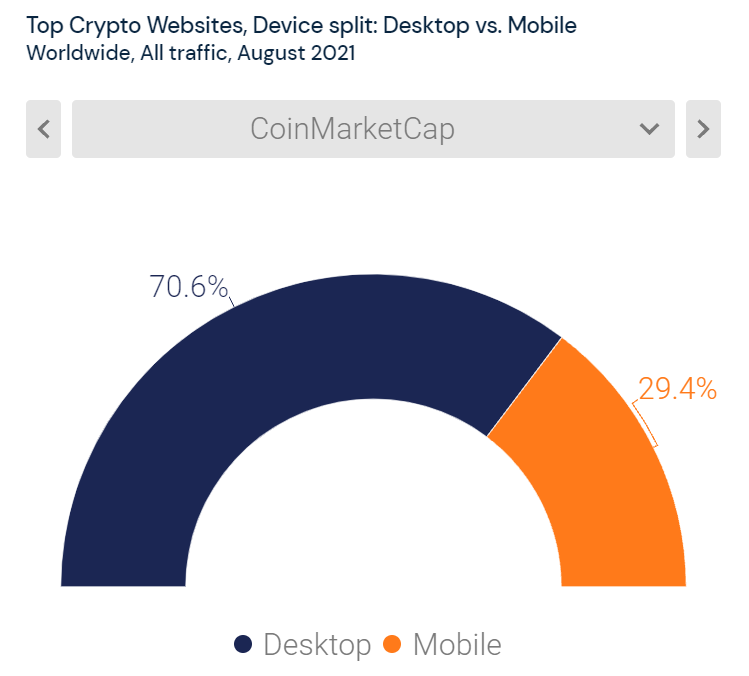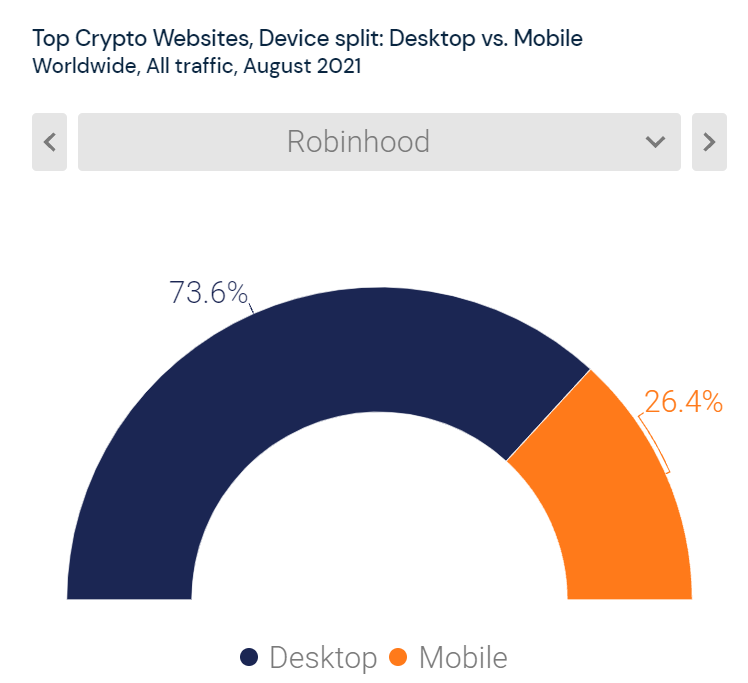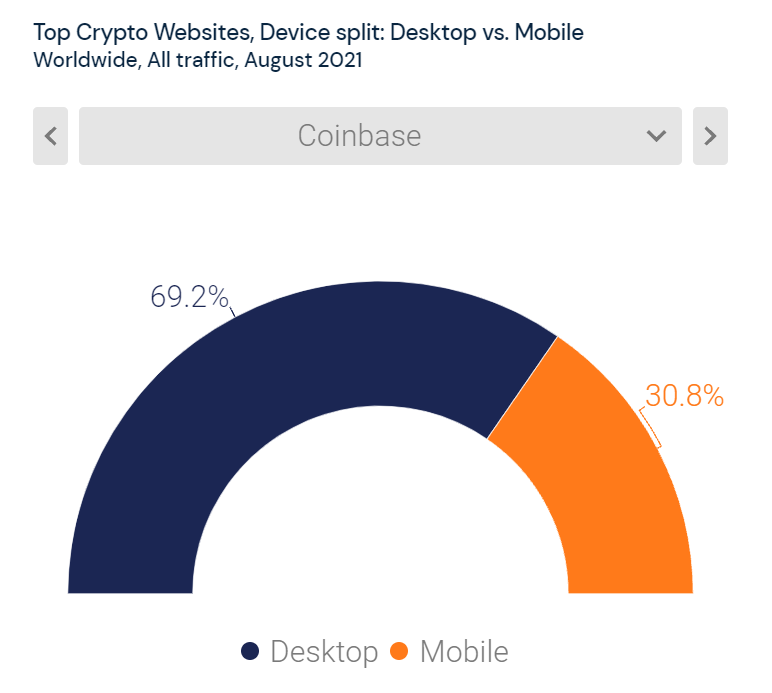 4. Robinhood
Although not exclusively a crypto trading website, we'd be remiss to leave Robinhood off this list. After a huge surge in popularity followed by an extensively covered IPO earlier this year, crypto users are turning to Robinhood more often. Although it hasn't seen massive growth YoY compared to the other crypto websites, it made a shining impression on the U.S., where it attracts the most monthly visits of the bunch, not to mention excellent engagement metrics.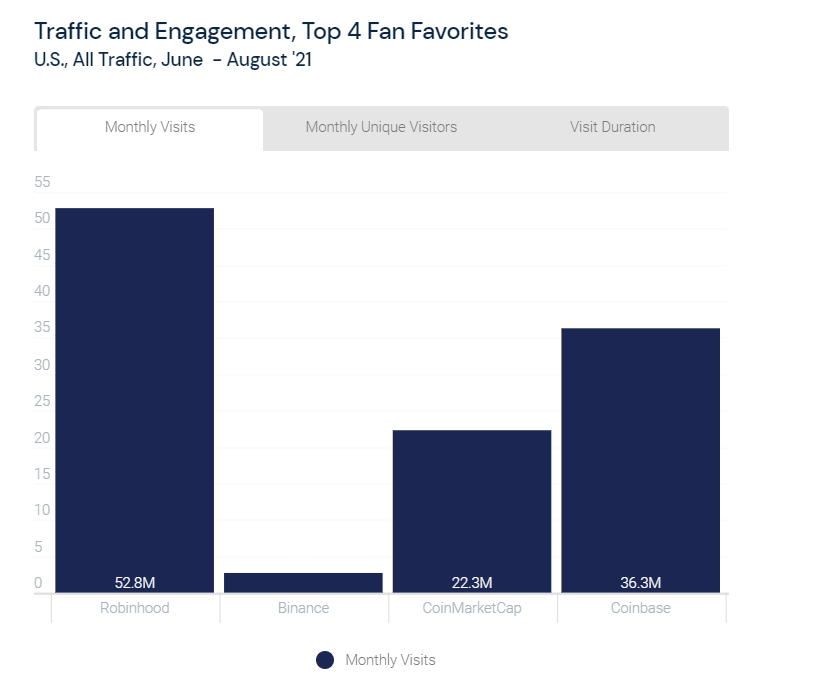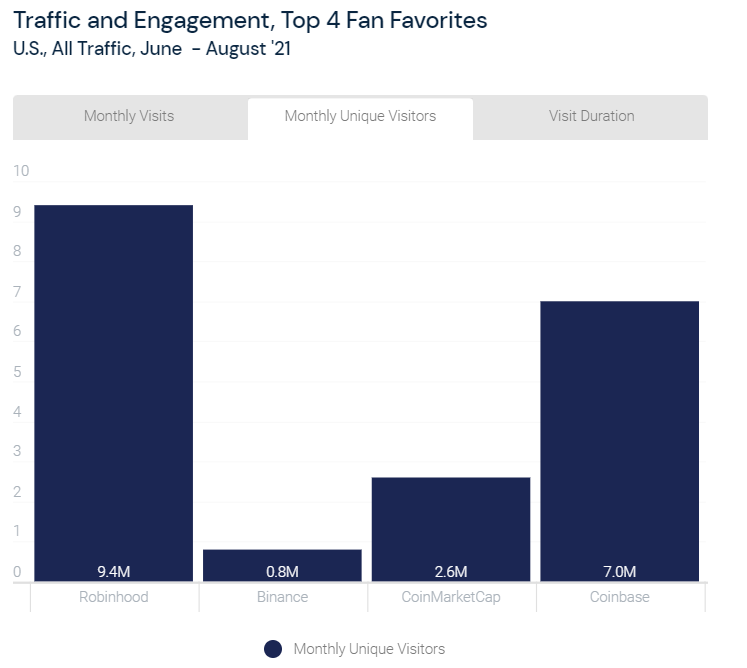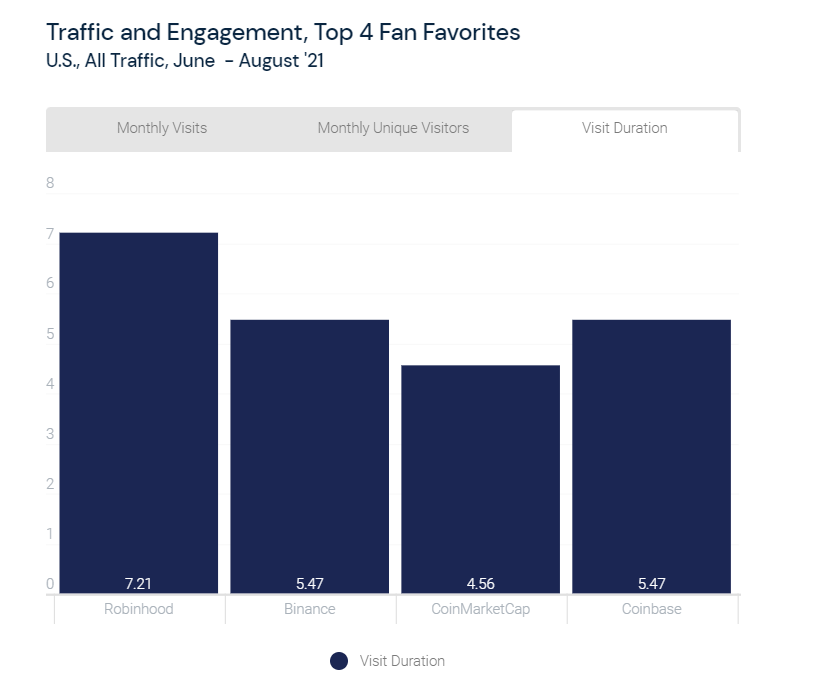 Robinhood.com also boasts the most loyal users, which, coupled with its excellent site experience, echo a solid understanding of its audience. In the U.S., 75% of those coming to robinhood.com are exclusive visitors. When looking globally, this number jumps to 84.6%.
Search trends in the crypto industry
Search trends do more than give you a real-time peek into the minds of consumers, they also contextualize audience sentiment towards the crypto industry. Are people excited about a new currency? Anxious about security threats? Unsure of regulations to come? Finding out what people are googling will help you answer those questions.
Currently, crypto enthusiasts from around the world are looking for insights into specific currencies (dogecoin or safemoon), answers on how to convert specific holdings they may have (bnb to php), and investigating the price of specific tokens (bnb price or shiba inu price).
Below are the top search terms of the crypto market worldwide, in the U.S., and Japan, including their search traffic (June–August 2021). Keep these in mind when you create a content strategy and make sure you choose words that resonate with your target audience.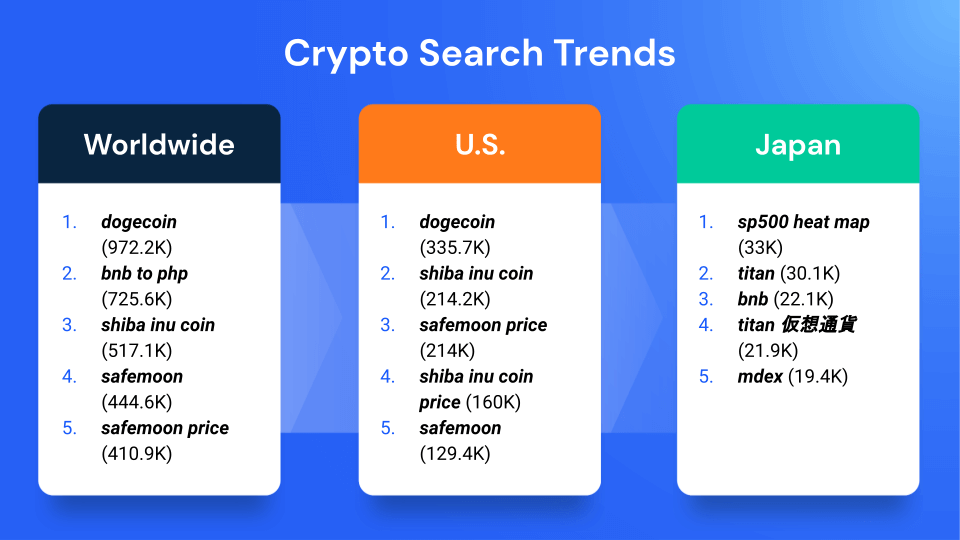 Who will rise to the top next?
The cryptocurrency industry is constantly changing. While its rise in popularity has been consistent, industry leaders and market patterns shift over time.
In this post, we've focused on the top crypto websites worldwide. But our data goes far beyond that. With Similarweb Digital Research Intelligence you'll have access to billions of data points from over 100 million different websites. That means that no matter what you're looking to analyze, whether it's engagement benchmarks, trending keywords, or competitive threats, you can track the digital insights you need to win your market.
To learn more about the data behind this article and what Similarweb has to offer, visit https://www.similarweb.com/.