Western States Drove Record Annual Home Price Index (HPI) Increase in September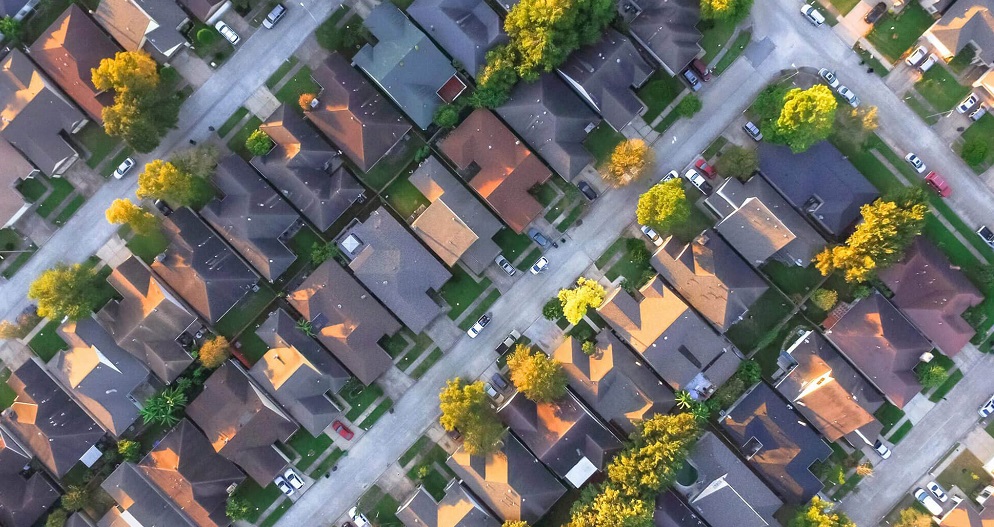 Home Price Index Highlights: September 2021
National home prices increased 18% year over year in September.
Annual price increases were much more rapid for detached properties than for attached properties.
Overall HPI Growth
National home prices increased 18% year over year in September 2021, according to the latest CoreLogic Home Price Index (HPI®) Report. The September 2021 HPI gain was up from the September 2020 gain of 6.6% and was the highest 12-month growth in the U.S. index since the series began in 1976. The increase in home prices was fueled by low mortgage rates, low for-sale supply and an influx in homebuying activity from investors. Projected increases in for-sale supply and moderation in demand as prices grow out of reach for some buyers could slow home price gains over the next 12 months.
HPI Growth by Price and Property Type Tiers
CoreLogic analyzes four individual home-price tiers that are calculated relative to the median national home sale price. Home price growth accelerated for all four price tiers and remained close to record highs in September. The lowest price tier increased 20.6% year over year in September 2021, compared with 19.5% for the low- to middle-price tier, 19.4% for the middle- to moderate-price tier, and 18.6% for the high-price tier. The difference in HPI growth rates between the low- and high-price tiers has been narrowing for all of 2021 and in September was the smallest in ten years.
CoreLogic also provides the HPI separately for detached — or freestanding — properties and attached -properties (such as condos or townhouses). Appreciation for detached properties (19.6%) was 1.6 times that of attached properties (12.2%) in September as remote work allowed many employees to buy homes further from their office and in areas where property prices and population density are lower and detached housing is more common.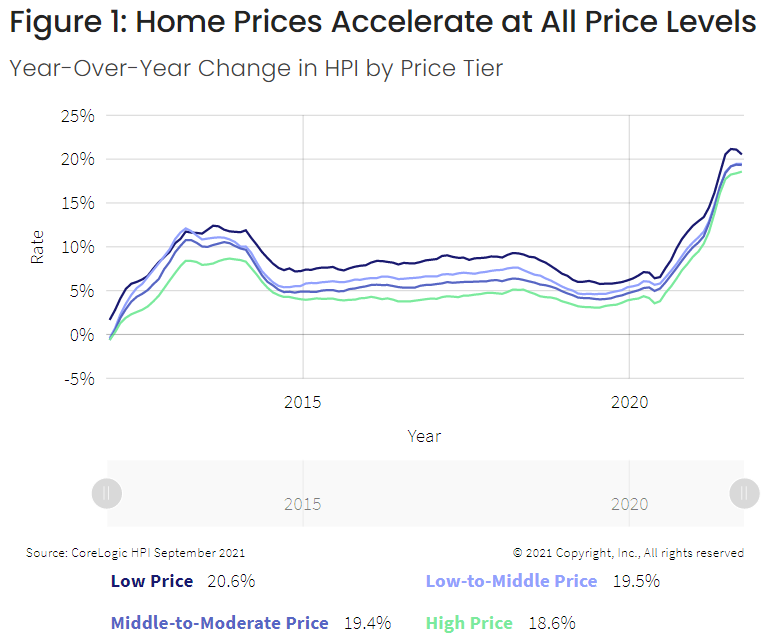 State-Level Results
Figure 2 shows the year-over-year HPI growth in September 2021 for the 5 highest- and lowest-appreciating states. While all states showed annual increases in HPI in September, appreciation was strongest in the West. Idaho appreciated 30.1% year over year in September followed by Arizona (+29.6%), Utah (+26.2%) and Nevada (+23.3%). At the low end, Washington, D.C., saw home prices increase 5.1%, and home prices in North Dakota increased 8.2%.
The surge in home price appreciation was felt across the country, with all states showing higher appreciation in September 2021 than in September 2020. Arizona had the biggest acceleration in home price growth from September 2020 (+11.2%) to September 2021 (+29.6%).
Demand for homebuying remained strong through the end of the summer. However, the ongoing housing supply shortage has continued to drive up prices, which increased 18% year over year in September, creating additional challenges for entry into the homebuying market. High demand and low supply levels for entry-level homes are sidelining many would-be first-time buyers.
To learn more about the data behind this article and what CoreLogic has to offer, visit https://www.corelogic.com/.