Homes Sold Quickly and Supply Shortage Remains

Time on Market Before Pending Dropped from Weeks to Days
Supply shortages have been a hallmark of the pandemic. Not only is the U.S. facing a labor shortage, but many building materials are in short supply, slowing down new home construction and making it difficult for some sellers to prepare their existing homes for sale. The shortage in for-sale homes has driven the number of days homes are on the market to new lows in 2021.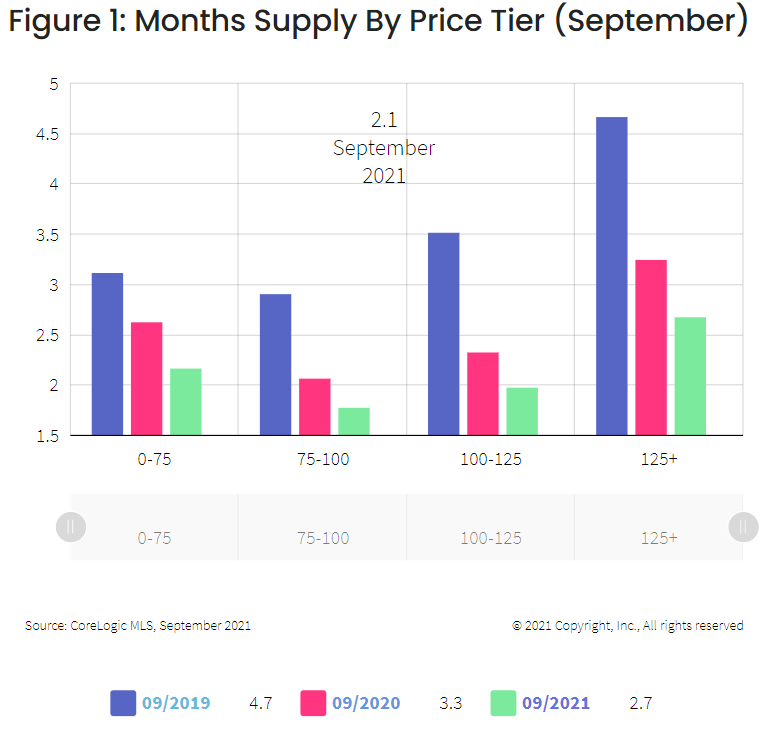 Figure 1 shows the months of supply of homes for sale overall and by price tier1 in September 2021 before and during the pandemic. The months of supply was already near a record low in 2019 but fell more over the next two years. Lower income households, which suffered most of the job loss at the beginning of the pandemic, most likely put aside their purchase plan for entry level homes. But competition from homebuyers and increased investor purchases in 2021 drove down supply and as of September 2021, supply for all price tiers is down compared to 2019.
With strong homebuying demand, homes go under contract2 within days. Before the pandemic, the time from listing to pending usually took about three to five weeks, depending on the home buying season. Starting April 2021, it only took about a week for a listing to become pending. Figure 2 shows the median days on market between when a listing goes live and pending for all the sales within the month.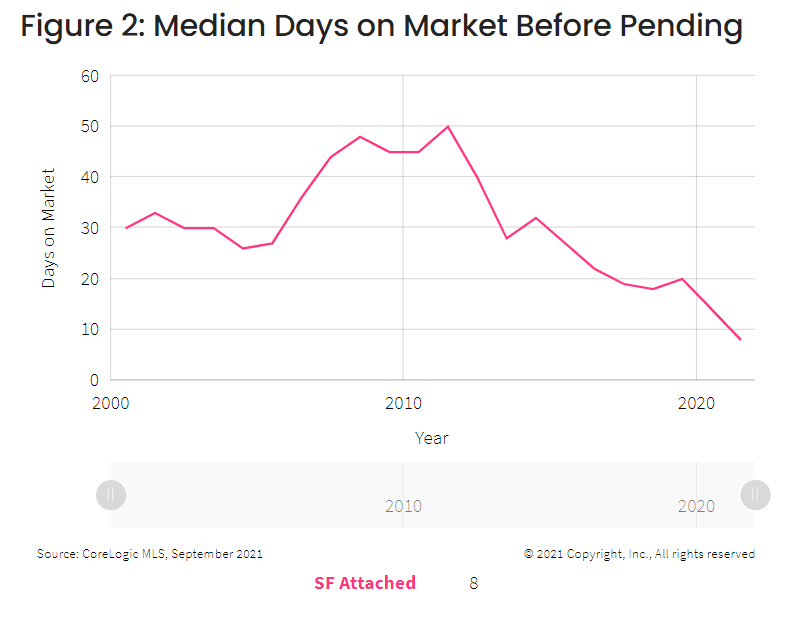 As always, for-sale supply and demand vary by local markets. Figure 3 shows the days on market before pending for selected 20 CBSAs in September of 2019-2021. Homes sold quickest in hot markets like Charlotte, Denver and Seattle, with median days-on-market before pending less than a week. San Francisco experienced an increase in days on market in 2020, as flexibility of telework allowed people to move to less expensive areas with more space. However, going into 2021, with supply remaining tight and mortgage rates staying low, all markets showed a sharp decrease in days-on-market compared to pre-pandemic.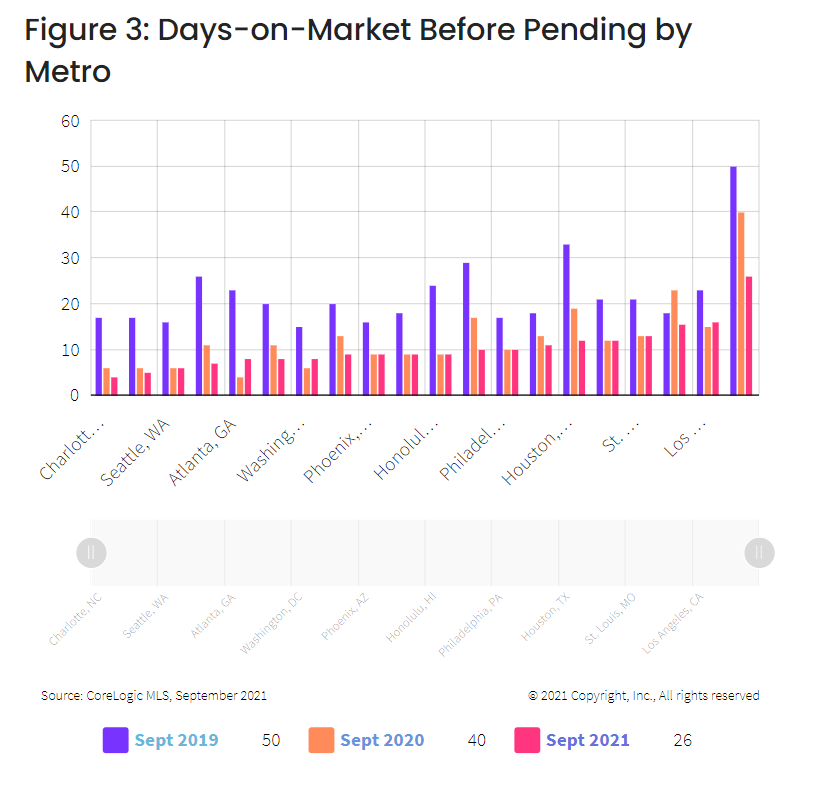 With mortgage rates remaining low, motivated buyers pushed the for-sale home supply down to new lows and home price appreciation to the highest rates in the history of the CoreLogic HPI. As home prices keep reaching new highs, outpacing wage growth, many potential homebuyers may need to turn to renting instead of buying. In addition, increases in homebuilding could also help lessen the supply shortage situation.
To learn more about the data behind this article and what CoreLogic has to offer, visit https://www.corelogic.com/.