DisneyNOW provides more content than streaming video to keep users engaged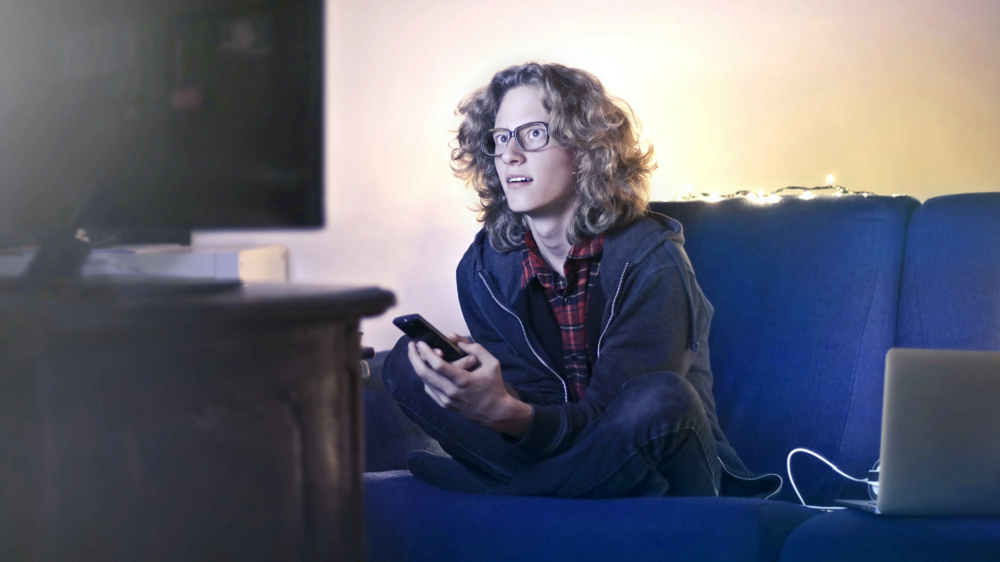 Since the pandemic's onset, numerous TV and video streaming services have battled for consumers' attention, touting exclusive content and competitive pricing to drive new users to their app. We've seen this play out with apps like HBO Max, which hit a lifetime high for daily downloads with 225k just three days after its debut in May 2020. The biggest appeal to subscribe to HBO Max as of late is that its content is coming to the platform the same day that it's released in theaters.
While many people are returning to life as normal, it seems the intense consumption of online media is here to stay, shifting consumer expectations and forcing cable TV networks and other streaming brands to rethink the experience for online content consumption to retain their users.
Apps stemming from cable TV networks (usually requiring the user to login via their cable account credentials to watch in-app) have grown in the last year, with the top 25 TV network apps being downloaded 12.4 million times in Q3 2021.
But this is a shrinking market as many consumers look to 'cut the cord' by switching from cable to live TV streaming options like Hulu, YouTube TV, fuboTV and more.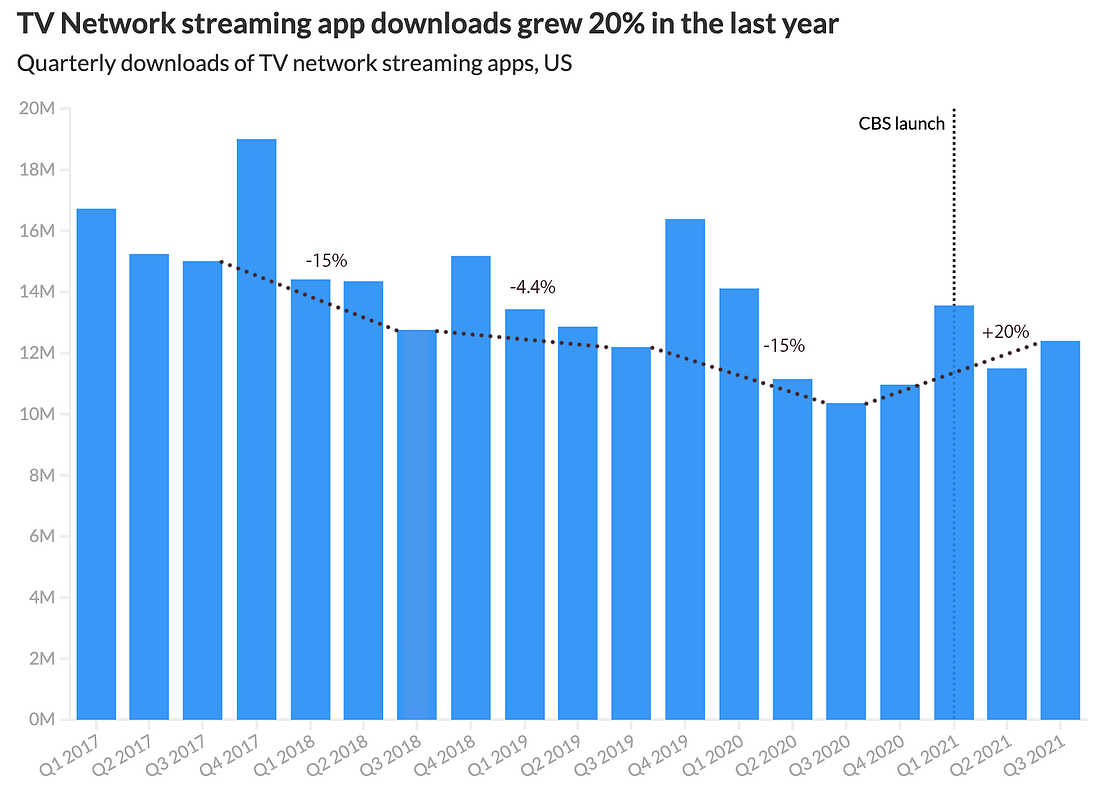 Don't be fooled by the 20% growth in downloads over the last year. As traditional cable networks launch subscription streaming apps, some TV Network apps have seen their usage fall significantly as viewers are directed toward the subscription option. An example of this is Food Network GO. Viewers can now get their foodie fix in the Discovery+ app.
Q3 2021 did see the first year-over-year growth for the quarter since 2016, thanks to new content from Adult Swim, Telemundo, and DisneyNOW.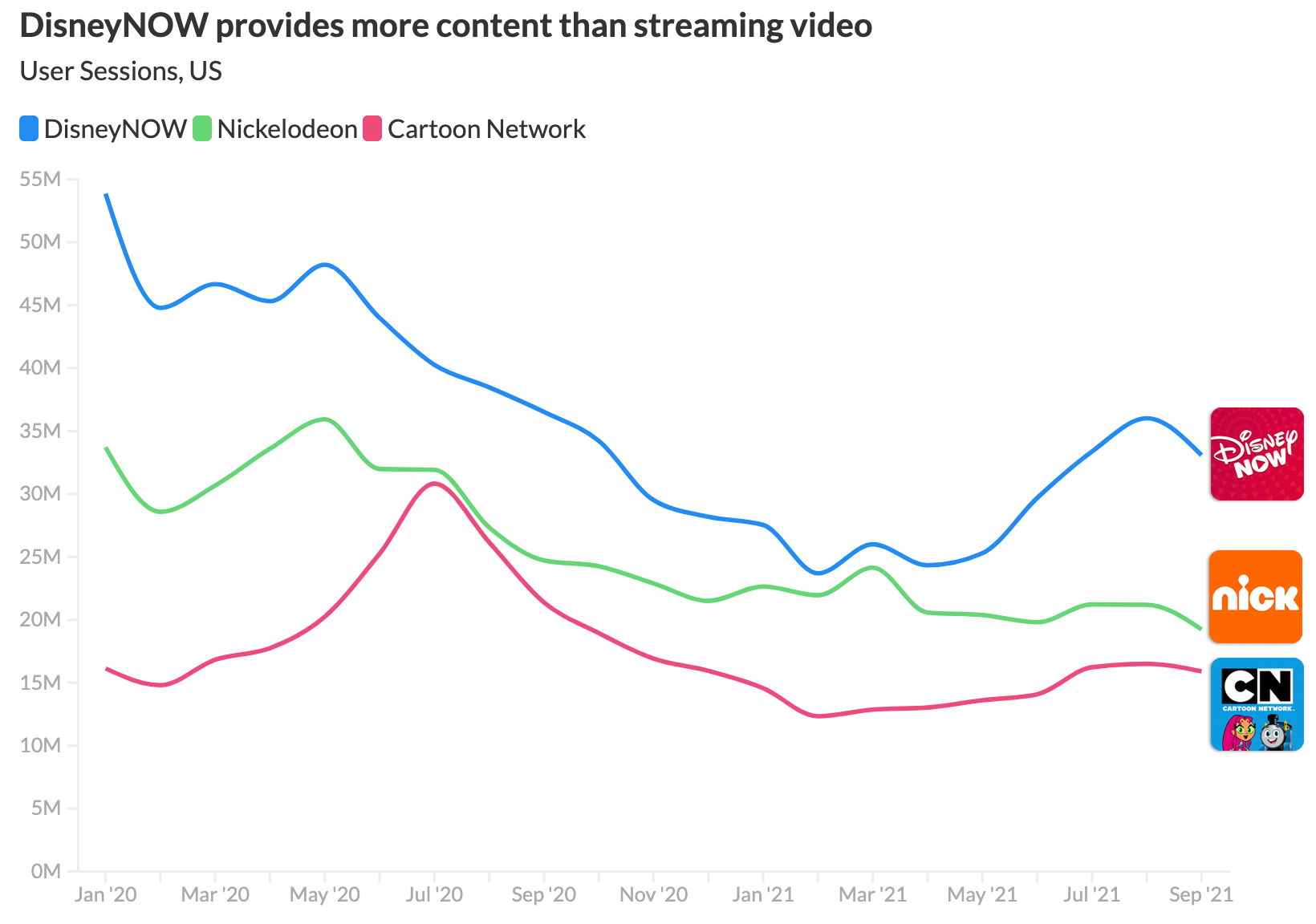 Even though this is a shrinking market, DisneyNOW has been able to stay ahead of the competition because the app's goal is not just to stream episodes from the Disney Channel. It's about keeping its audience engaged with its larger content universe.
In addition to full episodes, DisneyNOW contains several podcasts and games. The recent burst in user sessions this summer was due to new episodes of the podcast, This Duckburg Life, debuting (maybe Netflix took its cues from DisneyNOW when it announced its plans to provide mobile games).
I'm not entirely surprised to see DisneyNOW leading the pack. If you're new around here, allow me to remind you that Disney has a history of driving new users with diversified content and big movie releases. In the first year of Disney+ being live on the app stores, Apptopia estimates it had been downloaded 100 million times globally, with 62% of those coming from the US and 38% from international markets.
The problem for Disney, however, is that there is either not enough content, or not a wide enough array of content to keep users coming back into the app. Perhaps DisneyNOW can break the mold and continue diversifying its content to not only drive new users, but keep them coming back for more.
Who else stands a chance as the 'cord-cutting' continues?
Other TV network streaming apps that experienced increased performance in 2021 include Showtime Anytime, TNT, and Univision. Showtime Anytime broadcast several big ticket boxing events, while TNT heavily marketed the NBA Playoffs. USA Network got a major push from its season 5 premiere of Queen of the South, with downloads increasing 82% compared to the season 4 premiere. Personally, I'm curious how Showtime Anytime's performance will fare after Dexter Morgan reappeared from his 10-year hiatus. Stay tuned.
To learn more about the data behind this article and what Apptopia has to offer, please reach out to Connor Emmel at cemmel@apptopia.com.