SHEIN accelerates app growth, further distancing itself from competitors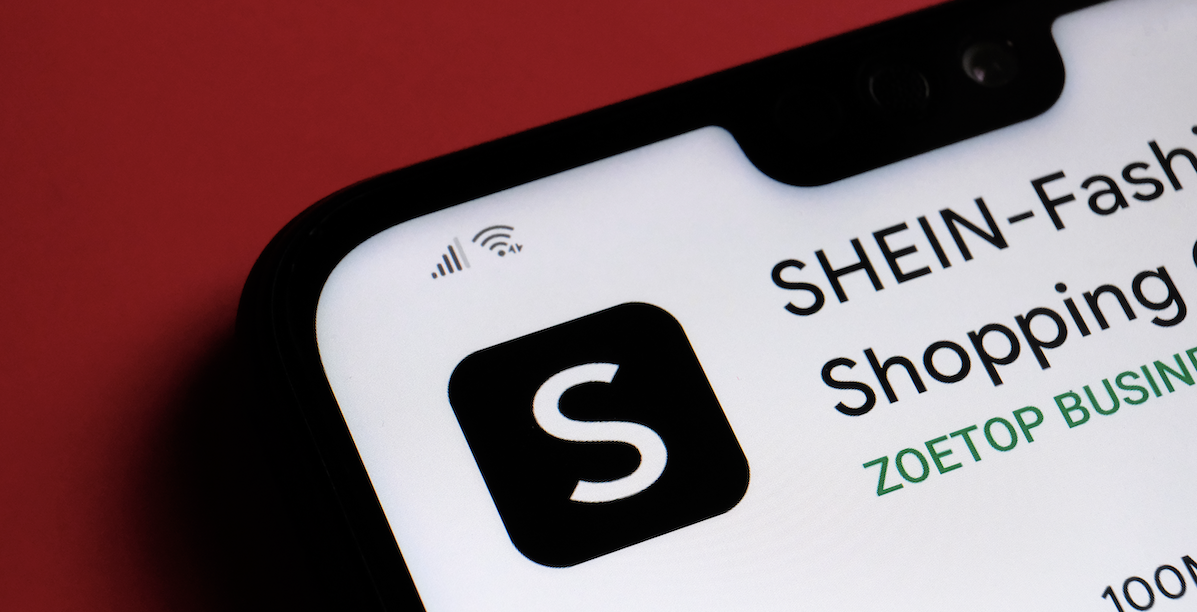 SHEIN hits new high for downloads and engagement
SHEIN, a women's clothing brand based in China, has taken the digital fashion world by storm. For the past several years, its app has ranked as the top performing fast fashion app of the market. Given its current performance, its reign is unlikely to be cut short.
We checked in on SHEIN this week to find that the app has been experiencing record-breaking activity this month, achieving new lifetime highs for single-day downloads and daily active users (DAU). April 27, SHEIN topped all previous records, generating approximately 649K downloads that day. Yesterday, April 29, the app also logged about 22M DAU for the first time.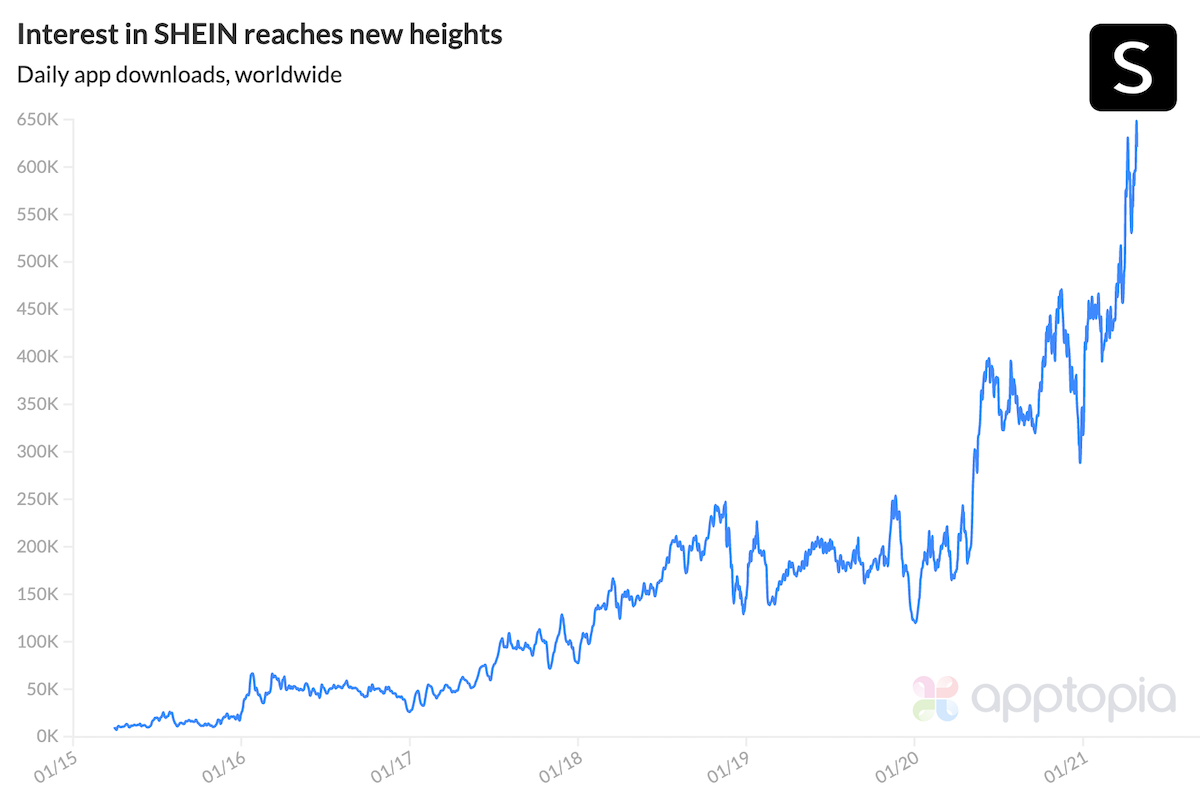 These new highs represent a 239.8% YoY increase in daily downloads and an 175% YoY increase in DAU. Given SHEIN's current size, and the rate at which it is growing, its competitors will not be able to catch up (anytime soon, at least). SHEIN today owns over 50% of the market.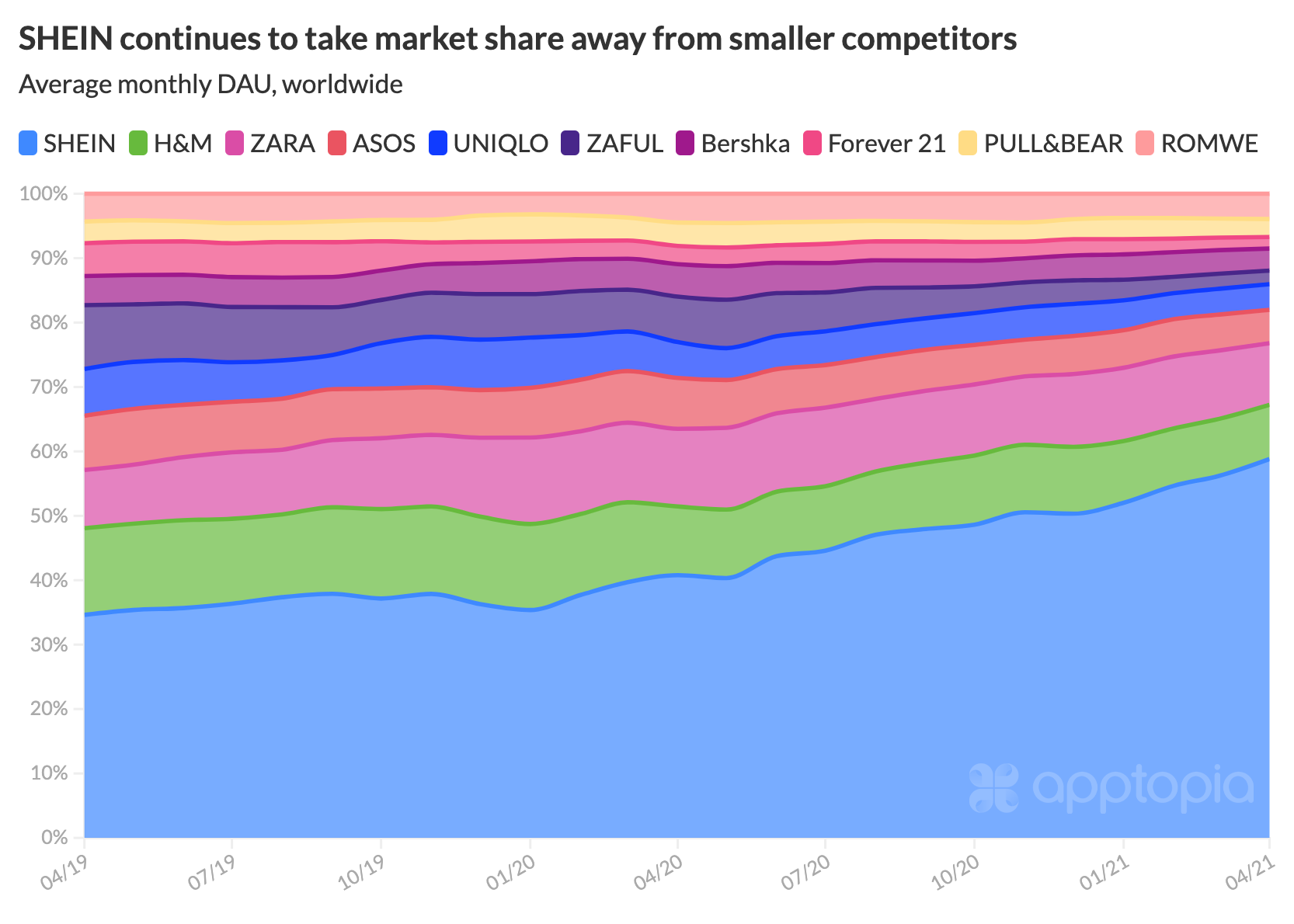 Marketing power fuels app's success
If you're wondering what makes SHEIN such a force to be reckoned with…have you been on TikTok lately? Instagram? YouTube even?? The company is a social media marketing machine, which knows its young audience well. Paid and unpaid influencers alike tout the brand's name, showing off their latest SHEIN hauls.

SHEIN app user review TikTokPlus, when it comes to app store optimization, SHEIN takes an offensive approach. According to our Search Intelligence data, 587/632 of the keywords SHEIN advertises for are ones that the app is not currently ranking in the top 20 for. When an app is unafraid to advertise for words it doesn't own, it can cover a lot of territory.
Not to mention, SHEIN's share of voice for major terms like, "clothes," "women's clothing," and "women's fashion" is greater than 80%. Like many savvy publishers, SHEIN also advertises for its competitors names so that it will show up in results even when consumers have another brand in mind.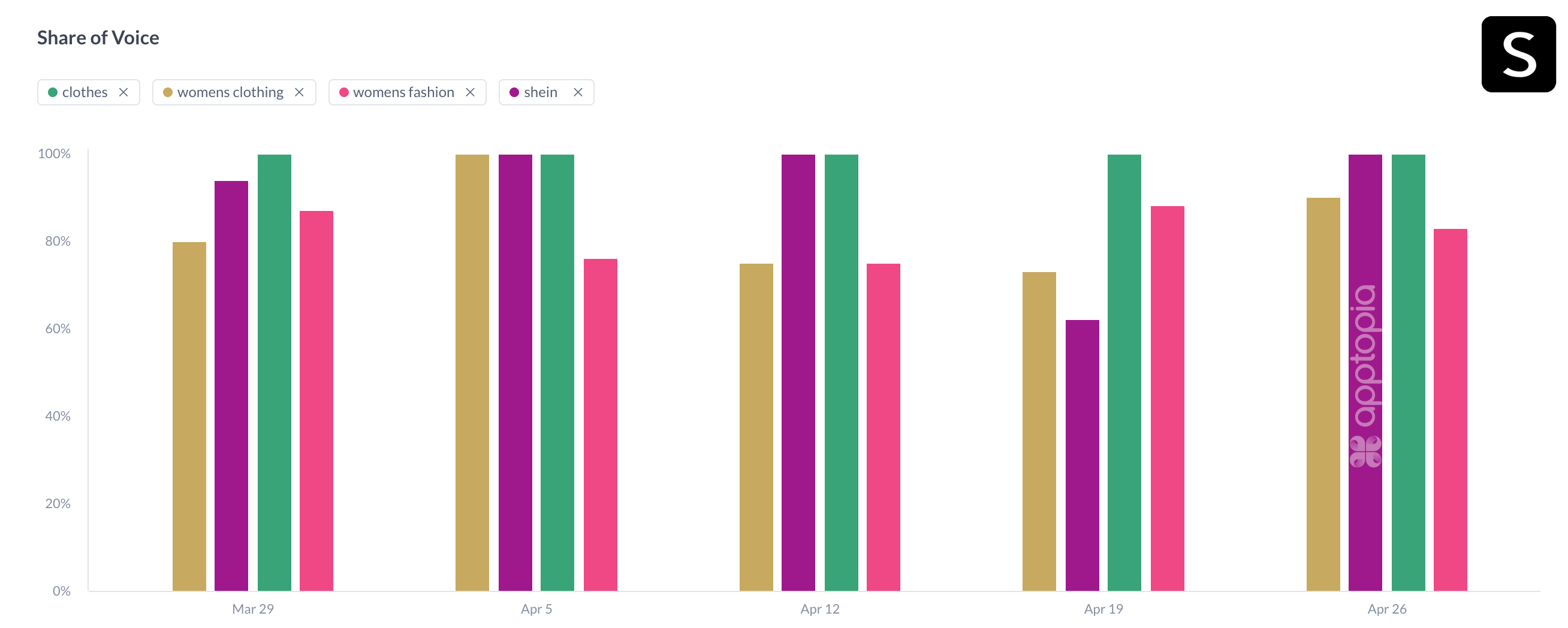 Aside from its app store optimization and social media prowess, SHEIN weaponizes star power to get people to its app. The brand has scored partnerships with celebrities, like Katy Perry, Lil Nas X, and most recently, Nick Jonas. Jonas will be one of the stars performing at the SHEIN Together Fest which, of course, can be streamed through its app.
Could SHEIN become a "super app"?
SHEIN is so far ahead of its direct competitors that it's difficult to even compare them. However, it looks like SHEIN is well on its way to becoming more than a fast fashion app anyway.
Last year, SHEIN launched a beauty brand called SheGlam. Earlier this year, the app expanded into pet products. And more recently, the company announced that it's dipping its toes into higher-end fashion. If it continues to build on these offerings, SHEIN could be compared to WISH or even an Amazon, eventually.
Outside of its physical products, SHEIN also offers something that many retailers do not: a fashion community. The app live streams events, offers styling recommendations, and even supports indie fashion designers through SHEIN X. By supporting clothing designers, content creators, and musical artists alike, SHEIN has positioned itself as a dominant force in both the fashion industry and the creator economy.
To learn more about the data behind this article and what Apptopia has to offer, please reach out to Connor Emmel at cemmel@apptopia.com.