Singapore Posts Rapid Rebound From Covid Slump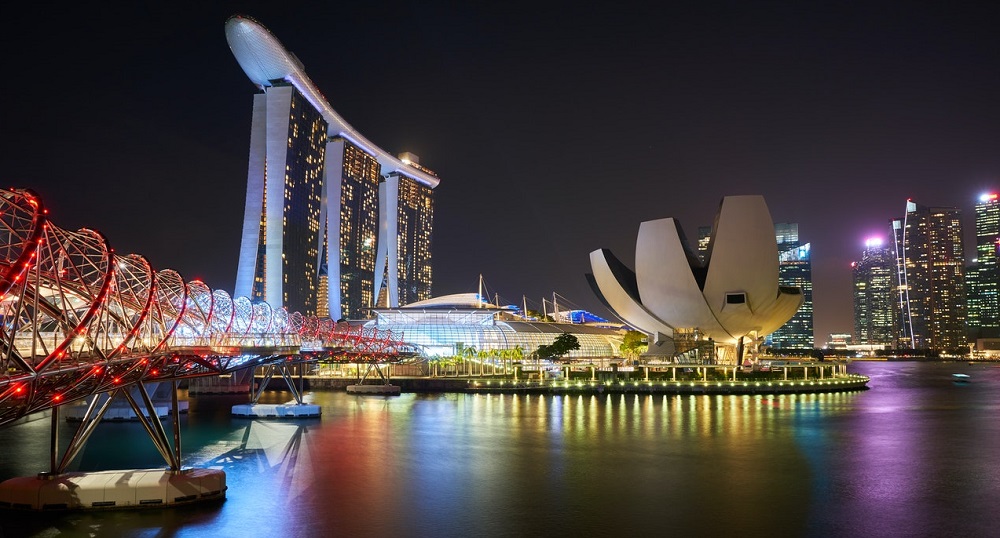 Singapore's commercial real estate investment market has enjoyed a strong rebound in 2021 after sliding to its second lowest annual tally for deal volume in 2020. Including pending deals slated to close before the end of the year, 2021 investment is just shy of the 2017-19 yearly average and marks the second best annual total on record.
The bounceback is notable for a couple of reasons. For one, Singapore's resurgence hasn't been overwhelmingly driven by the industrial and apartment sectors, as in other leading economies. Trading of rental apartments has historically been thin due to high transaction costs and sluggish rental growth, while the industrial sector hasn't mirrored the boom in logistics appetite across Asia Pacific's bigger markets.
Instead, two thirds of investment in 2021 has come from the office and retail sectors, with neighborhood shopping centers and CBD office towers trading once again. The volume of deals recorded across all property types so far in 2021 totals $9.6 billion (S$12.8 billion), up from $3.2 billion in all of 2020.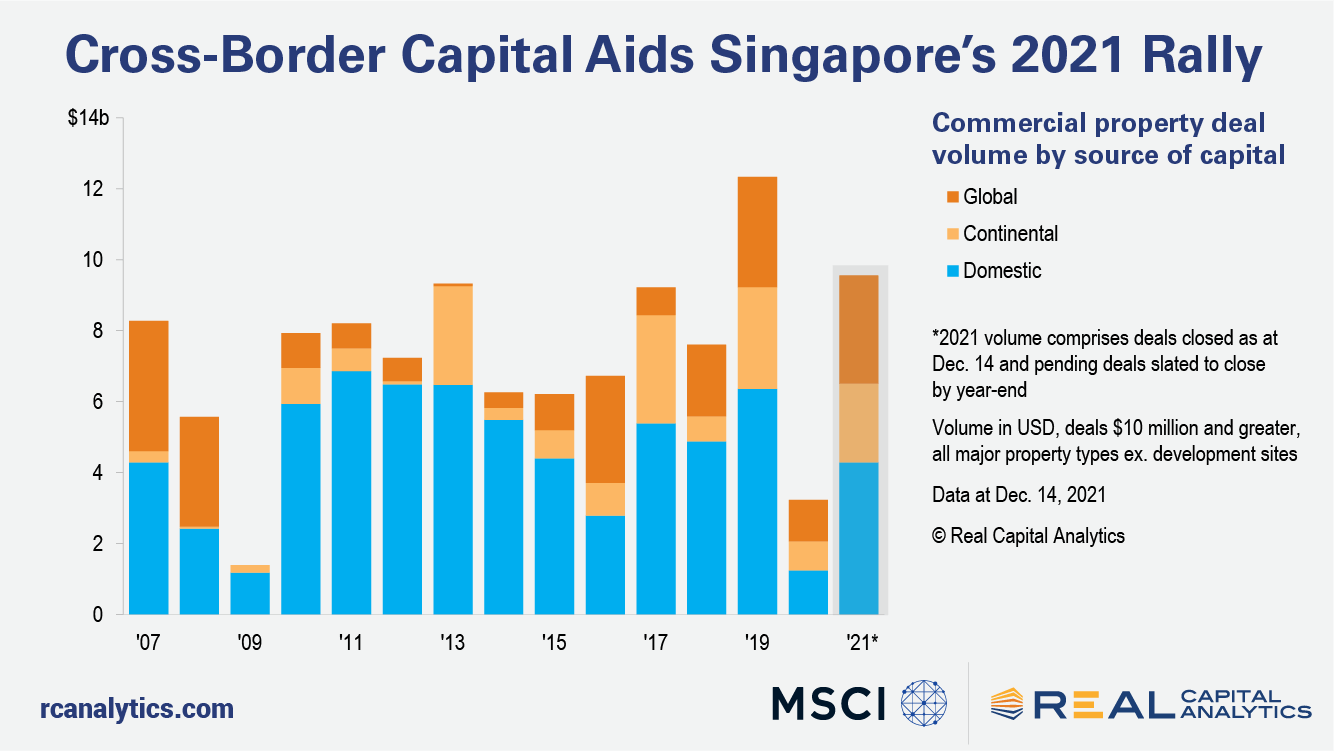 Another interesting dimension to Singapore's recovery is the speed at which it happened. Of the top 25 most liquid markets globally before the pandemic, Singapore endured the biggest drop in market liquidity (-19%), but also posted the biggest resurgence from its trough in Q4 2020 (+12%), according to the RCA Capital Liquidity Scores.
Looking further back in history to the Global Financial Crisis, this isn't the first time that investors have returned to the island as fast as they left. Singaporean investment volumes recovered to within 4% of pre-crisis levels as early as 2010, a feat only matched by Tokyo. Most of the other global cities – New York, London, Paris, and Sydney – only came within touching distance of pre-GFC volumes by around 2014-15, while Los Angeles and San Francisco took even longer.
Crucially, most of the investment during that recovery period was dominated by domestic investors. The global investors that had splashed out in 2007-08 largely missed out on the resurgence shortly after the GFC. One of the few global investors that did feature – AEW – bought the Robinson Point building in late 2010 for just over S$200 million, and sold it within two years at a 40% mark-up.
It's perhaps little wonder then that Singapore's recovery this round has been driven by a torrent of cross-border capital, which has made up more than half of this year's transaction outlay. The $5.3 billion of overseas investment garnered so far in 2021 puts Singapore above the likes of New York and Tokyo, a remarkable feat considering how much smaller its investment market is.
While global institutional players have grown their appetite for Singaporean commercial real estate in the latter half of the last decade, Singaporean players have also been increasingly looking abroad for deals. This confluence of strong inbound and outbound flows to and from Singapore, is what makes Singapore's commercial real estate market so liquid and so volatile at the same time.
To learn more about the data behind this article and what Real Capital Analytics has to offer, visit https://www.rcanalytics.com/.