Walmart (WMT) Earnings: Can The Winning Streak Last?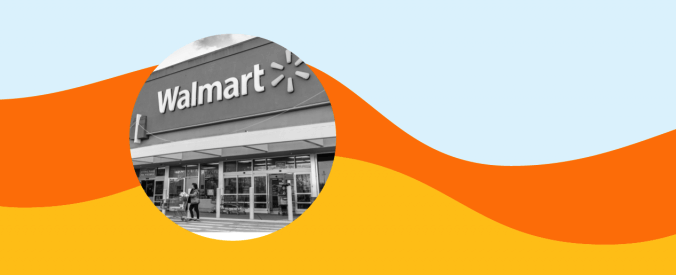 Walmart (WMT) is heading into the fourth quarter on the back of a blowout Q3 and Q2 FY21 earnings report. And the star of the show is: eCommerce.
The company's U.S. eCommerce sales exploded 97% in Q2 and 79% in Q3, as customers continued to embrace online shopping during the pandemic. Q2 also received a boost from the first round of U.S. stimulus checks filtering down into increased spending on big-box retailers' websites.
Now the key question is: Can the world's largest brick-and-mortar retailer sustain such impressive online growth going forward?
CEO Doug McMillon is 'convinced' that digital is here to stay. On Walmart's Q3 earnings call, he stated that "most of the behavior change will persist beyond the pandemic and that our combination of strong stores and emerging digital capabilities will be a winning formula."
But does SimilarWeb data support this confident outlook?
WMT Earnings: The Main Takeaways
Q4 U.S. visits to walmart.com came in +46% year-over-year (YoY), beating Q3 and Q2.
Traffic to Walmart's online grocery section jumped over 200% YoY in Q4.
Walmart recorded a notably strong Q4 conversion rate (CVR) of 6.53%.
The Digital Breakdown
Let's use SimilarWeb's alternative data to dive further into Walmart's recent performance. Here are some of our most important insights:
1. Walmart's digital traffic is accelerating
Our data shows that total unique U.S. visitors to walmart.com accelerated from 27% YoY growth in Q3 to an impressive 42% YoY growth in the Q4. Key insight: Walmart's website is rapidly attracting new users.
Meanwhile total visits retained the same strong growth seen in the third quarter. For the fourth quarter, total visits reached a whopping 1.7B, +46% YoY. That's vs. 44% YoY growth in the third quarter, and 45% in the second quarter. In short, total traffic growth (which includes multiple visits made by the same visitor) has remained at elevated levels.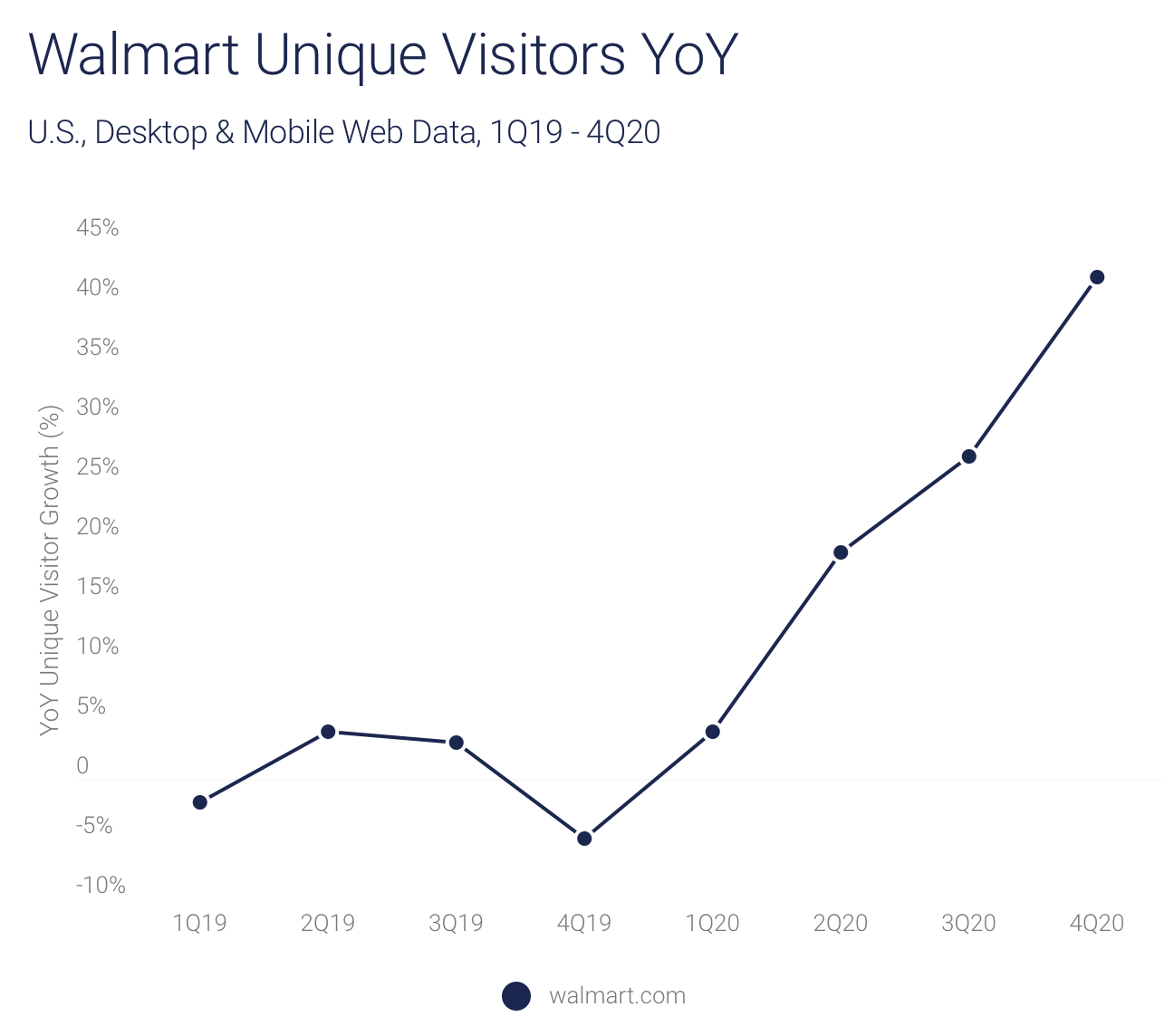 2. Walmart's online grocery business is syncing with Walmart+
Walmart's online grocery business exploded in popularity since the pandemic. There is also consistent traffic growth from September to December.
Helping matters is Walmart's new Amazon-Prime equivalent Walmart+, which launched on Sept. 15, 2020. For $98-per-year, members enjoy perks such as free next-day and two-day shipping on items from walmart.com – with no minimum order requirement.
According to CIPR, some 26% of customers who order groceries on walmart.com are Walmart+ members, about double the percentage of the site average. The research firm surveyed 500 U.S. customers between November and January.
The report notes that Walmart's grocery customers are "ideal candidates" for Walmart+ as they spend an average of $1,900 a year on walmart.com – nearly double the $1,000 annual average for all the website's shoppers. CIPR also found that Walmart+ members already account for about 14% of all Walmart.com shoppers, as of Jan. 30.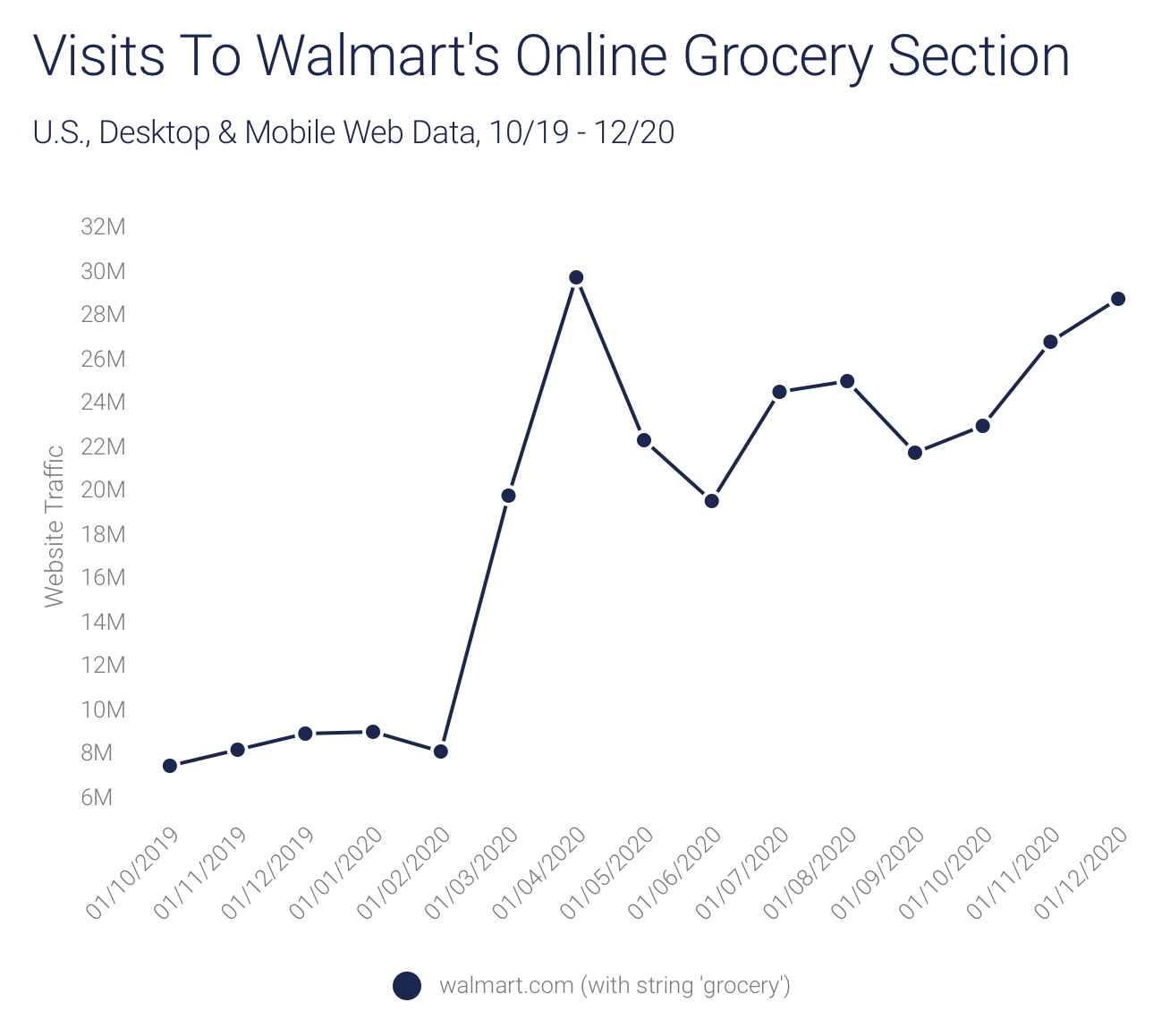 3. Traffic peaked for November's discount shopping bonanza
If we take a closer look at the quarter on a month-by-month (MoM) basis, there was a clear peak in traffic during November 2020. In fact, unique visitors in November spiked 57% YoY – considerably higher than the 32% YoY traffic growth recorded in October and 36% in December.
Why was November such a successful month? Put simply: "Black Friday Deals for Days." In November, Walmart hosted its Black Friday event, but with a difference. America's largest retailer extended the event from one single day to three separate events.
"By spreading deals out across multiple days and making our hottest deals available online… the Black Friday experience in our stores will be safer and more manageable for both our customers and our associates," explained Walmart's chief merchandising officer, Scott McCall, at the time.
And the numbers would suggest that this savvy digital push paid off with a significant spike in online traffic. For instance, Amazon's unique visitor numbers only rose 16% YoY in November (vs. 13% YoY growth in both October and December). Meanwhile Target recorded more similar numbers to Walmart with 56% YoY growth in November.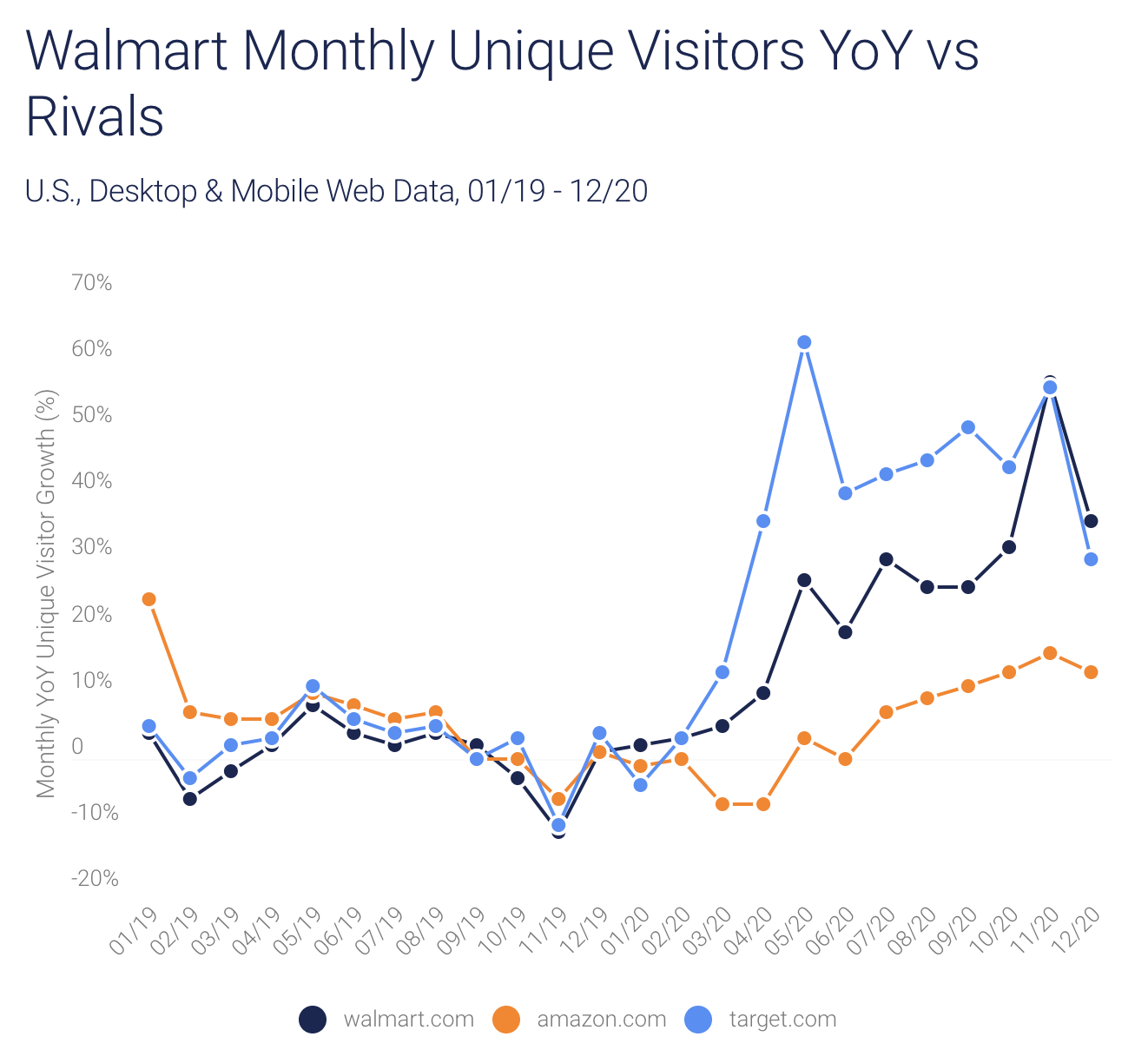 4. Walmart is successfully converting visits to transactions
Conversion rate is a crucial indicator of revenue because it reveals the proportion of a website's traffic that ends up on a post-transaction page (i.e. a 'thank you' or 'checkout' page).
Here we can see that overall Walmart maintained a high conversion rate during the fourth quarter of 6.53%. That's a big leap from the 4.87% CVR recorded in the fourth quarter of 2019. Although the rate did dip in November, it subsequently improved again in December.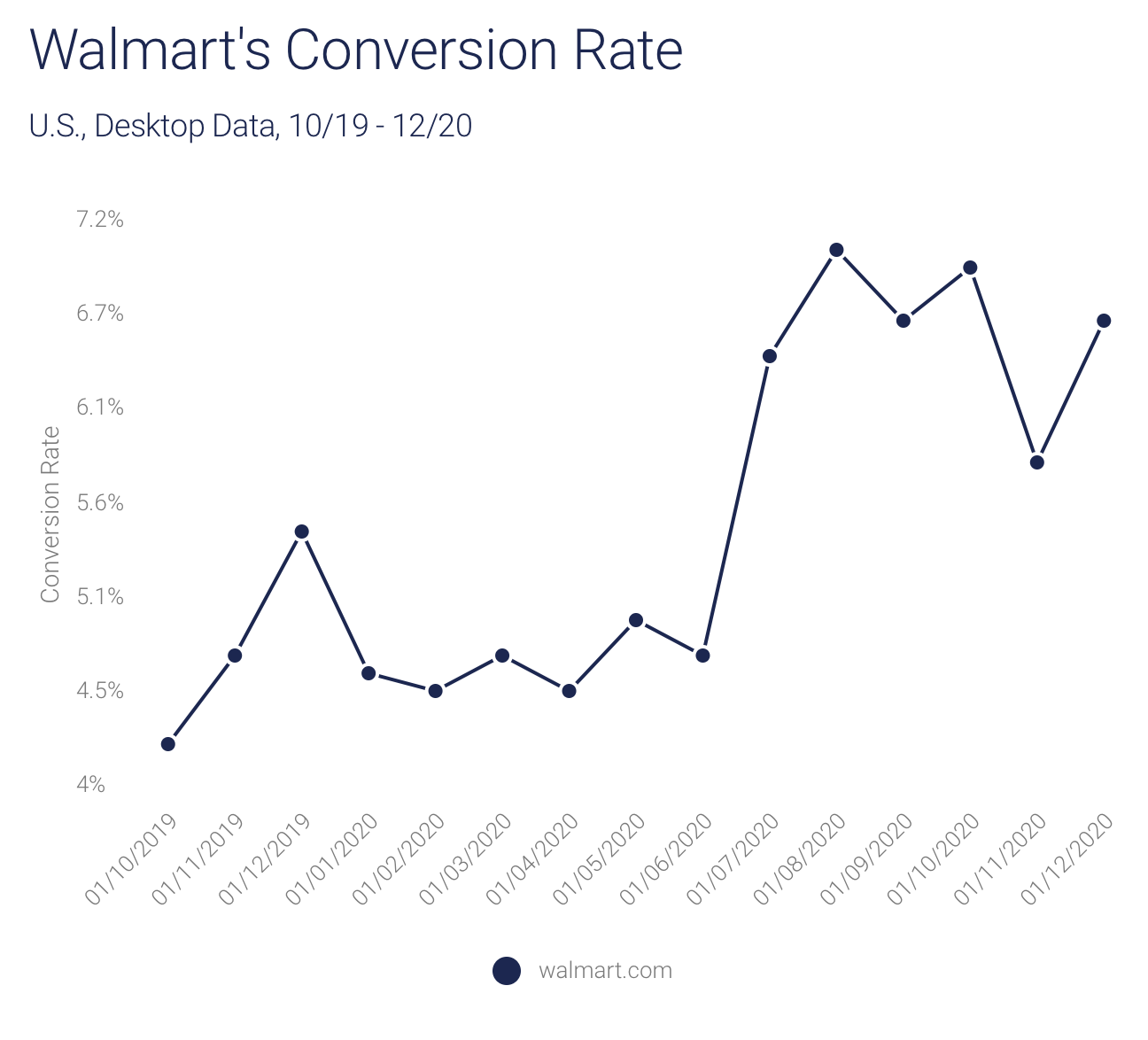 Furthermore, other crucial signs of audience engagement are also positive, with average pages per visit +10% YoY and average visit duration up 5% YoY. Indeed, Q4's average visit duration of 287 seconds is the same as during Q2, when the pandemic kicked off. The bounce rate has also stayed steady since July at around 31%.
Net-net, the digital data does support a strong outlook for Walmart's eCommerce business for the fourth quarter.
5. Walmart Stock Earnings: What's in store for 2021?
First, Walmart should benefit from the second round of $600 stimulus checks, approved at the end of December with a distribution deadline of Jan. 15.
"Stimulus was definitely impactful to the consumer in the second quarter, and we're watching what's going on in Washington, and how we're going to progress with a new stimulus package," CFO Brett Biggs told CNBC. "I think certainly it would be helpful for consumers."
And if we analyze January's data, Walmart's digital trends do appear strong. On a YoY basis, traffic jumped 50% during the first month of 2021 (with unique visitors +34%). Plus Walmart could receive a further boost if a third round of stimulus checks (worth $1,400 each) is approved by the House of Representatives later this month.
Meanwhile, in late January, Walmart announced that it is expanding its use of automated systems to pick-and-pack shoppers' online grocery orders. According to Tom Ward, Walmart's SVP of Customer Product, the process can "take just a few minutes from the time the order is placed to the time it's ready for a customer or delivery driver to collect."
Using our alternative data, we will be able to track the impact of this initiative on the retailer's digital trends going forward.
Stay ahead of the market using valuable digital data insights.
To learn more about the data behind this article and what Similarweb has to offer, visit https://www.similarweb.com/.