WeWork's $9B Co-Working SPAC(E)
Who: Controversial co-working space and office leasing company
What: IPO is out. SPAC is in. WeWork is finally going public
Worth: $9B, including debt
When: Merger date TBA, but soon
"Ever tried. Ever failed. No matter. Try again." WeWork seems to have taken this message to heart. Two years after the company's IPO dreams crashed and burned, WeWork's public ambitions are about to be fulfilled.
On March 26, the co-working space company announced a definitive merger agreement with a special purpose acquisition company (SPAC), BowX Acquisition Corp. (NASDAQ: BOWX). Once the merger completes, WeWork will be a publicly listed company, and a must-follow for stock intelligence enthusiasts. It will also receive $1.3 billion of cash, "to fund its growth plans into the future."
By taking the SPAC route, WeWork is effectively shielding itself from the full glare of the pre-IPO investigations. As Stanford professor Michael Klausner, told the New York Times, "There have been doubts raised about [WeWork's] business model, and those doubts may be difficult to address in an IPO roadshow."
The outlook: Long-term value vs. short-term profitability
A lot has changed since WeWork's 2019 implosion. Before its IPO, SoftBank valued the company at $47 billion. Now WeWork has agreed to a $9 billion SPAC deal. Infamous founder Adam Neumann was ousted and replaced as CEO by Sandeep Mathrani. And a global pandemic disrupted the entire commercial real estate industry.
With the world in lockdown, WeWork's membership numbers inevitably declined. By the end of 2020 occupancy of WeWork offices was down to 46%, compared to 72% in 2019, according to the Wall Street Journal. The company also revealed to investors that it lost $3.8 billion last year.
However, management is staying resolutely bullish. "WeWork has spent the past year transforming the business and refocusing its core… As a result, WeWork has emerged as the global leader in flexible space with a value proposition that is stronger than ever," says Mathrani.
According to BowX's co-CEO, Vivek Ranadivé, the company is still "primed to achieve profitability in the short-term."
Alternative data: A digital perspective for valuation
Using SimilarWeb's powerful alternative data, we decided to take a closer look at one of the world's most intriguing companies. How will this high-profile SPAC play out? Will the new post-pandemic hybrid work model actually benefit flexible office spaces?
We can use our datasets to track website visits from WeWork and rival companies, as well as signups and logins to its membership portal. This is a key proxy for understanding WeWork's demand trends. For instance, to login to WeWork and connect to the office Wi-Fi, members must either go through the WeWork app or website.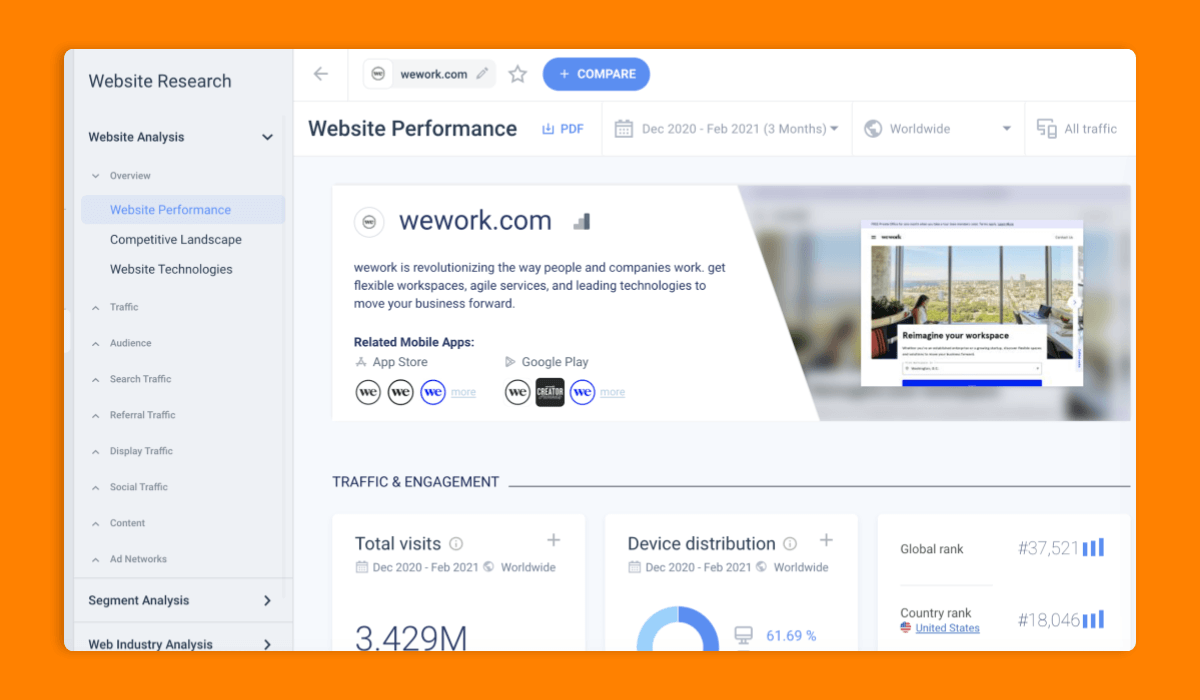 And if we focus on monthly unique visitors, we can assess the actual reach of the company's website by measuring new (rather than returning) visitors. With that in mind, here's what you need to know about WeWork's online performance:
1. WeWork traffic plunges even before COVID
Unsurprisingly, traffic to wework.com reached its lowest point in April 2020. At this point, almost half of the world's population was under lockdown with about 3.9 billion people staying at home.
But what the graph below also shows is that website traffic was actually falling well before COVID-19 became a global pandemic. Monthly unique visitor numbers peaked in September 2019, before dropping sharply all the way until April. (Note that in October 2019 WeWork snagged a $5 billion SoftBank bailout. And in November it laid off nearly 20% of its employees as a cost-cutting measure).
However, visitor numbers are slowly rising from April's trough. Monthly unique visitors in February are up 63% vs. April 2020. This is still a 59% drop from September 2019 and a 1% drop from January 2021.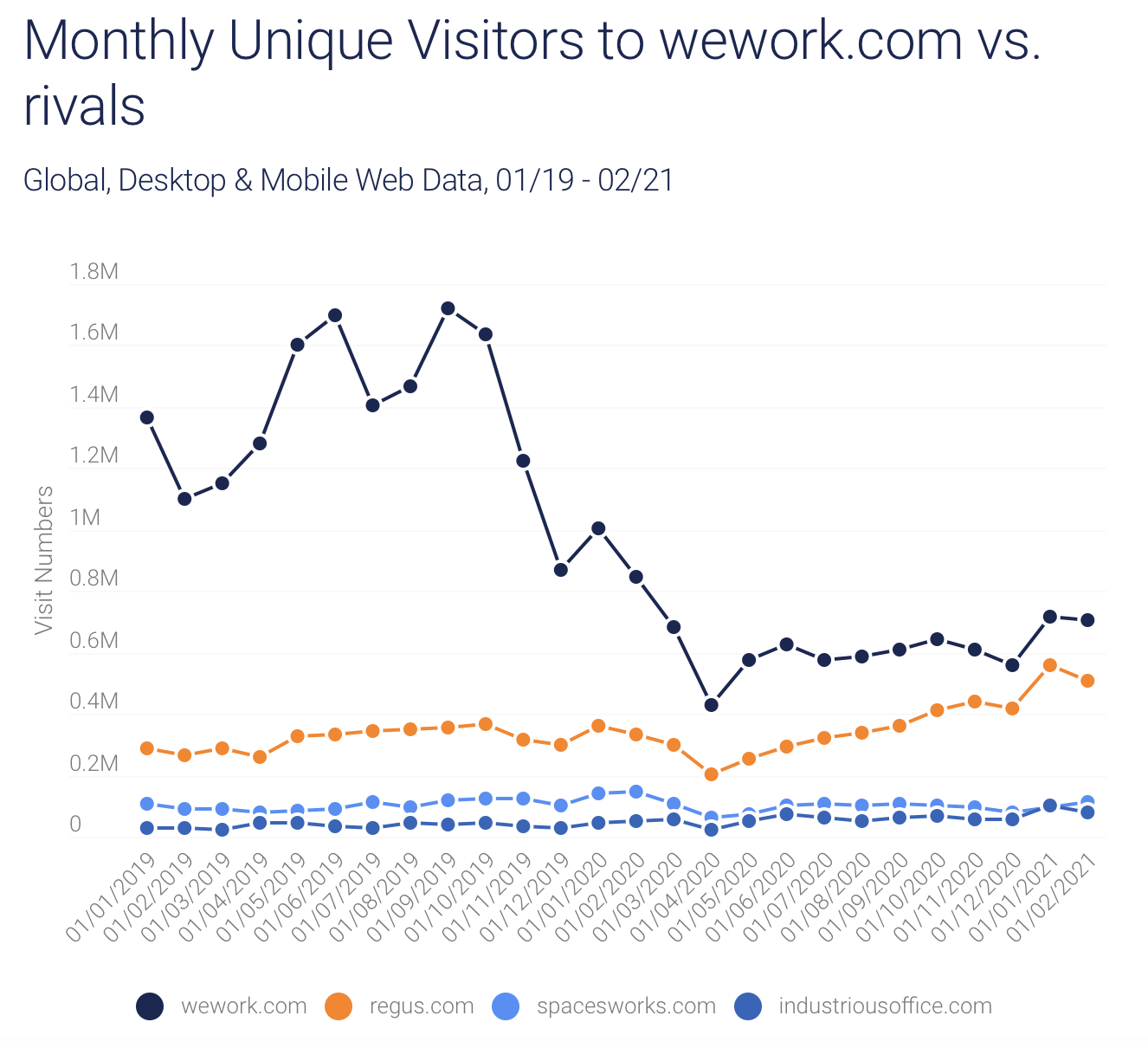 Interestingly, this graph also highlights the ascent of WeWork's key rival, regus.com. In fact, in both December and January, regus.com comes close to matching wework.com's traffic. Given that WeWork was so far ahead at the start of 2020, it will be interesting to see how this trend develops in the coming months.
Indeed, this power shift is also highlighted by the geographical breakdown below.
2. Meanwhile, a key rival is rising
Founded in Brussels, IWG plc provides serviced offices to clients on a contract basis. Although the company has now changed its name from Regus to IWG, note that its website is still regus.com. Shares in IWG, which is listed on the LSE, have surged from 254 GBp at the beginning of November 2020 to the current share price of 341 GBp.
Back in May 2020, IWG raised a £320 million war chest to capitalize on the fallout in the industry from the double-whammy of over-expansion and COVID-19. The company explained that it was looking for funds to take advantage of "an increased number of attractive organic and inorganic opportunities to accelerate the growth and development of the business."
So far it seems like this decision has paid off. Our data reveals the difference in traffic share by country for regus.com and wework.com from February 2020 to February 2021. Back in February 2020, wework.com accounted for over half of U.S. traffic out of the four websites (the other three being regus.com, spacesworks.com and industriousoffice.com). Meanwhile in the U.K., wework.com easily took the #1 spot with almost 73% of the traffic. WeWork also boasted a very high traffic share in India and Korea.


Traffic share in February 2020
Fast forward one year, and the picture looks very different – especially in the U.K. We can see that regus.com has snatched the #1 spot with just under 50% of web traffic. WeWork now falls far behind at just 37%.
At the same time, U.S. traffic to wework.com has dropped over 6% during the year, with regus.com picking up the slack. Even in India, wework.com's share of traffic has slipped from 83% to 72%, while, you guessed it, regus.com has soared from 10% to over 25%.


Traffic share in February 2021
Our conclusion: watch this space. Given that WeWork will score over $1billion from the SPAC deal, it is hardly likely to go down with a fight.
3. Marketing channels slashed across the board
WeWork's recent struggle is reflected by a dramatic drop in traffic across all marketing channels. If we compare February 2020 to February 2021, display ad traffic plunged over 80%, with referrals down 70% and email down almost 50%.
While wework.com's paid search traffic is only 4% lower for February 2021 vs. February 2020, regus.com's paid search traffic exploded 144% during this same period. That could also help explain the surge in traffic to the regus.com website (although note that regus.com's organic search also improved 52%).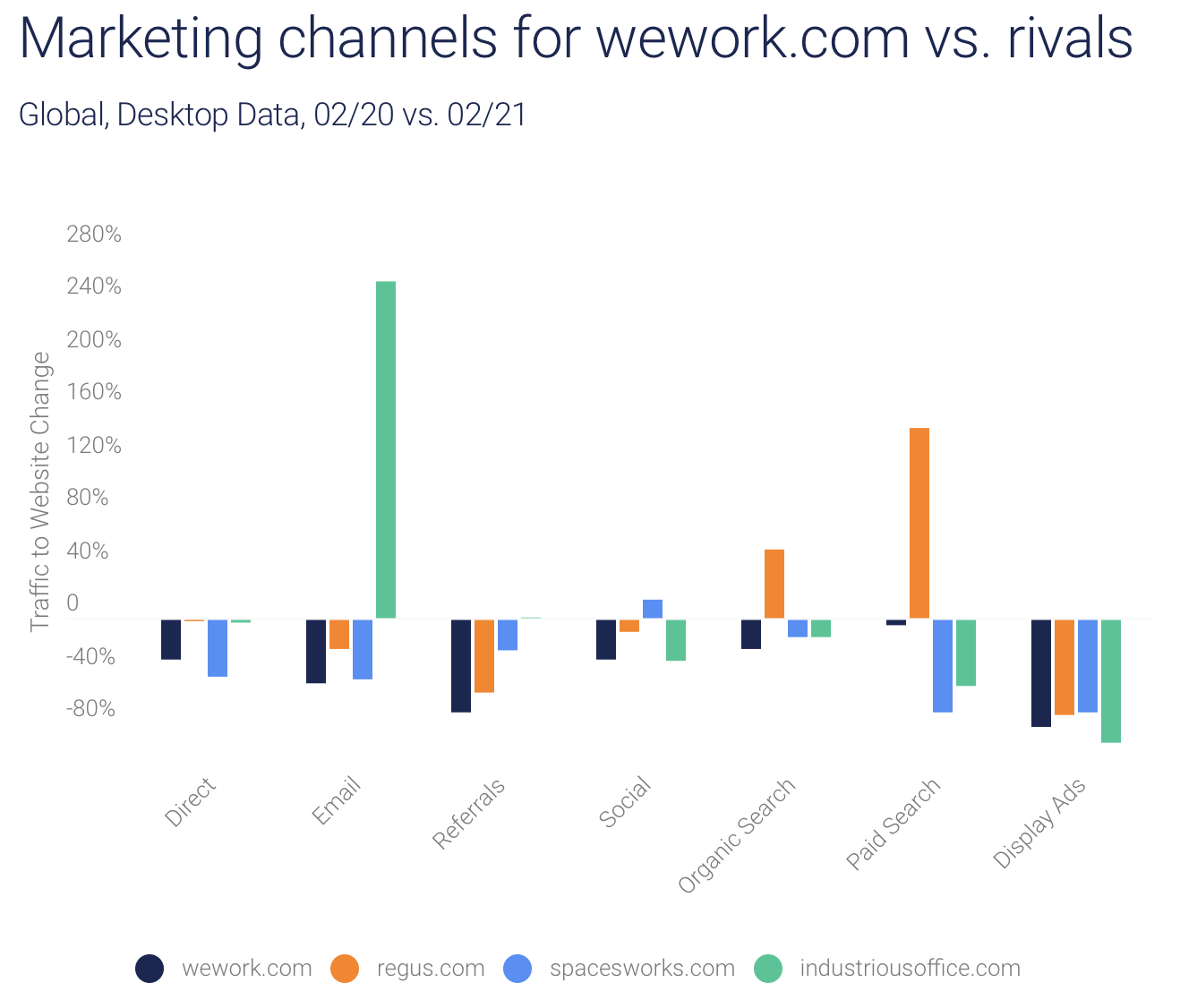 Currently, WeWork's marketing channel breakdown shows that the company is leaning on direct and organic search traffic (at 40% and 42% of traffic, respectively). Paid search stands at 8% of traffic (vs. 9% in February 2020) with minimal traffic coming from referrals, social and email. In contrast, 17% of regus.com's traffic comes from paid search.
4. Signups look strong
Let's round up our digital insights on a more positive note. If we use SimilarWeb's Segment Analysis we can drill down into traffic to wework.com urls that specifically include the word 'signup.' As the graph below indicates, traffic to these signup urls actually peaked in January 2021, and made a rapid recovery from April's dire lows.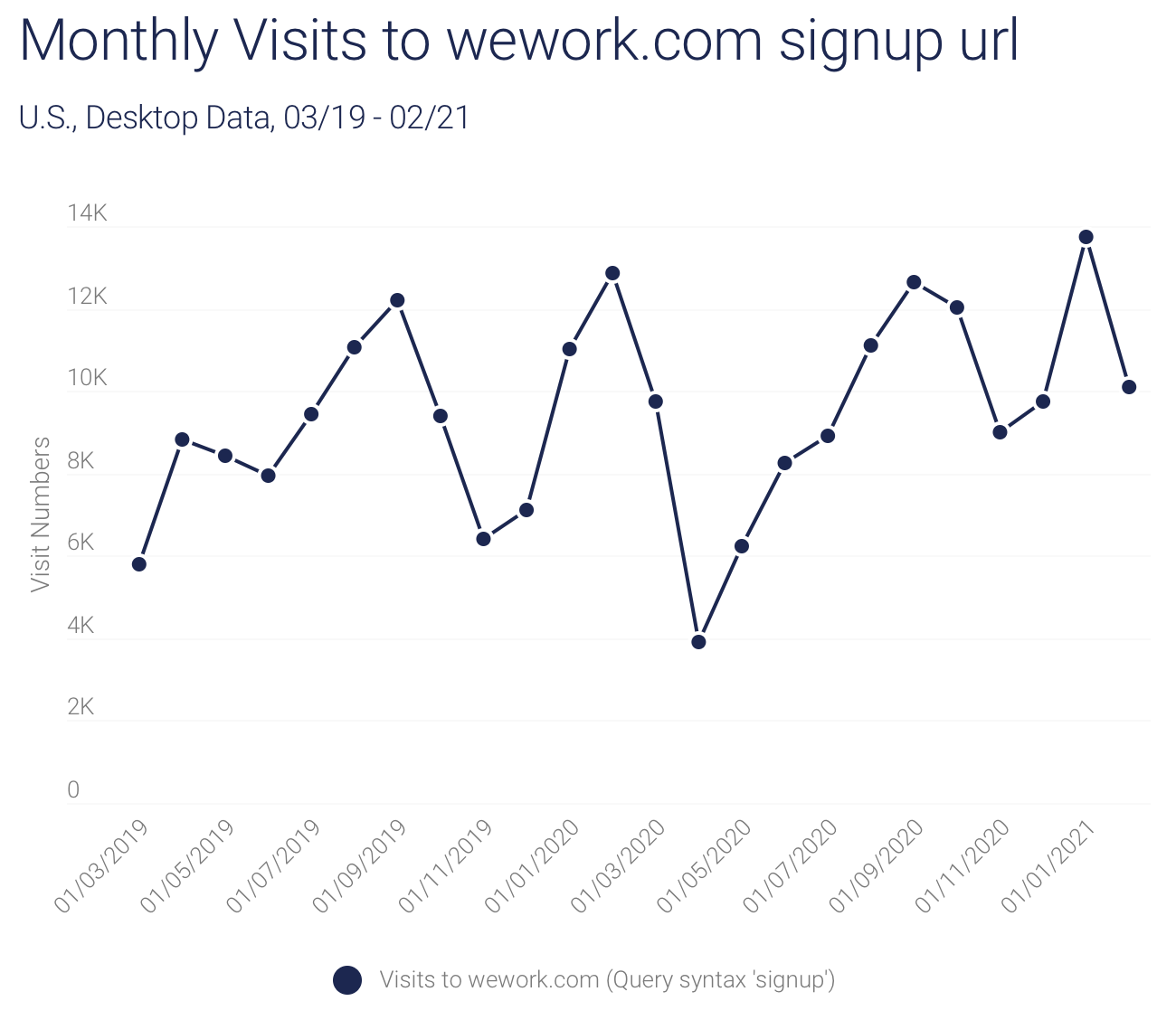 Meanwhile, if we focus on only wework.com URLs that include the word 'member' then we can see that traffic to these pages more than doubled from April 2020 to February 2021 (although this still represents a 42% drop from January 2020).
WeWork SPAC: Summing up
Our data on monthly unique visitors suggests that WeWork is experiencing increased demand vs. April 2020's low point. However there is still a long way to go before we are back to pre-pandemic levels. At the same time, rival IWG is capitalizing on WeWork's recent struggles. So far it seems to be succeeding, especially in the U.K. But with the SPAC soon under its belt and some extra cash to hand, WeWork's comeback may only just be beginning.
To learn more about the data behind this article and what Similarweb has to offer, visit https://www.similarweb.com/.