U.K. Cryptocurrency Traffic Soars: Who's Gaining and Why?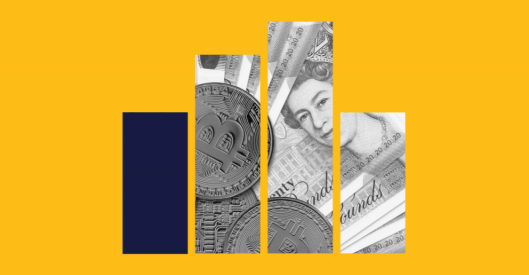 Cryptocurrencies had a monumental year. In December, Bitcoin (BTC) shot past $20 thousand, and at the time of writing, BTC is trading just below the $60 thousand level. This rapid ascent may bring déjà vu of 2017 when BTC climbed from $975 to $20,089. An analysis of the digital growth of U.K. cryptocurrency sites, along with worldwide events, indicates that financial services companies should keep a close eye on crypto this time. We'll show you some tools to help.
U.K. cryptocurrency traffic soars
1. U.K. crypto traffic growth
Traffic growth to the top 10 U.K. cryptocurrency exchange websites demonstrates that digital currencies have become attractive for mainstream investment. In just two years, traffic to U.K. crypto exchanges grew 212%, despite some digital currency regulation by the U.K. government. This upswing in traffic is significantly great than that of the next biggest traffic winners – Turkey, Vietnam, and Germany.


Traffic and engagement, crypto websites per country (via SimilarWeb Pro)
2. Bounce rates suggest increased engagement
While traffic rose, bounce rates decreased, indicating a higher quality of traffic with engaged users. In the last four months of 2020, bounce rates across the top four crypto exchange sites – Binance, Bitmex, Coinbase, and Kraken – declined and maintained the lowest percentage for 2020.


Year over year (YoY) monthly visits bounce rate, crypto exchanges (via SimilarWeb Pro)
3. Direct traffic skyrockets
Further, the skyrocketing direct traffic from October–November 2020 indicates that users visited cryptocurrency websites directly, rather than arriving via paid search, referral, or other channels.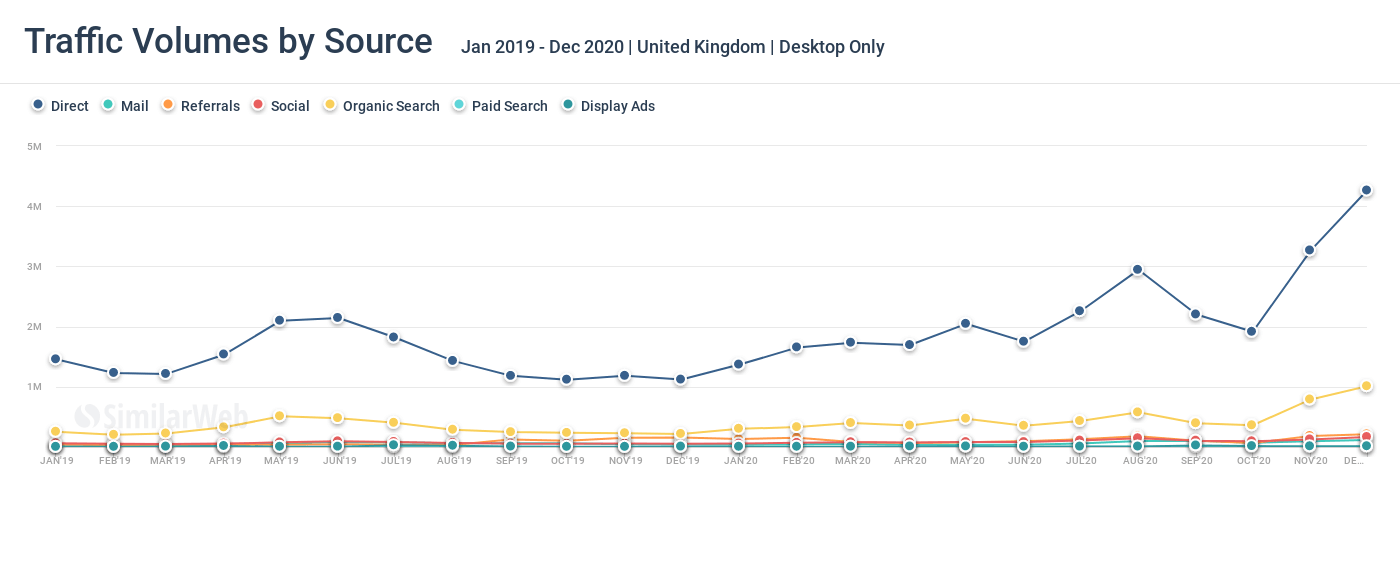 Traffic volume by source, U.K. crypto sites (via SimilarWeb Pro)
4. Mainstream media capture more traffic share
Traffic growth to traditional news and media outlets is another indicator of mainstream crypto adoption.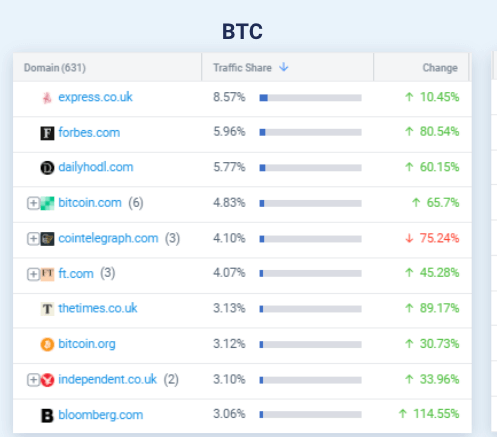 Traffic share for Bitcoin soars across traditional media sites
For Bitcoin-related keyword groups, traffic to Forbes, The Times, and Bloomberg surged last year, 81%, 89%, and 115% respectively. This acceleration exceeded that of more specialized, crypto-focused sites. Cointelegraph, in fact, was the only one that saw a traffic decrease by 75%.
What's fueling traffic growth?
While traffic to crypto exchanges grew 212% in two years, the majority of growth (128%) occurred in the last three months of 2020. Pandemic-related worldwide economic activity and crypto-industry milestones helped drive up the price.
Government spending induces fear
In the first half of 2020, governments spent trillions of dollars in stimulus payments due to the pandemic. The result: mounting fears of currency debasement. Unlike government currencies that can be issued subjectively, only 21 million Bitcoins can ever be created – distrust in fiat helped inch up crypto growth.
October digital currency milestones
October brought some major announcements from payments providers. The general public became more reliant on contactless payments during the pandemic. Therefore, when favorite payment providers recognized BTC, they took notice.
PayPal accepts Bitcoin
PayPal announced that it will allow customers to hold Bitcoin and other cryptocurrencies. With the ability to use Bitcoin on the payments platform, customers can use digital assets to shop among the 26 million eCommerce merchants on the network.
Square announces $50M in crypto investment
Payments company Square announced that it will put approximately $50 million, or 1% of its assets, into cryptocurrency.
5 tips for harnessing up-to-date cryptocurrency insights
Given the hyper-fast pace of the cryptocurrency market, many real-time insights you read here or from other sources may be obsolete shortly after they are published. That's why we'll show you how to harness your own up-to-date market insights.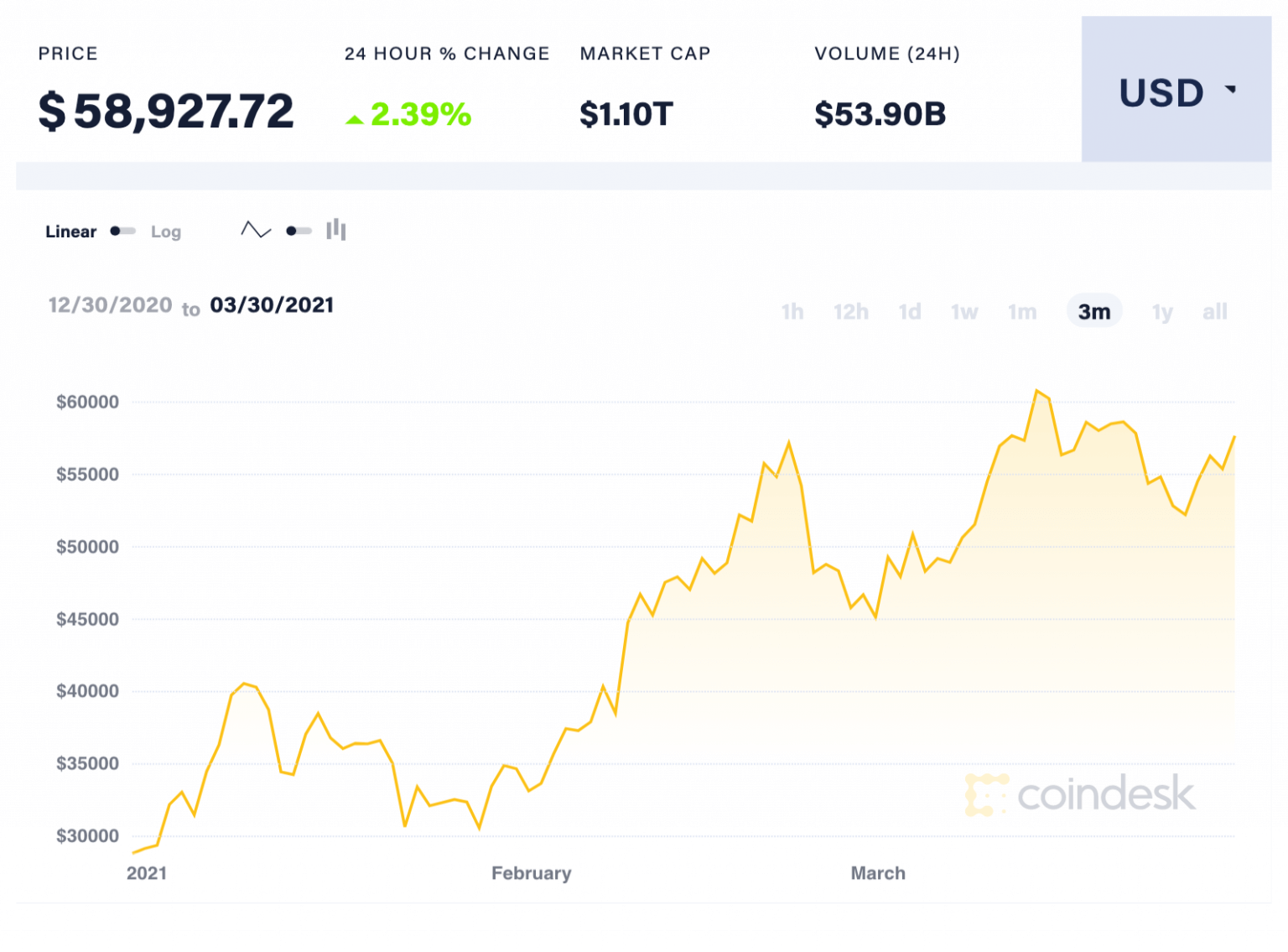 Up-to-date insights are key with soaring BTC prices (Dec. 30, '20 – March 30, '20 via Coindesk)
1. Perform custom market research
Go to Web Industry Analysis
Select or create your Industry
Choose crypto-related sites
Determine timeframe
2. Monitor adoption of new digital coins
Determining digital coins driving traffic to exchanges can help monitor the adoption of new coins or features.
Follow these steps:
Create keyword groups based on the coins you want to monitor
Monitor these groups in each country to understand traffic share and trends of competitors
Identify patterns over time or new patterns such as increases or decrease in trends
3. Understand traffic patterns
Understanding traffic patterns will help to identify the search types for each coin
Determine searches to news sites or financial sites to determine if people are searching for information, or, if they already know what they are looking for
4. Estimate and forecast upcoming currencies
Monitor increases in traffic, specifically in the last three months
Easily identify up and coming coins by using keyword groups and trending traffic
Monitor the monthly change of traffic leaders to see new emerging competitors
5. Optimize performance and customer acquisition
Track which geographies competitors are successful in and adjust your strategy accordingly
Understand what channels competitors are increasing traffic through
Adopt best-in-class strategies for customer acquisition ranging from paid search and display ads to content creation
To learn more about the data behind this article and what Similarweb has to offer, visit https://www.similarweb.com/.