10 Best Stocks for 2021 for Strong Digital Growth
With 2020 finally out the way, let's take a look forward to 2021. We decided to put SimilarWeb's powerful data to the test and pinpoint the top 10 digital stocks for the coming months. These are the stocks with strong digital trends that you should keep an eye on in 2021.
Why? Well, online data represents a powerful indicator of how a company is performing – especially as the pandemic has meant an acceleration in digital transformation by months or even years. "The move to digitization has accelerated, and the benefits will be permanent," says KPMG's global advisory head Carl Carande. "There is no going back."
Indeed, global spending on digital transformation between 2020 and 2023 is expected to total a whopping $6.8 trillion, as businesses rapidly adapt to 'the new normal.'
So without further ado, here are the 10 best stocks for 2021 set for strong digital growth:
Etsy
Carvana
GM
Chewy
Fiverr
Shopify
Uber
CVS
Lululemon
Bank of America
Let's take a closer look now:
1. Etsy (ETSY)
Crafts e-commerce platform Etsy experienced tremendous growth in 2020. Gross merchandise sales on Etsy surged 101% in the first nine months of 2020 compared with the same time period in 2019.
Meanwhile, Etsy's global desktop and mobile web traffic accelerated 94% from 266.3M in December 2019 to 516.4M in December 2020. The graph below shows the stark difference between 2019 and 2020.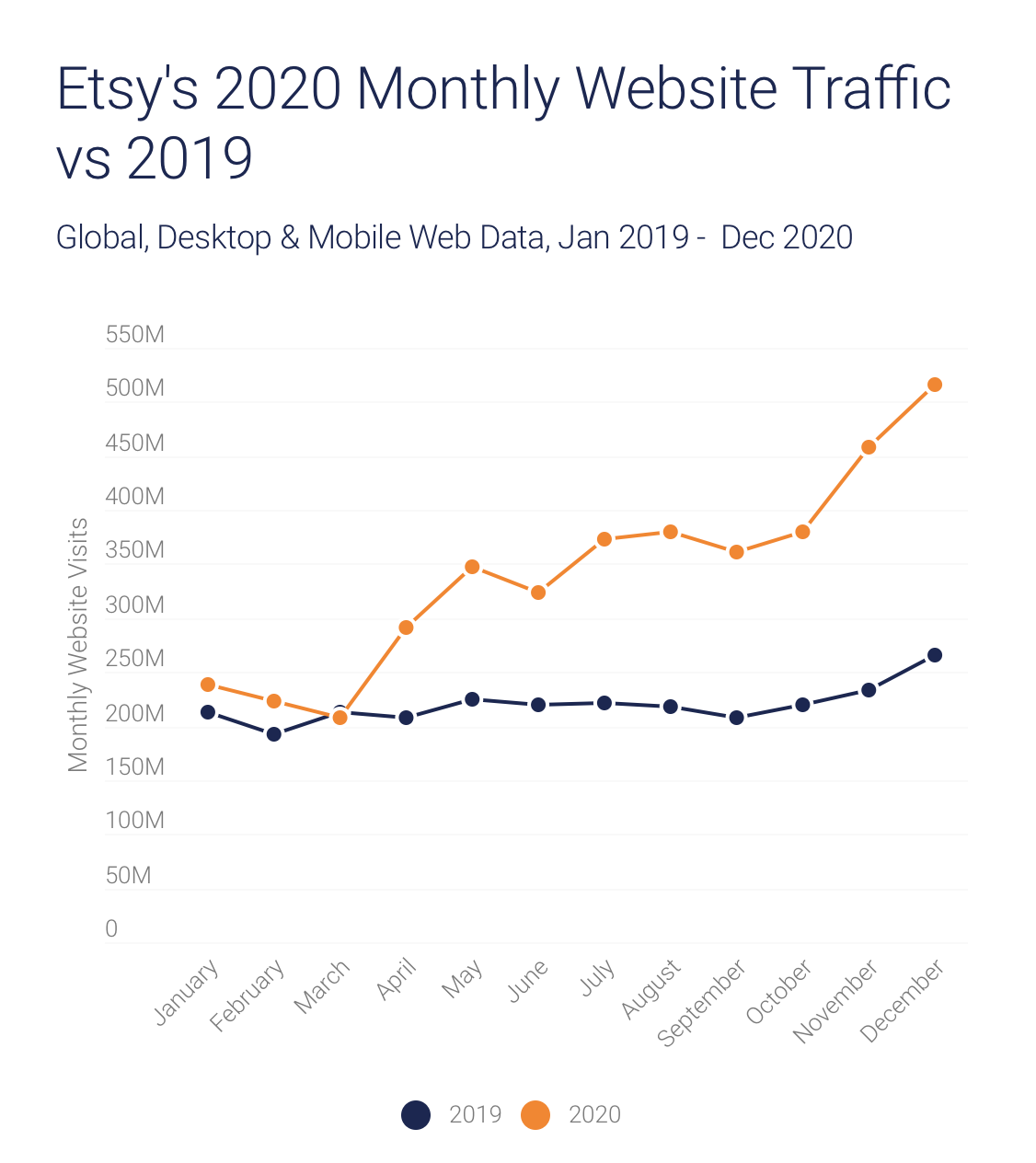 If this trend continues, then Etsy is clearly on track for further strong digital gains in 2021. Notably, Oppenheimer's Jason Helfstein is bullish on the stock's post-pandemic prospects.
The analyst tells investors: "In our view, the sustained level of engagement following Covid-19-induced tailwinds (from masks and home goods) shows a significant inflection in buyers more closely associating Etsy with everyday items." Helfstein has a buy rating on ETSY stock.
2. Carvana (CVNA)
Based in Tempe, Arizona, Carvana is an online-only used car retailer. Famous for its multi-story car vending machines, Carvana was one of the best-performing auto retail stocks of 2020. Shares have gained over 230% on a one-year basis.
Indeed, the share price performance is mirrored by CVNA's impressive web traffic growth in 2020 (up 71% in total traffic from 2019 to 2020). Plus at the same time, website traffic engagement remains high.
Most crucially, the bounce rate for CVNA's website is far lower than for rival auto retailers. This suggests that website visitors are highly engaged in Carvana's online offering- an important indicator of sustainable digital growth.
So it's not surprising that Carvana is gaining market share over its rivals. As the heatmap below reveals, carvana.com now has an almost 10% market share – surging just over 4% ppt year-over-year. Meanwhile, cargurus.com has shrunk 3.6% ppt during that same period.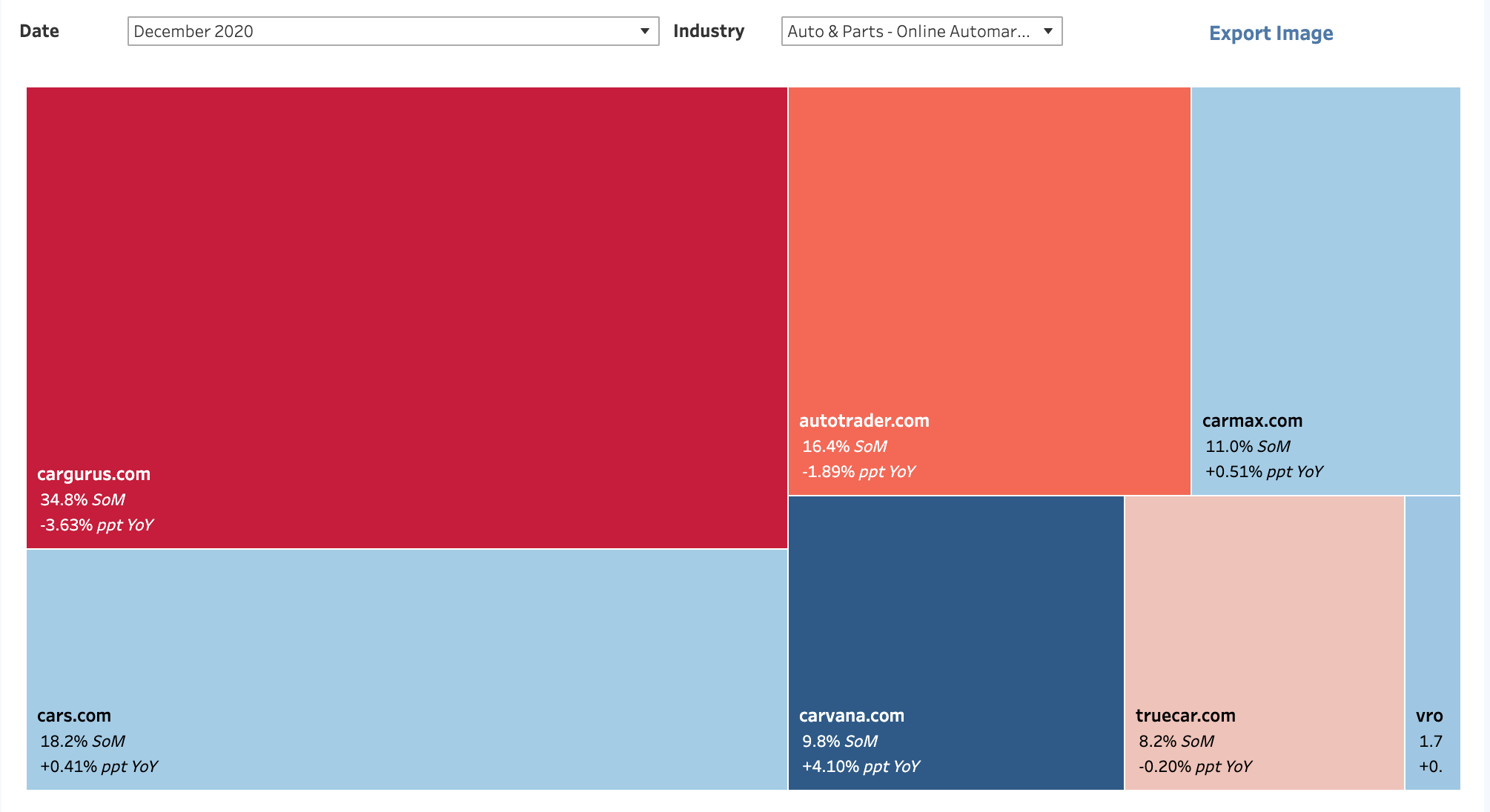 3. General Motors (GM)
Next up is auto giant General Motors. GM recently celebrated its ten year anniversary as a public company and is now turning heads with its Super Cruise driver-assist system and ambitious connected services plans.
In 2020, GM experienced very positive digital traffic trends- and these trends should continue to power the stock through 2021. Not only was traffic significantly higher year-over-year (web traffic in December 2020 was over double that of December 2019), but GM also continued to gain market share vs rival automakers.
This heatmap shows 1) GM's relative market share in the auto industry (in terms of web traffic) and 2) GM's market share trend over the last year. Specifically, GM holds a 7% market share in the online auto industry, up 2.6% year-over-year (as reflected by the color). In contrast, for example, Tesla's market share has shrunk 2.9% ppt year-over-year.
Here web traffic is a useful indicator of consumer interest in purchase (for instance, researching different models on the company website before buying), rather than a direct transactional measure.
Both of these factors indicate that GM is a key stock to watch in 2021.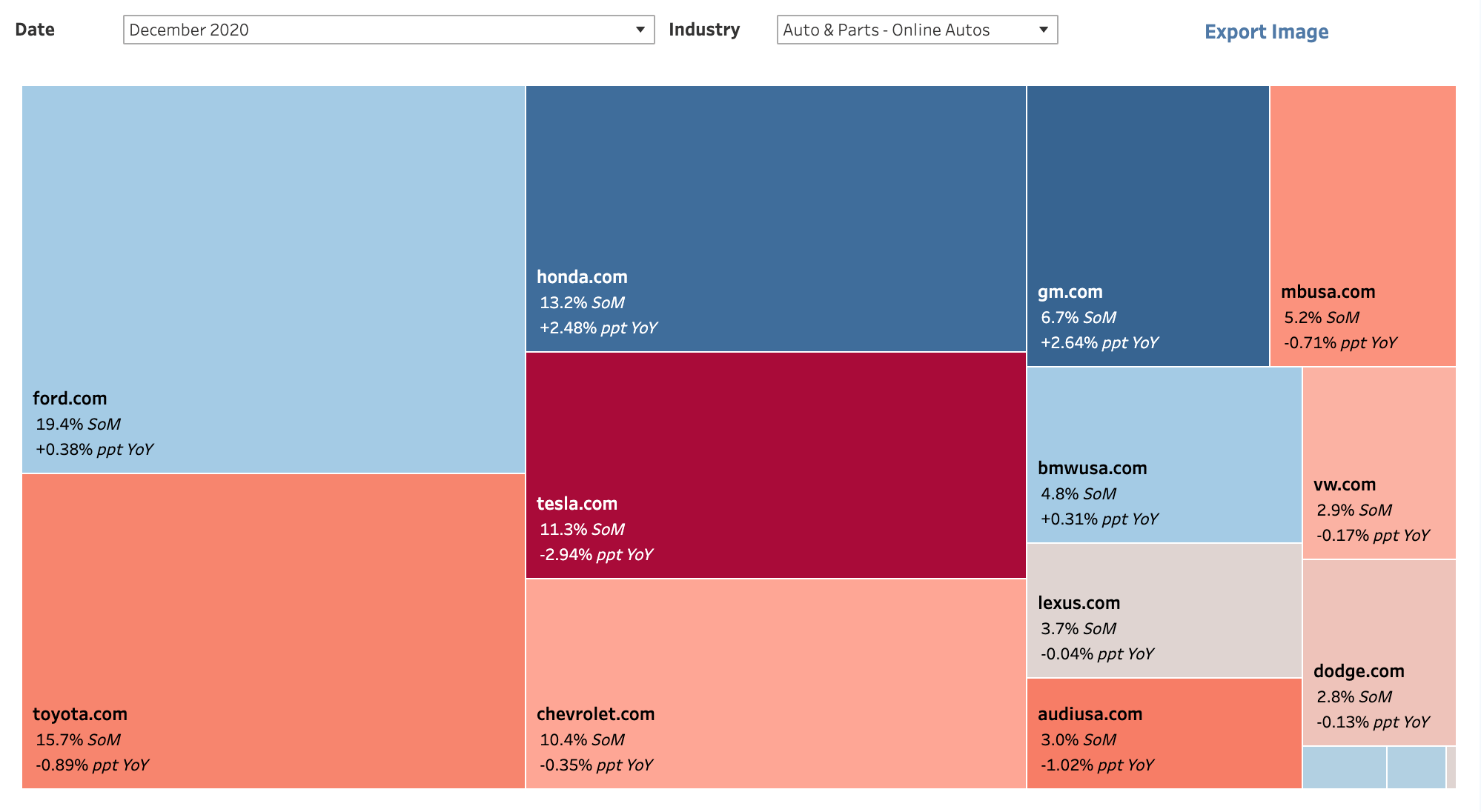 4. Chewy (CHWY)
The coronavirus pandemic has had its upside; for pets at least. "The truth is COVID accelerated, what's been a 20-year surge in demand for pets, particularly dogs," Mark Cushing, CEO of the Animal Policy Group recently commented.
Riding off the back of this pet demand boom, we have Chewy. This e-commerce stock wants to be the most trusted and convenient online destination for pet parents everywhere.
So far Chewy is delivering on this goal with impressive speed. According to SimilarWeb, its website ranks number 1 in the pet food and supplies industry. That's reflected in Chewy's higher audience loyalty as you can see below: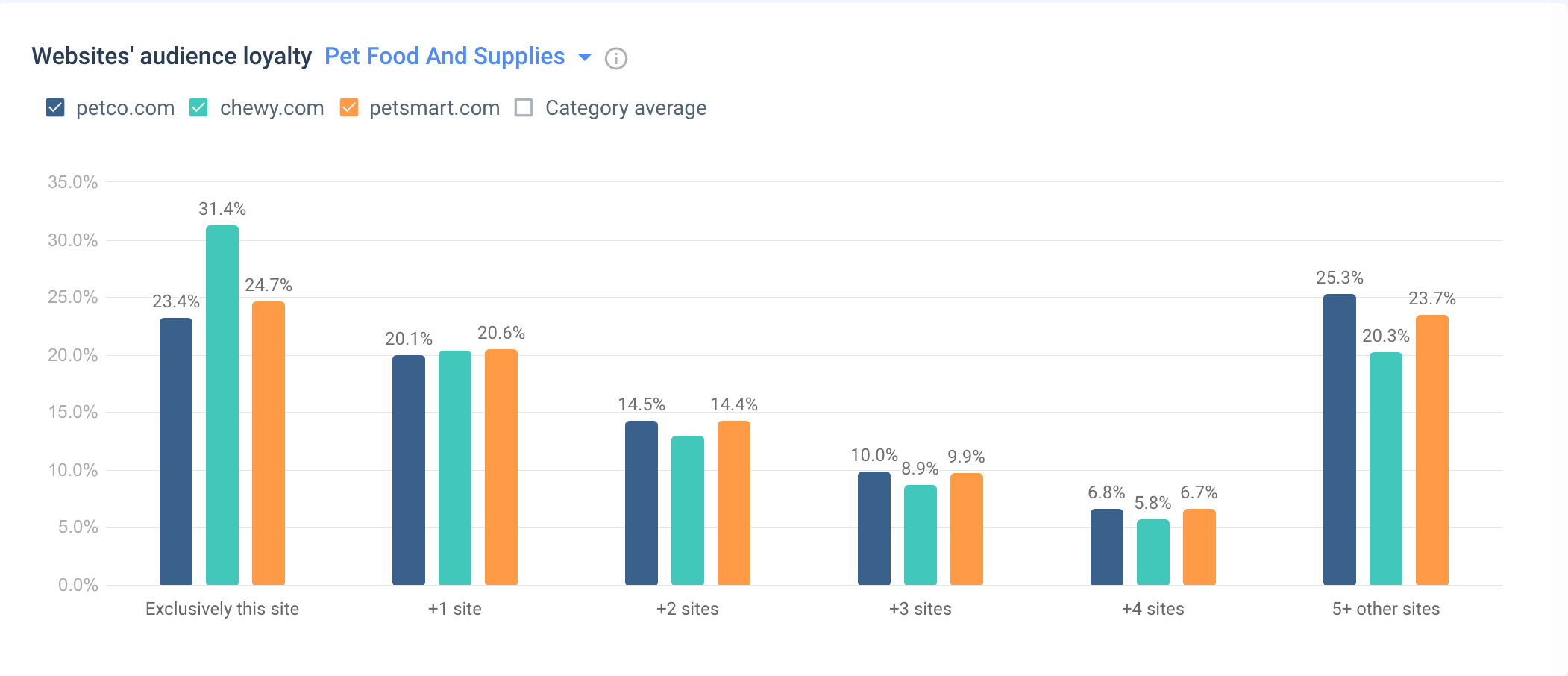 Engagement is also high with visitors spending far longer on the Chewy website than on rival websites (6:17 minutes in December 2020 vs 5:33 minutes for petco.com).
Looking forward, Chewy CEO Sumit Singh is confident that the company's strong growth is sustainable. "Regardless of whether we were in a pandemic or not the secular shift that we were enjoying and executing behind was all driven by the value proposition that we bring to the space," Singh told CNBC after reporting a 45% growth in business.
5. Fiverr (FVRR)
For our fifth top 2021 stock, it could only be Fiverr. This Israeli company provides a rapidly expanding online marketplace for freelance services.
Back in November 2020, Fiverr made headlines for boosting its Latin America presence with launches in both Brazil and Mexico. These are promising opportunities: In the 12 months to the launch, Fiverr saw a 137% increase in new freelance registrations coming from Brazil.
As Fiverr states, this follows a push into multiple markets in Europe, including Germany, France, Spain, Italy and Portugal. Using SimilarWeb, you can track these expansion efforts by following each country's web traffic trends. Meanwhile, on a global level, FVRR's main platform (fiverr.com) is looking very strong vs rival Upwork:
And if we focus on the US specifically, Fiverr's website traffic was 54% higher in the week of December 25, 2020 vs the same week in 2019. Note that the average website traffic growth for freelancing platforms stands at just 17% (upwork.com is at 21%).
6. Shopify (SHOP)
It was hard to miss Shopify's killer 2020. Shares in the Canadian platform are up almost 160% over the last year. If we focus on myshopify.com, the bullish digital data trends are clear. Website traffic exploded 79% from January to December.
"The accelerated shift to digital commerce triggered by COVID-19 is continuing, as more consumers shop online and entrepreneurs step up to meet demand," commented Harley Finkelstein, Shopify's President on SHOP's Q3 2020 earnings results.
The company, which allows anyone to set up and manage an online store, now boasts over 1 million merchants. While most of these are small-to-medium-size businesses, 25% of SHOP's monthly recurring revenue, and the majority of its GMV (gross merchandise value) now comes from Shopify Plus. This is the company's more customizable offering for higher volume merchants that costs thousands of dollars a month.
Reflecting this, we can see a clear upwards shift in the size of Shopify's active client subdomains during 2020. In particular, there are now considerably more client subdomains with 500+ and 1,500+ MUVs (monthly unique visitors) then there were pre-pandemic. This is an impressive trend which SHOP looks likely to maintain in the coming year.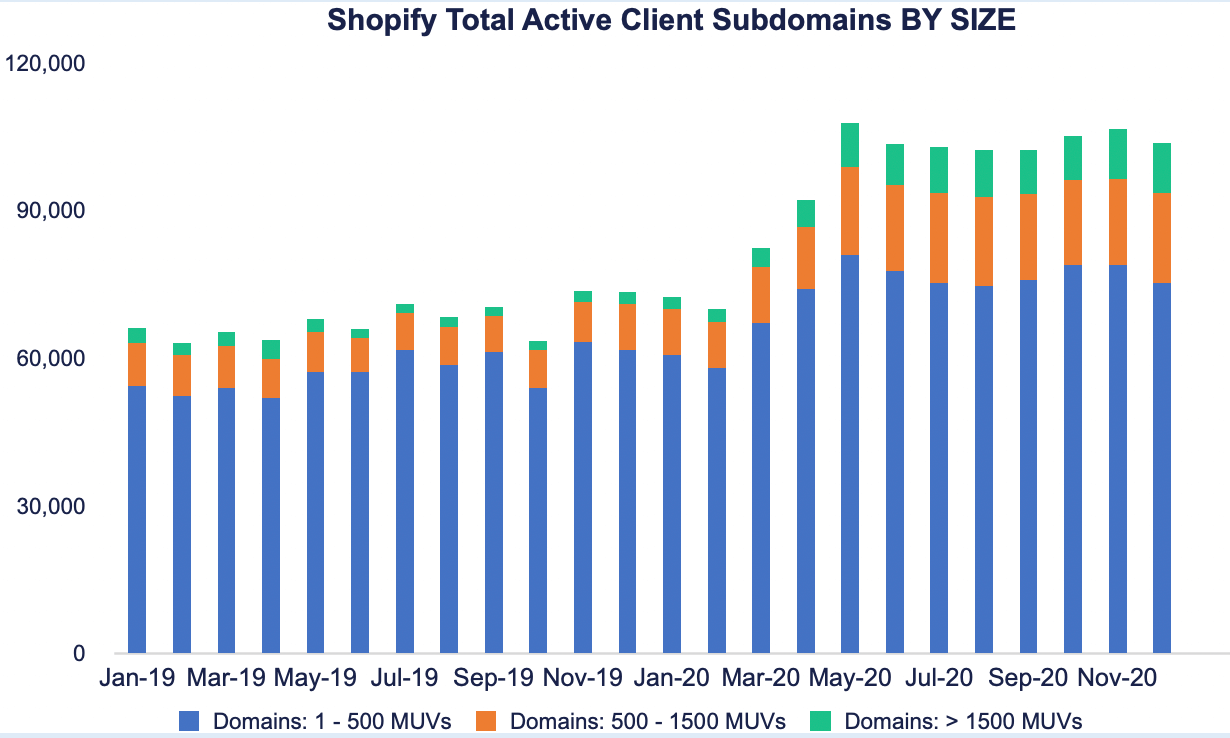 7. Uber (UBER)
True, the coronavirus pandemic and accompanying lockdowns hammered Uber's core ride-hailing business. However, this is still a top stock to keep a close eye on for 2021- and the stock's digital outlook reflects this.
First, the demand for rides should improve as life begins to return to normal. "All early evidence we see makes it increasingly clear that it's a question of when, not if, our mobility business will recover," Uber CEO Dara Khosrowshahi stated on the company's Q3 conference call.
Indeed, we can see that daily active users on Uber's rideshare app (on Google Play) rose from 610,847 in November 2020 to 640,536 in December- whereas rival Lyft's daily active app users stayed relatively steady at around 490,000.
Secondly, the pandemic has pushed Uber's food-delivery service, Uber Eats, into the spotlight. In Q3, delivery adjusted net revenue, including UberEats, exploded 190% year-over-year to $1.14 billion. Our data shows that UberEats is the second top app in the food delivery category after market leader DoorDash.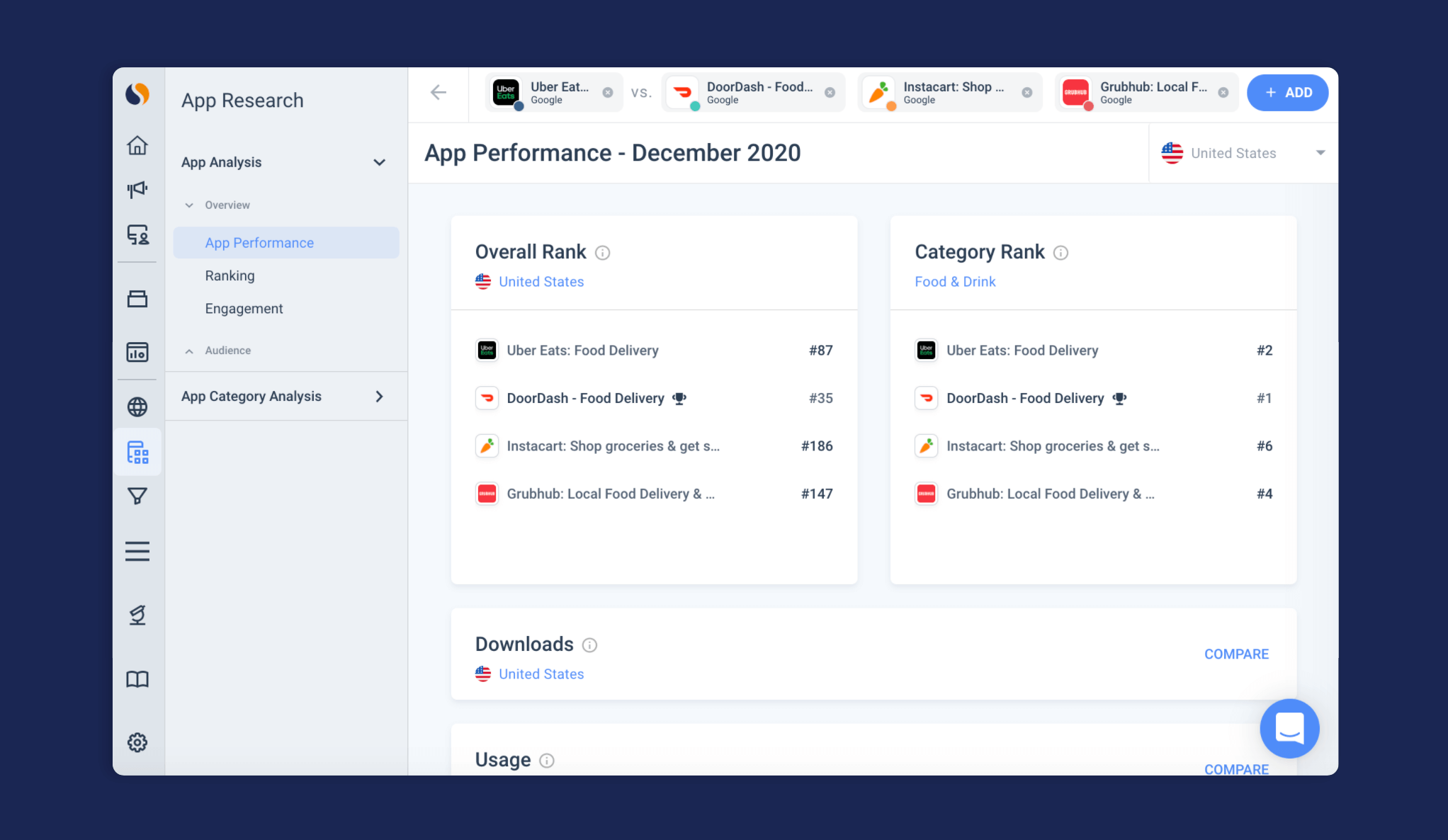 8. CVS Health Corp (CVS)
Drugstore CVS is expanding its digital capabilities. In the company's Q3 earnings call, CVS CEO Larry J Merlo revealed that CVS' specialty digital solutions have grown by a 25% CAGR over the past two years.
"Since the start of the pandemic, we are seeing over 40% of all specialty orders being placed digitally" he revealed, adding "We have created a fully digital end-to-end experience for COVID testifying and flu vaccinations. Patients can schedule appointments online and complete all of the administrative requirements prior to arriving at our stores."
Indeed, we can clearly see the impact of Covid testing through the surge in CVS' year-over-year website traffic growth. Consumers visited the site to schedule Covid test appointments- with a notable jump pre-Thanksgiving. In the week of November 20, for example, the company's website traffic was a whopping 109% higher than the same week in 2019.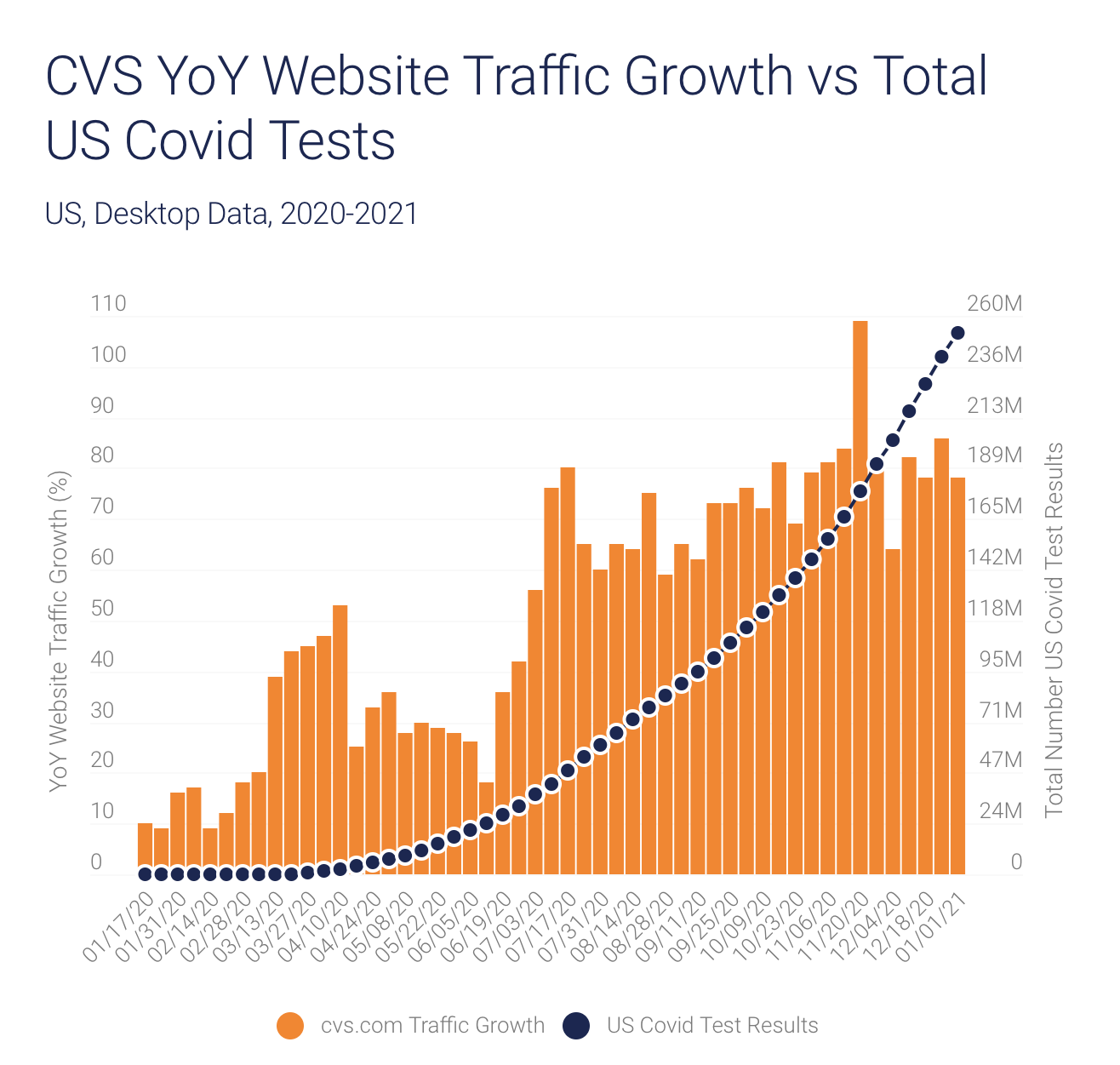 The conclusion: CVS appears set for this strong digital growth to continue in 2021 as consumers become increasingly comfortable with carrying out health-related activities online.
9. Lululemon (LULU)
Popular athleisure retailer Lululemon experienced a stellar 2020. Digital was a key part of that story. For LULU's fiscal third quarter, digital revenue accounted for an impressive 43% of total revenue.
CFO Meghan Frank stated: "Our performance this quarter was driven by strong omni momentum, with notable strength in conversion and increased traffic to our e-commerce sites."
Looking to 2021, SimilarWeb data indicates that LULU will remain a top stock to watch with strong digital growth continuing. Most importantly, Lululemon's conversion rate i.e. the rate at which it turns traffic into transactions (a key component of sustainable revenue growth) is significantly higher than heavyweight competitors like Nike.
So too are the stickiness levels, which measure the loyalty of LULU's website visitors. This matters because loyal customers are more likely to make repeat purchases, boosting the stock's bottom line.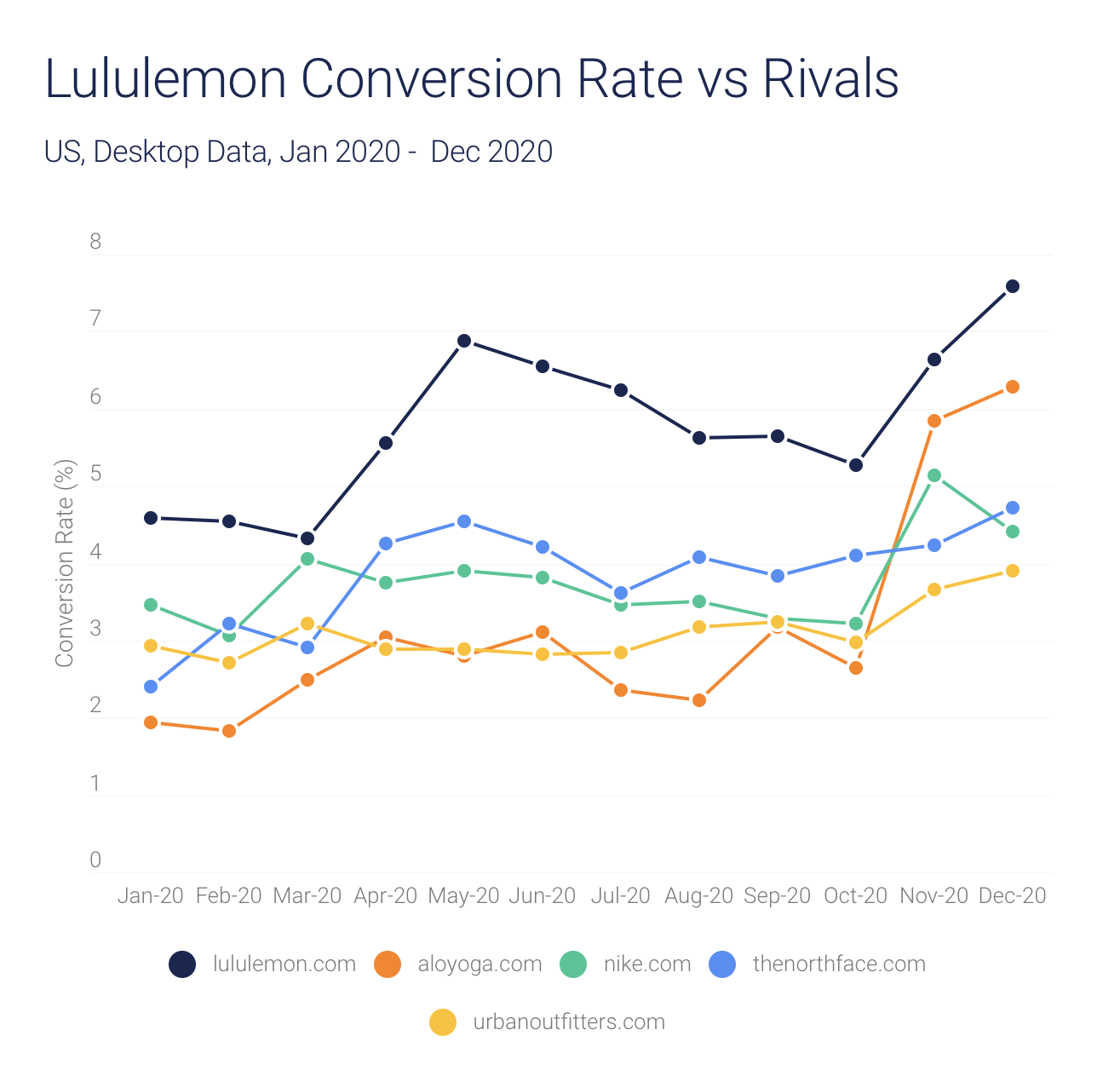 10. Bank of America (BAC)
Last but not least we have one of Warren Buffett's favorite bank stocks: Bank of America. The hedge fund guru boosted his BAC holding by 9% in the previous quarter, giving him over 1 billion BAC shares (about 11% of the Berkshire portfolio, and the fund's second-largest holding after Apple).
Luckily for Buffett, BAC showed resilience in the face of the coronavirus pandemic. Shares are up 42% over the last six months. And for 2021, its digital trends also place the bank well ahead of its peers. This is crucial because for these financial institutions, digital health could well be a key indicator of future success.
With historical profit centers eroded by technology and regulations, the world's biggest investment banks are facing serious challenges. In order to weather the storm, banks will need to adapt by, for example, investing in technology that could allow them to make deep cuts to their payroll.
As the heatmap below shows, bankofamerica.com has experienced a 30%+ leap year-over-year in its January web traffic so far, vs around 21% for the industry average. For example, citi.com's traffic is up only 7% year-over-year. BAC also gained digital market share on a year-over-year basis, while citi.com experienced a drop in market share.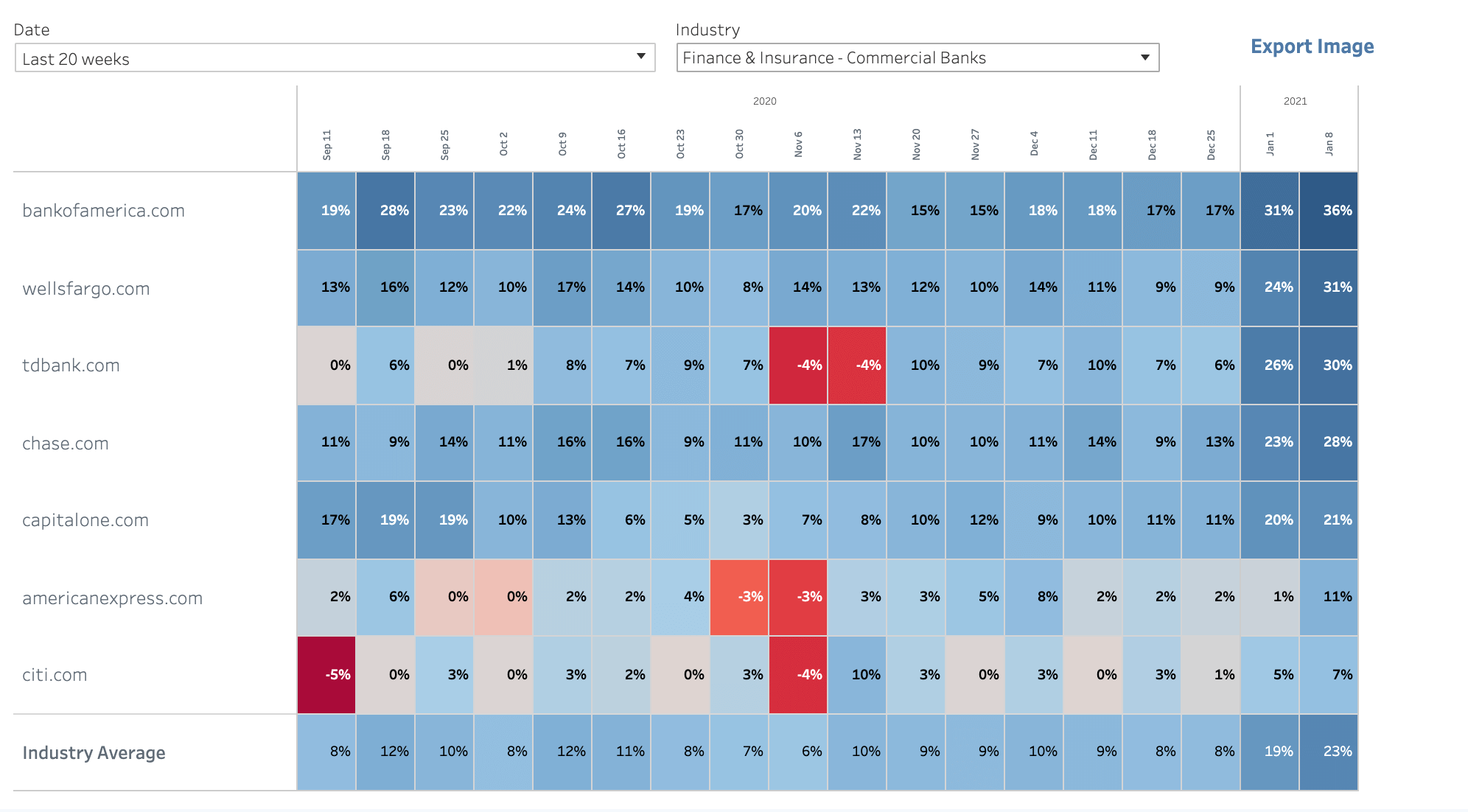 To learn more about the data behind this article and what Similarweb has to offer, visit https://www.similarweb.com/.