UK Grocery Market: 4 Key Takeaways For 2021

As we head into 2021, we decided to carry out a deep dive into some of the biggest players in the UK supermarket business, namely: Tesco (TSCO), Morrisons (MRW), Ocado (OCDO), Asda (owned by Walmart, WMT), and Sainsbury's (SBRY).
There's no doubt that the UK grocery market is changing at a rapid pace. The pandemic has accelerated the shift to online, with IGD predicting that by 2022, online is expected to take £1 in every £11 spent on grocery in the UK. In fact, they estimate that the online UK food and grocery market will surge £7 billion (59.2%) between 2019-2022.
Using our powerful digital alternative data, we set out to measure the extent of this e-shopping transformation- and uncover the industry's winners (or losers).
Here are our four key takeaways for the UK grocery market for 2021:
1) Tesco continues to lead the pack
Out of all the websites we looked at, tesco.com continues to be the market leader with ~34% market share in 4Q20. Our data suggests that this was due to strong brand awareness and a robust digital presence.
In its January 9 trading update, Tesco stated "Our online grocery business delivered over 14 million orders across the 19 weeks [to January 4], with an increase in both average basket size and customer satisfaction scores for the Christmas period."
Groceries.morrisons.com's market share levels also remain elevated in 4Q at ~9% relative to pre-COVID-19 levels (+1.7% YoY in 4Q). However, for asda.com, the picture appears slightly less bullish. Market share continues to track below pre-COVID-19 levels at ~30% (-1.9% YoY in 4Q).
2) Morrisons' web traffic is spiking
Notably, groceries.morrisons.com has seen the strongest acceleration in monthly visits (+101% in December YoY) since the onset of the pandemic. You can see this starkly illustrated in the graph below. Our data suggests that this is attributable in part to the company's savvy focus on display advertising.
For instance, in 4Q, ~33% of all desktop traffic to groceries.morrisons.com came from display advertising. This was well above last year's levels of ~3%. It appears groceries.morrisons.com substantially increased their investment in display advertising vs last year, beginning in 3Q20, and that resulted in higher overall traffic levels.
The question for investors is whether this increased investment will prove sustainable going forward.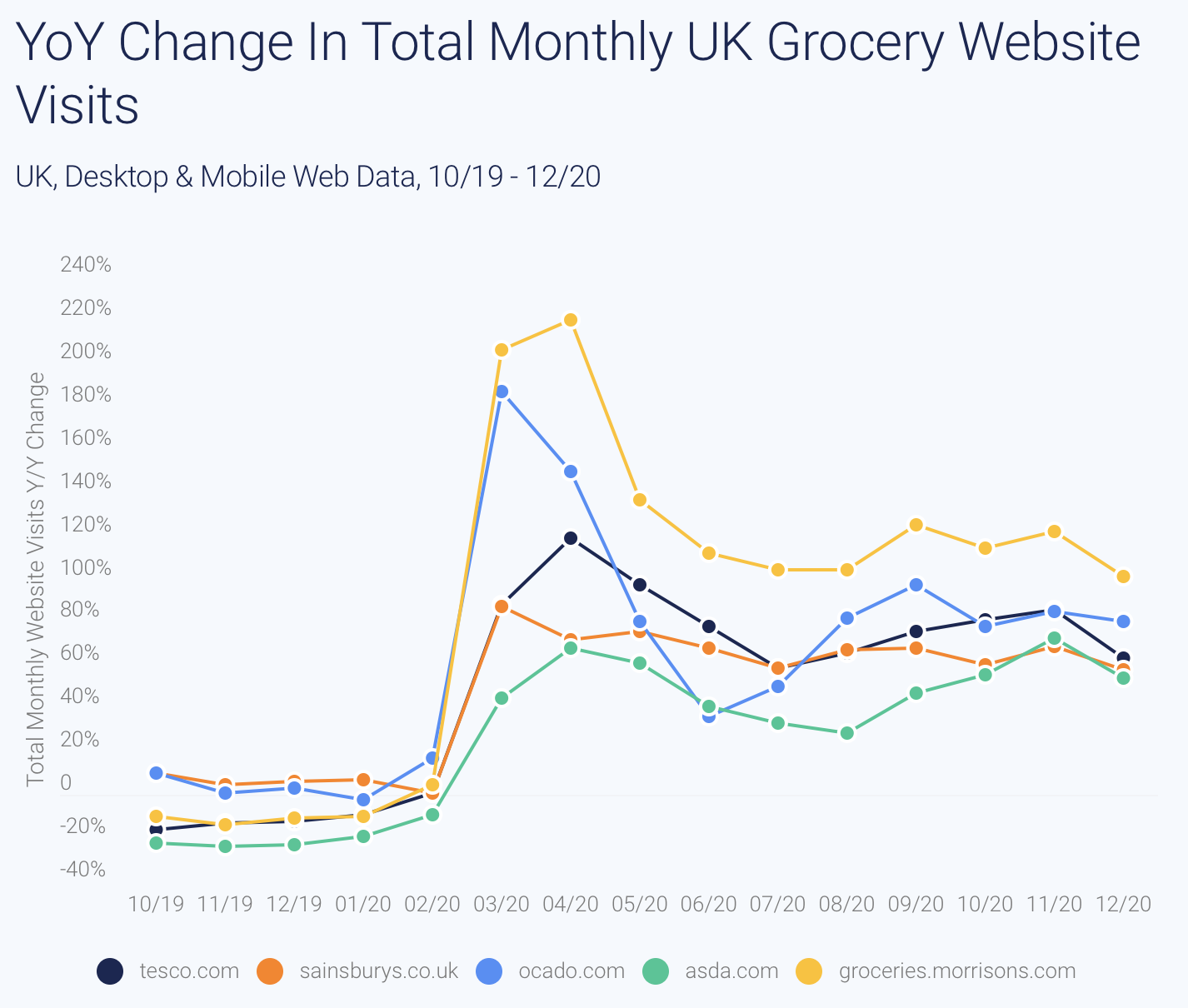 "Store pick home delivery, click and collect, our relationships with Deliveroo, food boxes and our doorstep delivery service are all new for Morrisons," the UK grocer revealed in its January 5 trading update.
"We are still learning and growing online, but it is already profitable and we expect it to become more so as we continue to develop our offers for customers."
3) Web traffic peaked during the first lockdown
As we can see from the chart below, the more recent Covid-19 lockdown had a less pronounced impact on traffic than the initial lockdown. Specifically, UK grocers recorded total monthly visits of ~151 million in December 2020 compared to ~158 million in April 2020.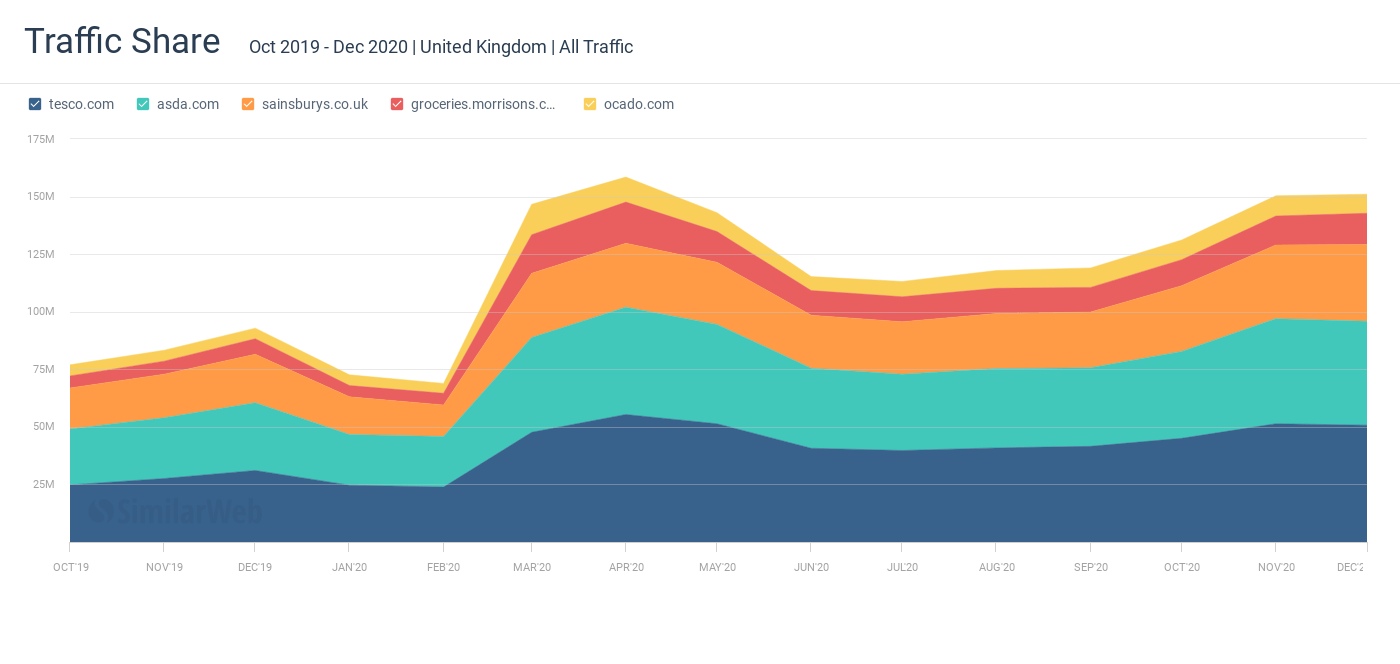 In particular, sainsburys.co.uk experienced the largest growth in traffic share (+2.9%) when comparing initial lockdowns in the UK to the latest lockdowns. For instance, sainsburys.co.uk's traffic share in the March-to-June period was 18.8% versus 21.7% in the November to December timeframe.
"More customers bought their food online than ever before and we delivered 1.1 million orders in the ten days to Christmas, double the number of last year" commented Sainsbury's CEO Simon Roberts.
Roberts continued: "We have more than doubled the number of slots we can offer for home delivery and Click & Collect; Click & Collect accounted for 24% of online sales in the key Christmas week. We have further increased the productivity of our online operation: as we build order capacity from broadly the same fixed asset base, orders per van continue to increase and pick rates have returned to pre-COVID levels."
As our data shows, these efforts are clearly also paying off in terms of market share.
4) Online shopping is here to stay
Despite total visits to UK grocers' websites not reaching the same levels as initial lockdowns, converted visits and conversion rates for the latest lockdown are above first lockdown and pre-Covid-19 levels. This means that a higher number of UK shoppers are now ordering their groceries online.
Indeed, this is reflected by the rising conversion rates of the UK grocers, particularly when comparing the first and second lockdown.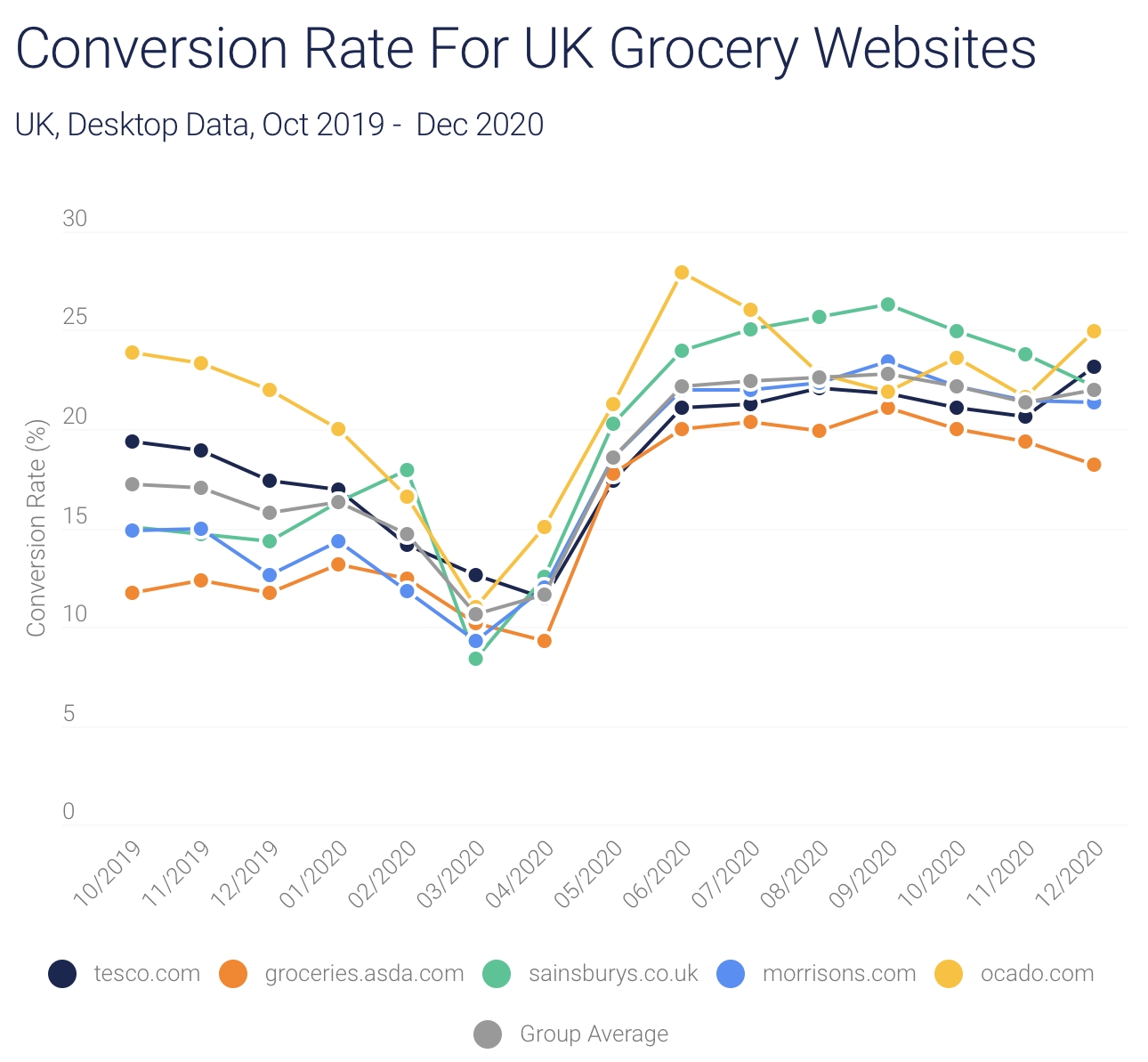 At the same time, we can see that groceries.morrisons.com and sainsburys.co.uk saw the largest improvement in their conversion rates when comparing the current lockdown to the first lockdown and to pre-COVID-19 levels.
For instance, sainsburys.co.uk's conversion rate exploded from just 8.4% in March 2020 to 22.2% in December. Meanwhile groceries.morrisons.com soared from 9.3% to 21.4% during the same period.
Conclusion
UK shoppers appear to have become more comfortable ordering their groceries online vs early in the pandemic. At the same time, UK grocers and their supply chains are now better prepared for lockdowns the second time around. It now seems increasingly likely that this shift to online shopping will prove sustainable in a post-pandemic world.
To learn more about the data behind this article and what Similarweb has to offer, visit https://www.similarweb.com/.