Robinhood IPO: Everything You Need to Know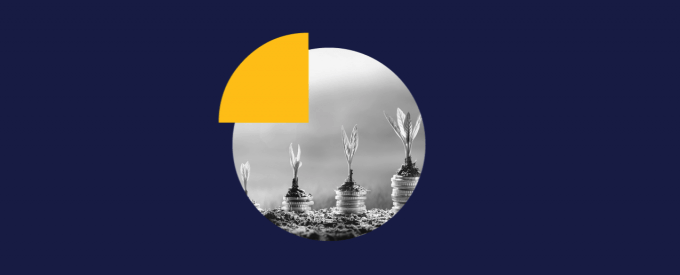 Robinhood has been making headlines in recent weeks after a group of Reddit-inspired retail investors used the commission-free investing platform in an attempt to take down some of Wall Street's top hedge funds, by investing in Gamestop (GME) and raising its share price. The news resulted in a further $2.4B investment for the company, taking total funding to date to $5.6B. No company could have planned this, but it definitely bodes well for the securities and exchange commission (SEC) regulated FinTech company ahead of its potential initial public offering (IPO) expected later this year.
So, will Robinhood still go ahead with its planned IPO? It appears so. According to Bloomberg, plans for the company to go public, either via direct listing or special purpose acquisition company (SPAC) continue to be in motion.
Goldman Sachs has reportedly been hired as the underwriter to lead the Robinhood IPO. Following a valuation of $11.7B in September 2020 after its last private funding round, Reuters reports that the company could be valued at more than $20B ahead of the IPO.
With so much noise around the company, it can be difficult to understand whether Robinhood will actually be a good investment opportunity when it hits public markets. Read on for our pre-IPO analysis on Robinhood.
Key takeaways:
Robinhood.com beats traditional platforms for traffic
Monthly unique visitors (MUVs): Another win for Robinhood
Unbounced traffic growth reaches levels of 600% YoY
Robinhood.com beats traditional brokerage platforms for traffic
The trading platform for retail investors has targeted millennials in its mission to "democratize finance for all". And its business model is working. Robinhood.com receives more traffic than any of the traditional retail brokerages. In January, site visits surpassed the 50M mark, over 10M visits higher than schwab.com, which follows robinhood.com with just shy over 40M visits in January.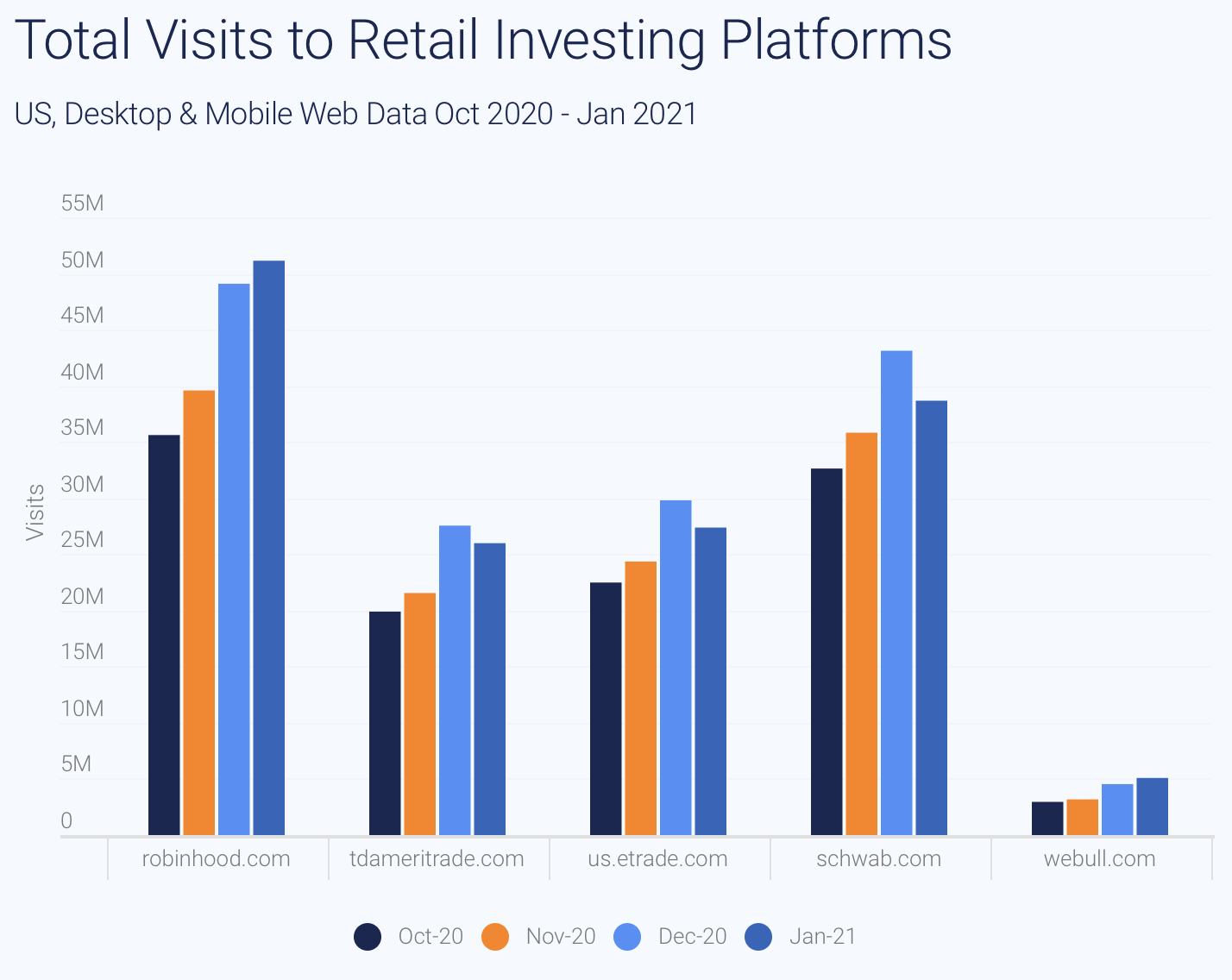 Not only does robinhood.com have the most traffic to its site, but in 4Q20 it also had the highest number of monthly unique visitors (MUVs).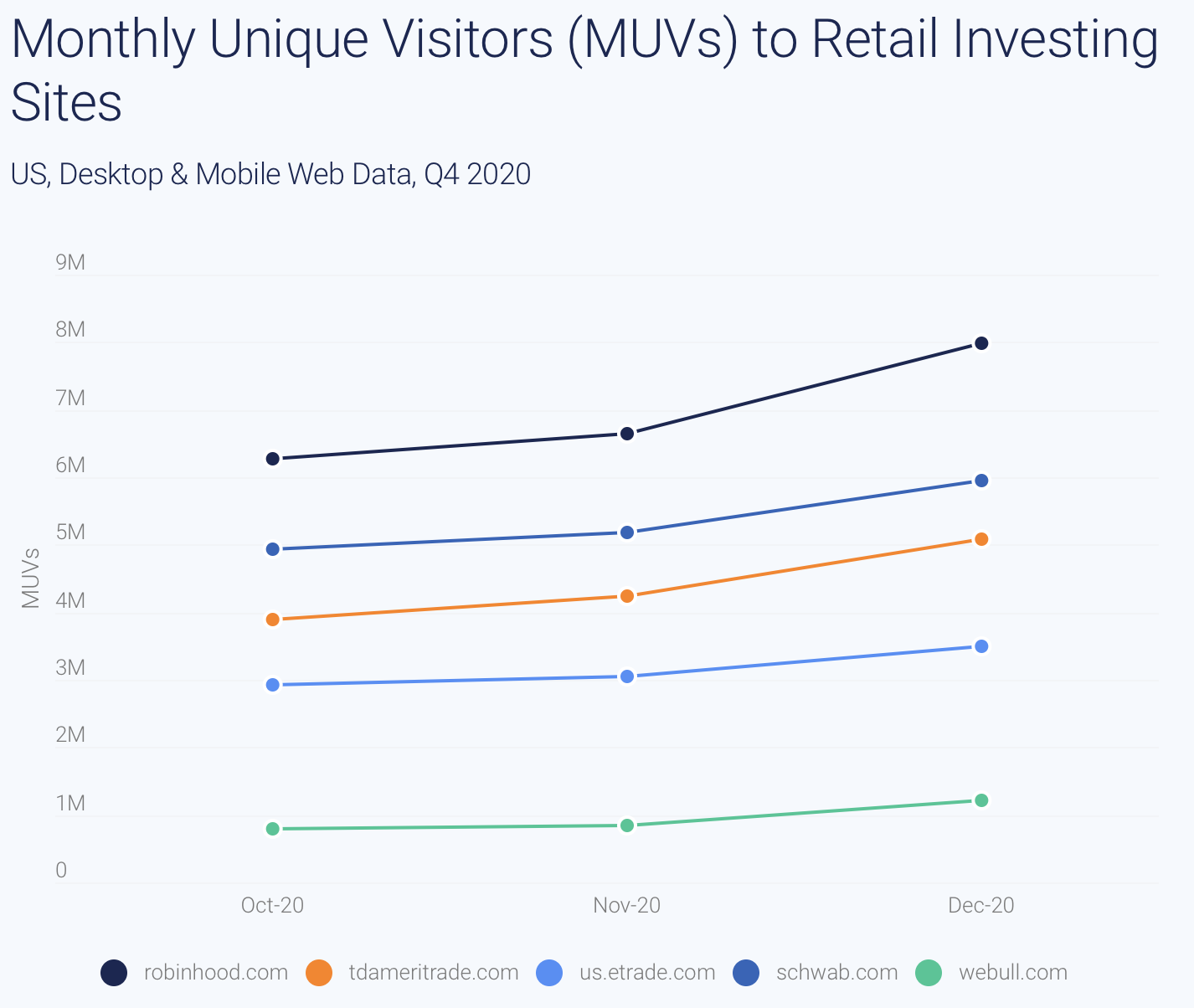 The trading platform also received a boost from the pandemic over the last year, as more downtime at home led to more interest in investing. So you can see, robinhood.com is definitely the trading platform of choice for now – but we have to ask ourselves – will it continue to be the preferred platform?
The growth picture
A look at the rate of YoY traffic growth is a good indication of continued interest. The graph below shows YoY growth in unbounced traffic (visits that go to more than one page) to robinhood.com compared to traditional retail brokers in the U.S. Even without the spike in growth (almost 1200%) seen in the seven days ending Jan. 29 due to the GameStop saga, robinhood.com is enjoying growth peaking at levels of 600% YoY while traditional retail brokers are struggling to reach the 200% mark.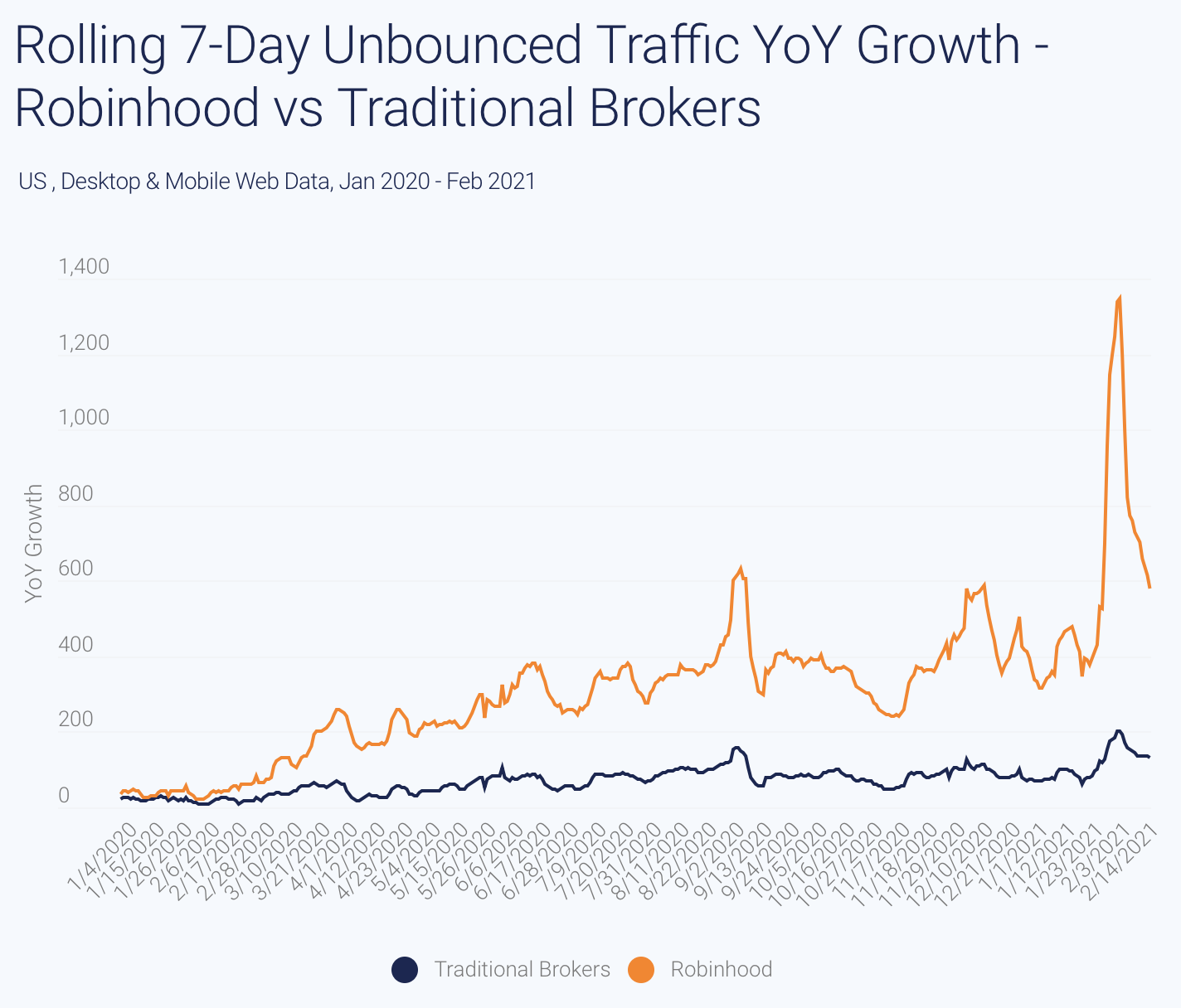 To learn more about the data behind this article and what Similarweb has to offer, visit https://www.similarweb.com/.