Chewy Earnings Preview: Bringing the Bacon Home
What: eCommerce pet supplier.
When: FQ4 Chewy earnings on March 30 after market close.
Key focus: Profitability. So far making money has proved elusive.
The question: Will shares recover post-print?
Expectations for Chewy are high heading into the print on March 30. The eCommerce pure play beat consensus revenue estimates for the past six consecutive quarters. And in its last earnings report, the company issued strong guidance for the current quarter (November–January 2021).
However, shares have pulled back recently on valuation concerns. Chewy is down 13% year-to-date following a massive build-up in 2020. Given the recent weakness in its stock over the past month, the key question now is: Will CHWY be able to beat revenue consensus estimates again and propel its stock price higher?
Using SimilarWeb's powerful digital alternative data, we take a closer look at:
Website visits
Profitability
New healthcare launches
Autoship subscriptions
Let's go:
Chewy earnings: Encouraging website visits
Global desktop unique visitors to chewy.com, a historically sound directional signal of growth in active customers for Chewy, increased consecutively for the fifth straight quarter.
Website visits surged 49% year-over-year (YoY) in Chewy's F4Q21 versus +43% YoY in F3Q21. In contrast, consensus is only guiding for a low single digit quarter-over-quarter (QoQ) percentage uptick in Chewy's active customer growth for F4Q21 at around 41% YoY.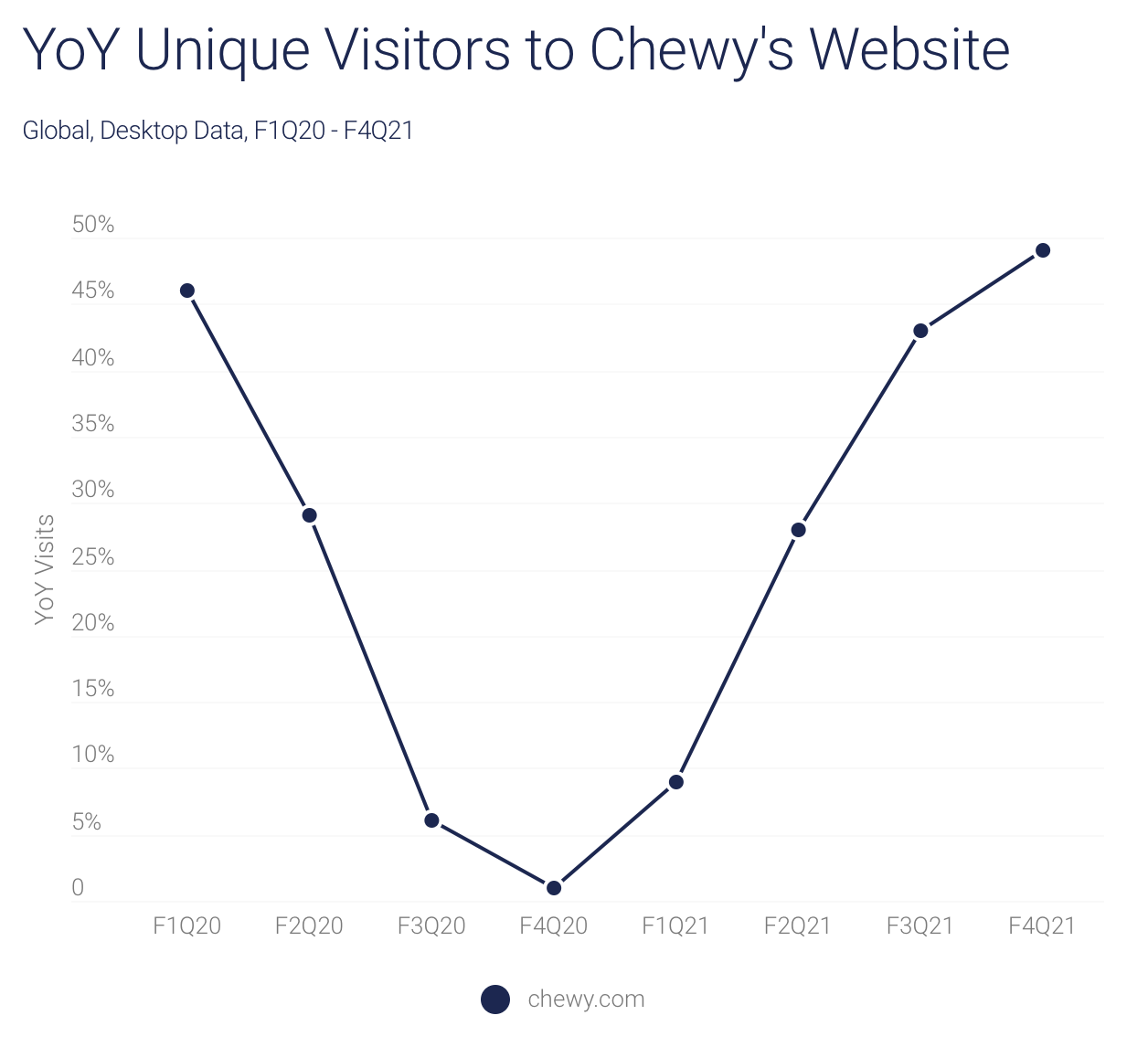 Side note: The previous YoY drop in fiscal year 2020 could well have been due to the fact that it was simply a tough comparison after five years of robust growth. Overall, there was notable sequential slow down across eCommerce right before the pandemic given consumer spending growth was starting to slow. But the YoY pullback could have also been evidence of Amazon investing more heavily in the pet space, and more competitors entering the market.
Pet food profitability
A major focus for investors for the coming year is profitability. The critical question is: When will Chewy reach breakeven? According to RBC Capital analyst Mark Mahaney, this fiscal year could be the first year of break-even earnings before interest, taxes, depreciation, and amortization (EBITDA). He has just upgraded the stock from hold to buy.
A savvy way to boost profitability is to reduce customer acquisition costs.
Our marketing channels overview data shows that in F4Q21 organic (direct, organic search) U.S. desktop visits to chewy.com improved 4% YoY, compared to +11% YoY in F3Q21. This data indicates that Chewy's organic growth strategy is succeeding – a bullish signal for management's goal to lower Chewy's customer acquisition cost.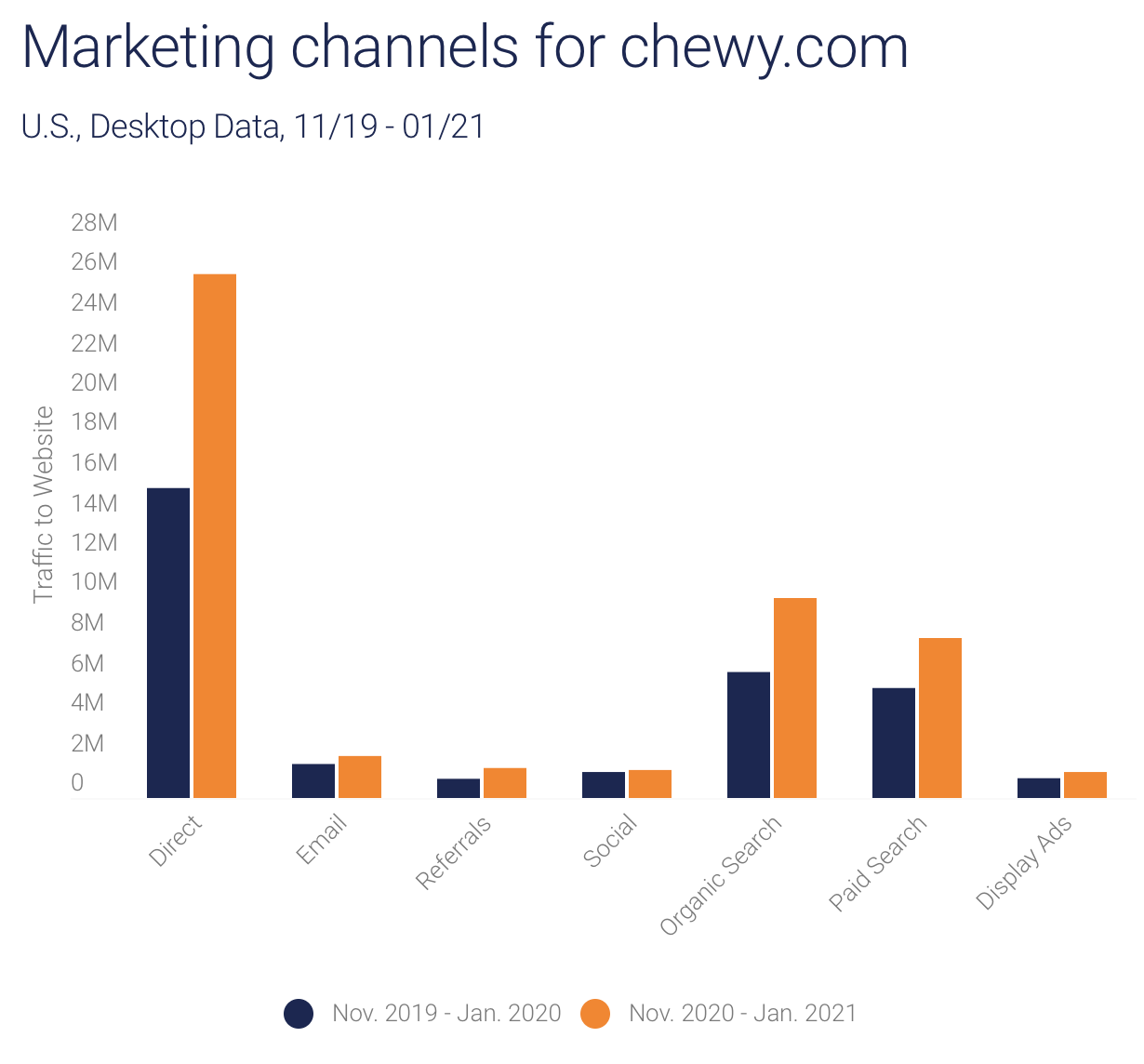 New healthcare launches
On Chewy's F3Q21 earnings call, management emphasized the company's new healthcare launches: Connect With a Vet and Compounded Medications.
Connect With a Vet is Chewy's proprietary telehealth platform. This allows 'pet parents' to connect directly with a licensed veterinarian. They can get answers to some of the most commonly asked questions and even receive referrals to local vets or emergency clinics.
Chewy then expanded its iPharmacy (Rx) business in December to offer compounded medications customized to specific pet needs.
Both of these new initiatives are important parts of the company's long-term strategy to build out its pharmacy and healthcare business.
And we can see from our segment level data on U.S. desktop visits to Chewy's vet chat page, that there has been a meaningful uptick in visits since the platform was launched in October.
Though it's still early, this data will show if usage of Chewy's Connect With a Vet feature continues to trend in the right direction. This is worth tracking as management expects this platform to help drive adoption and retention of customers going forward. It also has plans to further monetize this platform in the future.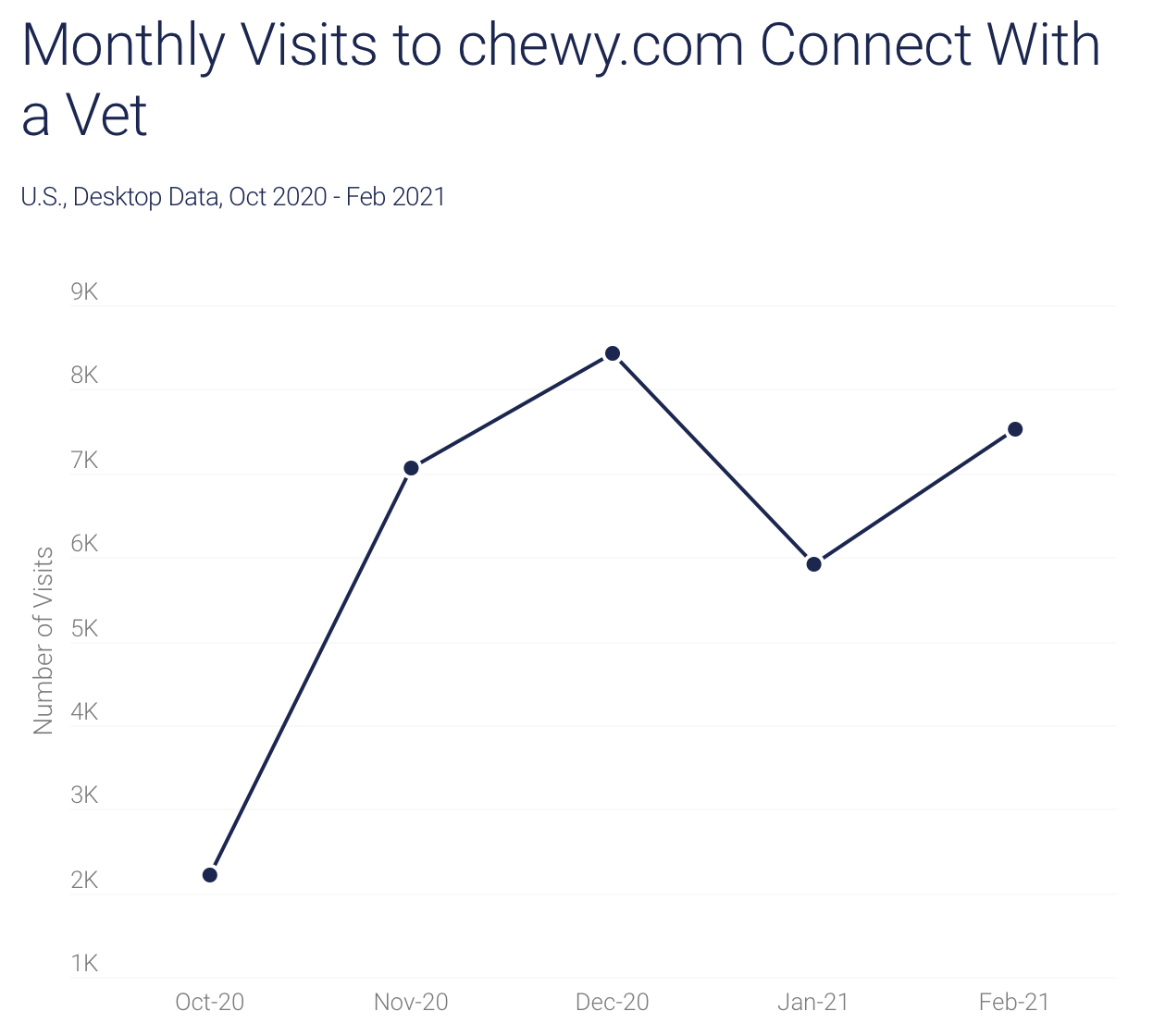 Autoship customer subscriptions
Finally let's focus on Autoship, Chewy's subscription program that automatically ships deliveries of food or other pet goods. Note that Autoship customers receive the Connect With a Vet service for free.
Chewy defines Autoship customers as customers for whom an order has shipped through our Autoship subscription program during the preceding 364-day period. Although it doesn't reveal subscription numbers, Chewy has previously stated that Autoship customers drive 70% of its net sales.
As a result, Autoship subscriptions are a key revenue growth driver for Chewy. Our segment level data on chewy.com/app/subs, which is where customers can manage their Autoship subscription, indicates an overall growth trend for this significant revenue stream.
However, our data on Chewy's F4Q21 does show a small deceleration QoQ in visits to chewy.com/app/subs (+38% YoY vs. +40% YoY in F3Q21). This signals a slowdown in Autoship subscriptions.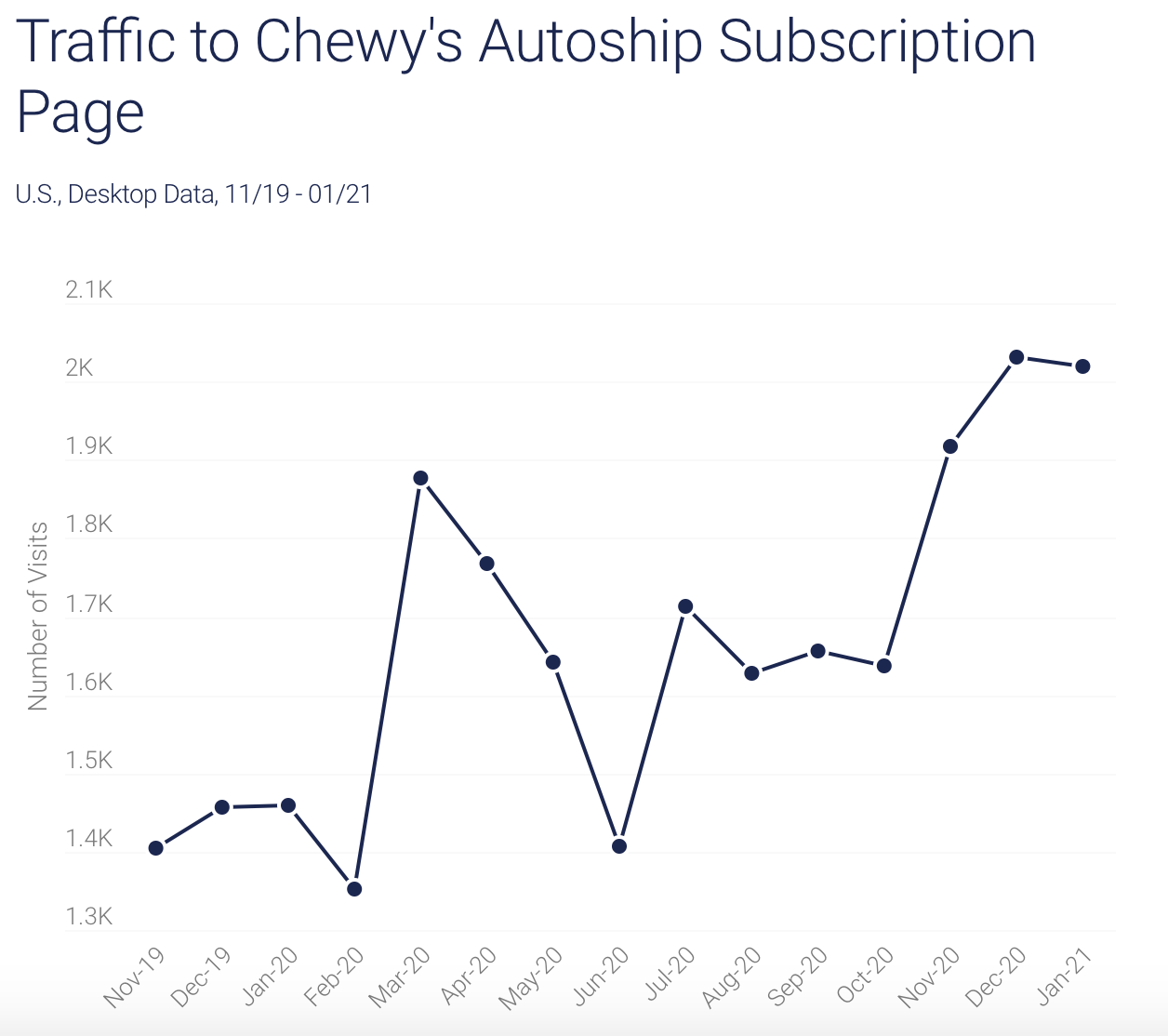 Chewy stock earnings: Main takeaway
Our data on desktop unique visitors, which is correlated to Chewy's active customer growth, shows a sequential acceleration QoQ in F4Q2. This suggests that expectations on Chewy's active customer growth may be conservative.
To learn more about the data behind this article and what Similarweb has to offer, visit https://www.similarweb.com/.