Zoom Earnings Insights: Steady As She Goes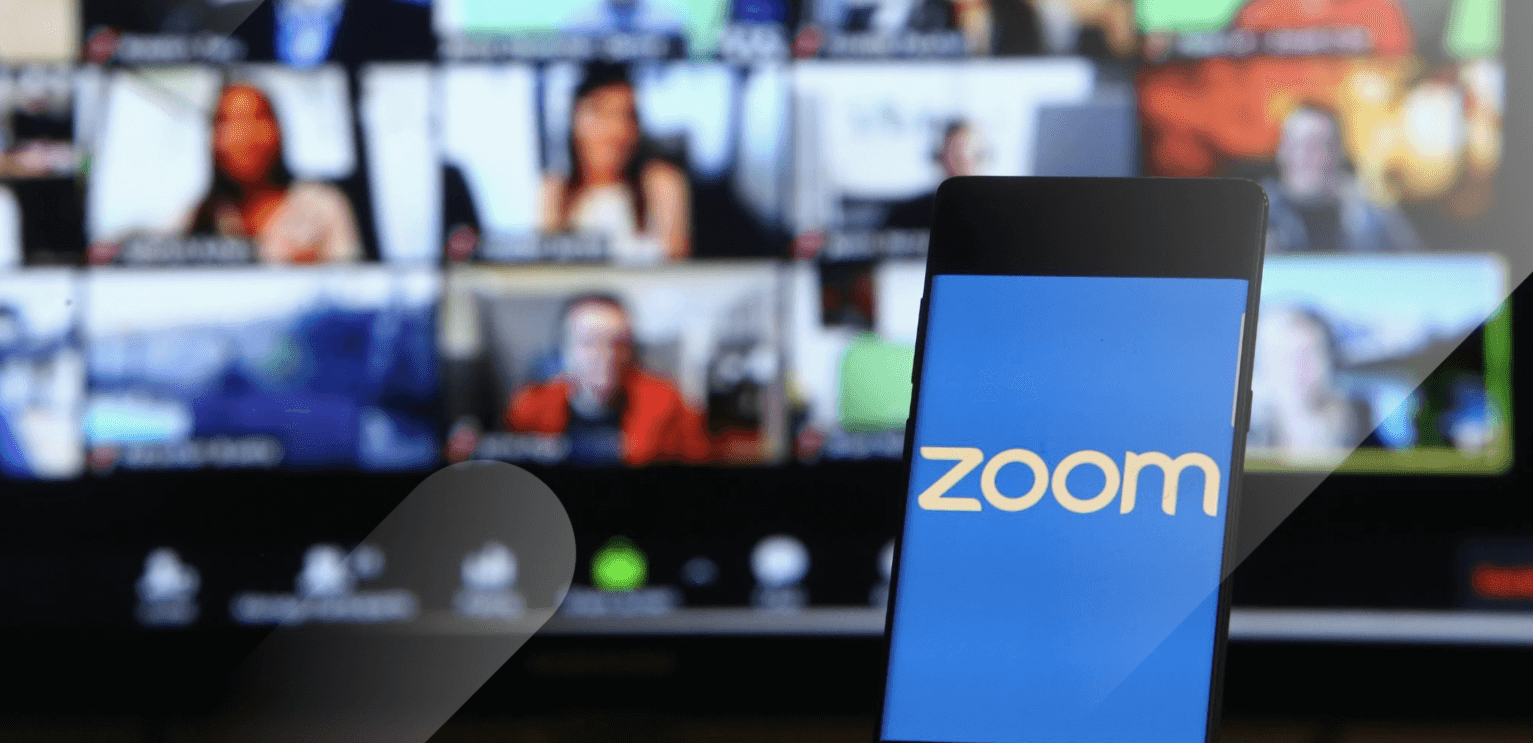 Zoom Video Communications (ZM) is on the cusp of its fiscal first quarter earnings report on June 1. As expected, Zoom's momentum is fading as lockdowns ease and on-site activity returns. Shares are significantly underperforming year-to-date, even when compared to the overall weaker performance across the tech space.
While many organizations are moving to adopt a more permanent flexible work environment, the risk-reward ratio for Zoom has now undeniably shifted. As JPMorgan CEO Jamie Dimon recently told The Wall Street Journal: "I'm about to cancel all my Zoom meetings… I'm done with that."
Such sentiment will likely dominate the short-term narrative on the stock. This could also redirect investor interest towards integrated on-premise upsells like Zoom phones and Zoom rooms. The Zoom phone service, for example, is for virtually making, receiving, and routing phone calls, as well as voicemail. Assessing our digital alternative data, here's what we found:
Zoom earnings: Key takeaways
The overarching theme for Zoom in F1Q22 is 'steady, but decelerating.' Meanwhile, Zoom's small accounts, which boosted the company's performance throughout FY2021, appear to be hanging on, perhaps surprisingly.
Overall, unlike prior quarters, our data is relatively in-line with guidance. For the fiscal first quarter, Zoom guided for adjusted earnings of 95 to 97 cents a share on sales of $900 million to $905 million.
Website traffic stays stable
Similarweb's estimates show that global monthly unique visitors (MUVs) to zoom.us remained relatively stable from the fourth quarter to the first quarter at 1.516 billion to 1.443 billion. This translates to a drop of just 5%. Here we use MUV numbers to indicate the popularity, performance, and growth of a website.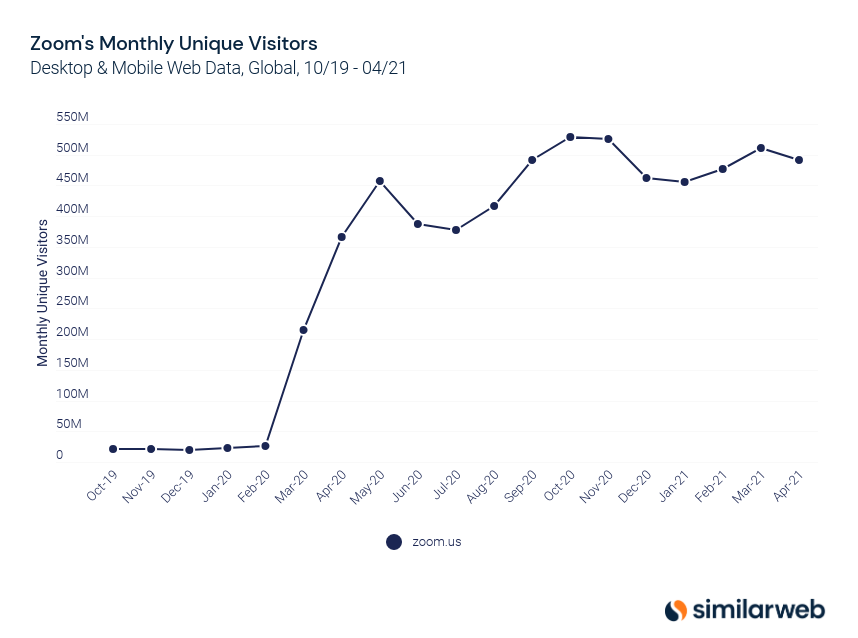 Total global visits, which include returning users, stayed completely flat from Q4 (7.767 billion) to Q1 (7.751 billion).
However MUV growth did decelerate from +2,219% year-over-year (YoY) in F4Q21 to just +143% YoY in F1Q22. This reflects the fact that in the year-ago quarter there was a huge surge in users as coronavirus spread and lockdowns began, making YoY comparisons increasingly tough.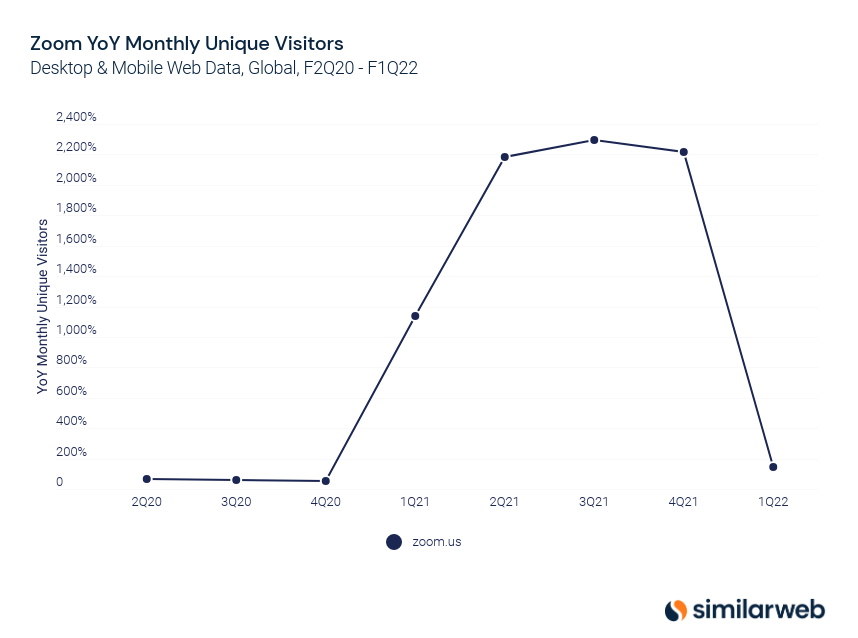 U.S. vs. international numbers
International is the next leg of Zoom's growth journey. In Q4, the company revealed that its combined APAC and EMEA revenue grew 687% YoY to 33% of revenue, up from 20% a year ago. Chief financial officer Kelly Steckelberg commented:
"In FY '22, we intend to make additional investments in international resources to further capitalize on the global opportunity."
Our data shows that the gap between international and U.S. user growth is beginning to widen. The graph below compares our U.S. data to worldwide data excluding U.S. The intra-quarter trend for global ex. U.S. is notably more bullish than the U.S. trend: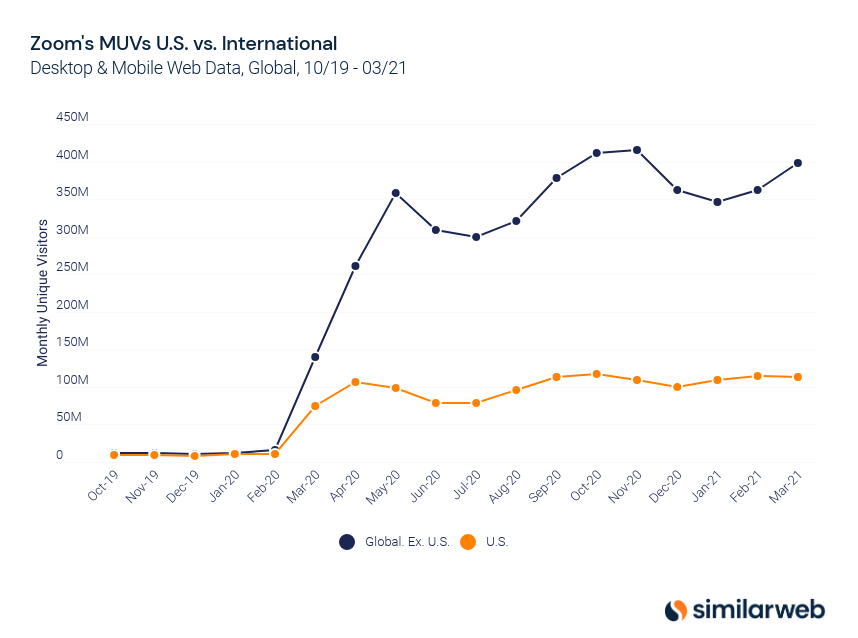 Small accounts hang on
For Zoom, small account revenue was a primary driver of outperformance all of last year. Small accounts are defined as those with 10 or fewer employees. For instance, in Q4, small accounts represented approximately 37% of revenue, up from 20% in 4Q19.
We can track ongoing engagement on paid small accounts by measuring overall traffic on universal domains excluding free host accounts.
Surprisingly, our data shows that small accounts continue to hang on, and this might be a source of upside in the quarter. On a two-year growth basis, unique users on universal domains were effectively flat compared to last quarter. This suggests that net new subscribed accounts is helping to offset any extra churn.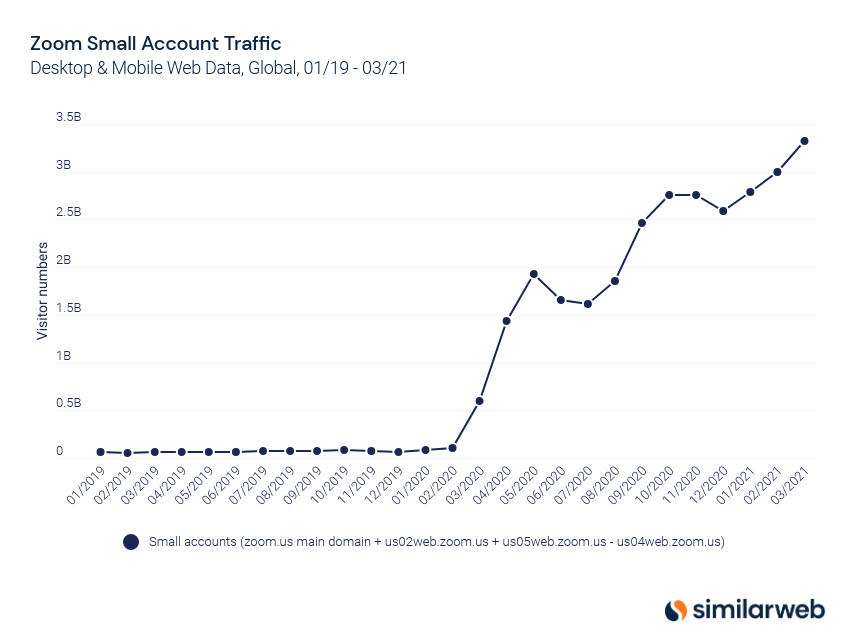 To learn more about the data behind this article and what Similarweb has to offer, visit https://www.similarweb.com/.