VeVe Collectibles watches app downloads soar as NFT enthusiasts hit mobile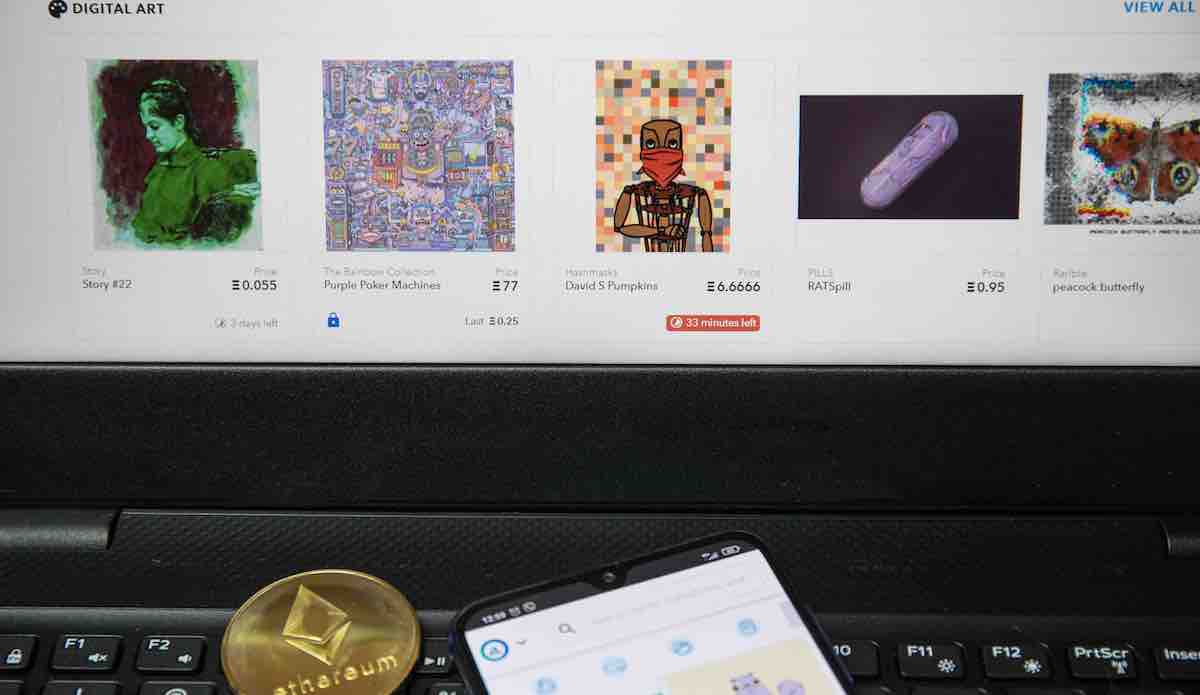 Everyone's talking about non-fungible tokens, or NFTs. Whether this craze is a flash in the pan or a major shift for the blockchain economy, one thing is certain: NFTs, and NFT enthusiasts, are going mobile.
Investment, trading, and crypto apps received a lot of attention over the past few months as crypto prices soared and investors like Roaring Kitty made trading more interesting. In fact, Robinhood, TD Ameritrade, Webull and more broke their lifetime records for engagement during the Game Stop saga.
With more people than ever engaged in digital trading, NFT marketplaces would be silly not to make a bigger push into mobile. Similarly, fintech apps that sell Ethereum, the main blockchain supporting NFTs, would be smart to leverage the NFT excitement to engage a new market of users. NFT-buyers, like the one below, appear to be overwhelmingly pleased with the in-app purchase experience.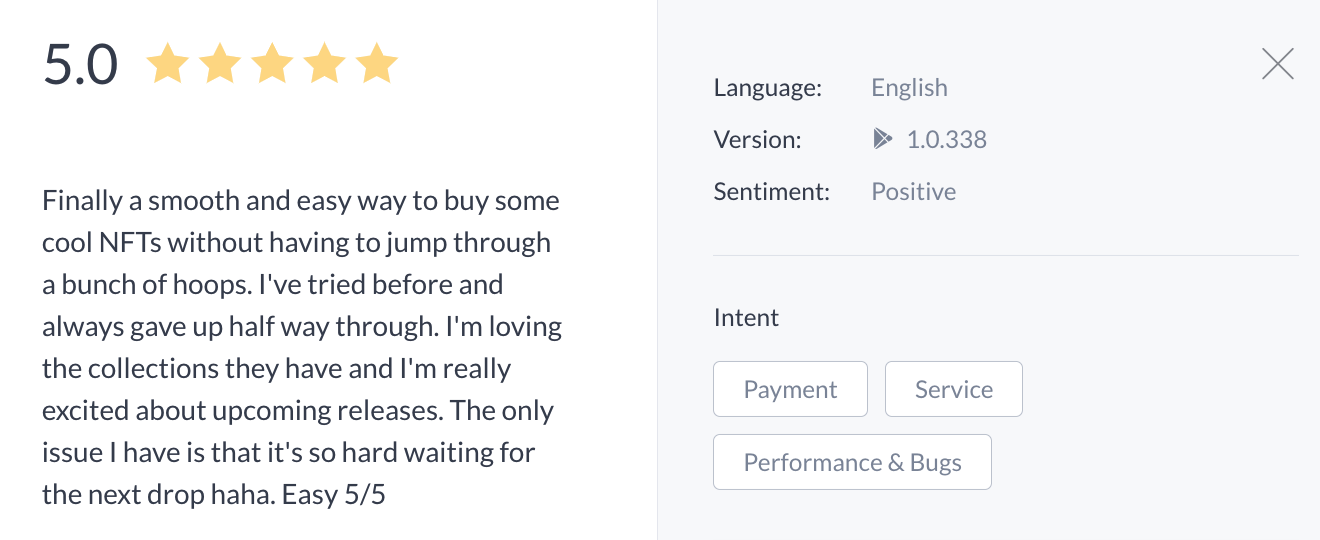 Small apps see big gains
VeVe Collectibles by Ecomi, which launched in October 2020, "brings the world of collectibles into the digital realm and right into the palm of your hand." The marketplace drops new collections all the time, so you can collect your favorite heroes, characters and icons in digital format.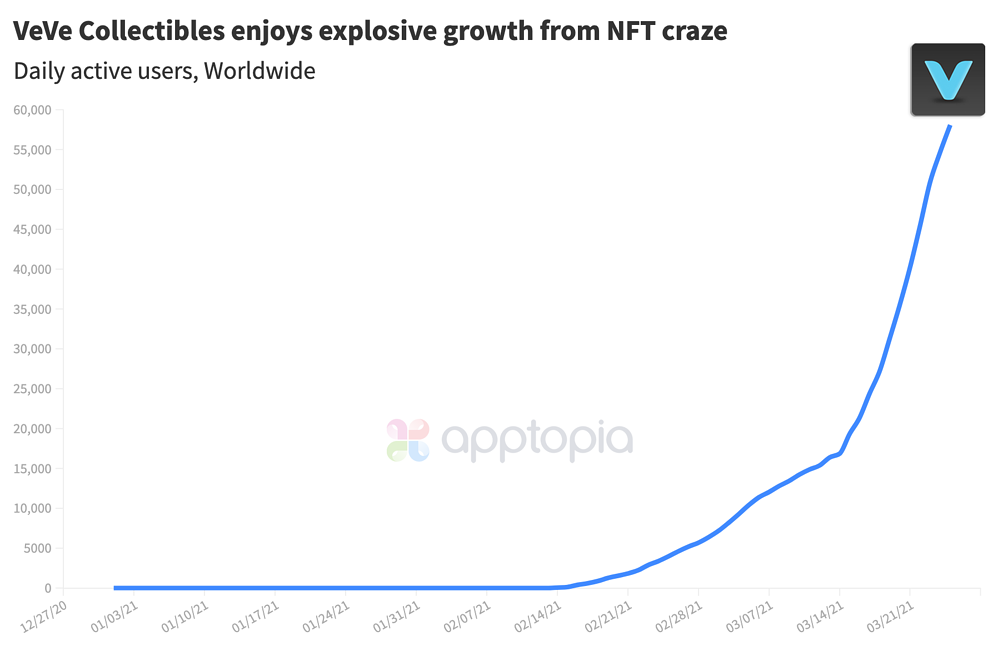 For the first few months of the app's lifetime, it saw little to no action. Then, from mid-February through yesterday, the app increased downloads over 5,000% and daily active users almost 50,000%. Having been downloaded 100K times in a little over a month, VeVe appears to be the largest NFT marketplace on mobile. Not to mention, VeVe has already generated $2.5 million in IAP revenue (*as of 3/27/21), most of which came in March.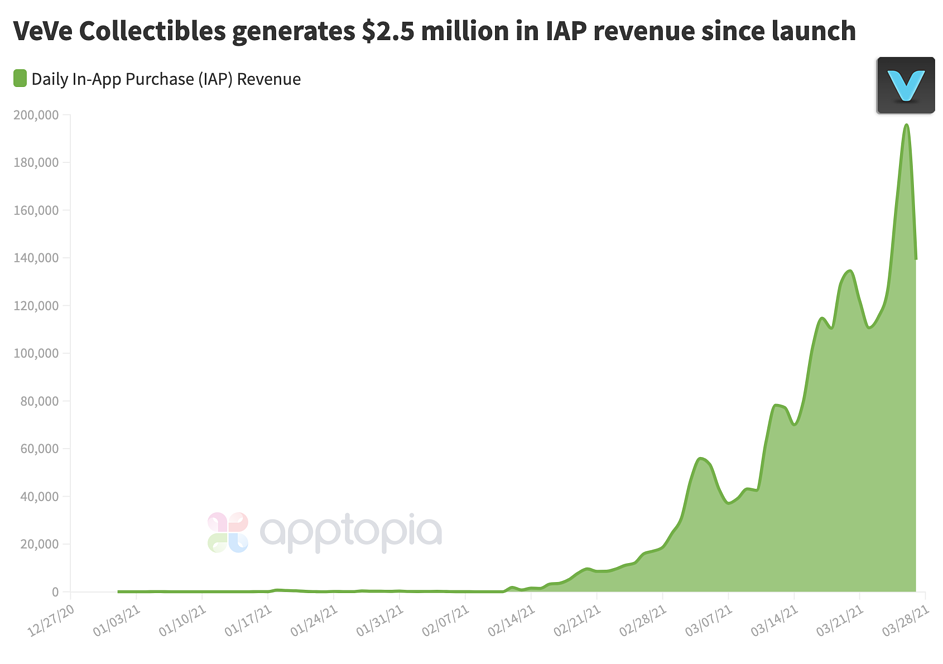 To be clear, VeVe and other NFT marketplace apps are still tiny in comparison to most apps you have on your phone. This is because most NFT marketplaces, like NBA Top Shot, are desktop-first right now. Also, while everyone is talking about NFTs, there's a relatively small segment of folks actually involved in the buying/selling of them.
But, as businesses recognize the value of mobile, and NFTs become increasingly mainstream, these apps are positioned for massive growth. OpenSea Gallery and Nifty Gateway, two other popular marketplaces, have seen their downloads and engagement more than double on mobile too.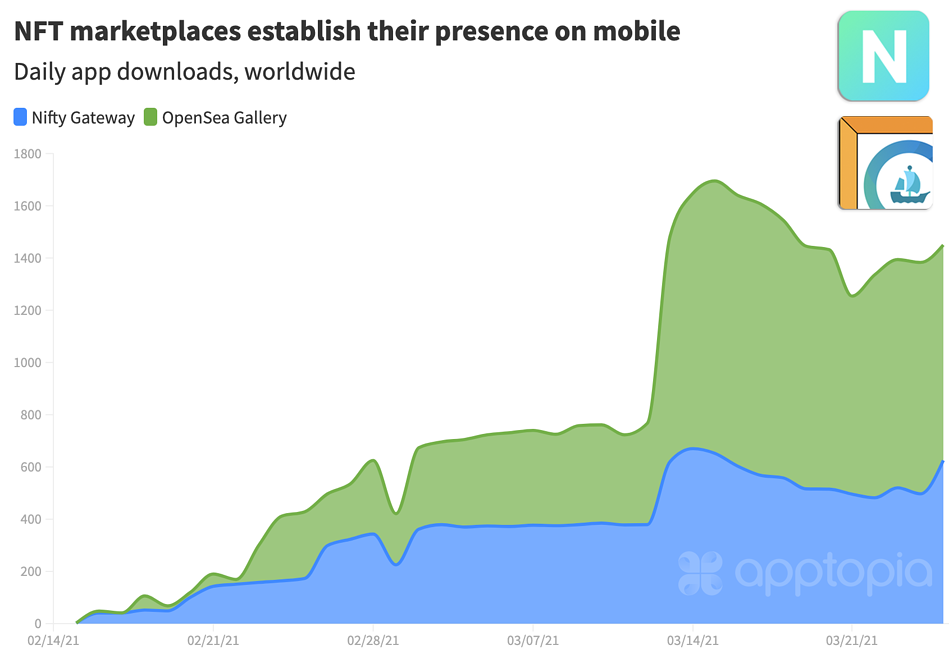 Ripple Effects
The growing popularity of NFTs impacts more than NFT marketplace apps. Ownerfy NFT Creator Wallet, for instance, helps you manage your digital assets and can work in conjunction with apps like OpenSea. Its app performance this month saw a significant boost.
Then, there's crypto buy/sell apps that offer ether and/or OMI Tokens. OMI Tokens are utility tokens used as the medium of exchange on VeVe. The only apps I know of currently offering OMI are BitForex and AscendEx (previously BitMax). Both of these apps have seen a spike in usage. In just a couple days, we'll be able to add Uniswap to this mix too.
Further, buy/sell apps usually require the need for wallets, unless they offer both services. Crypto app Gemini, which offers both, actually owns Nifty Gateway. When you head to the Gemini site, you'll see promotions for both businesses.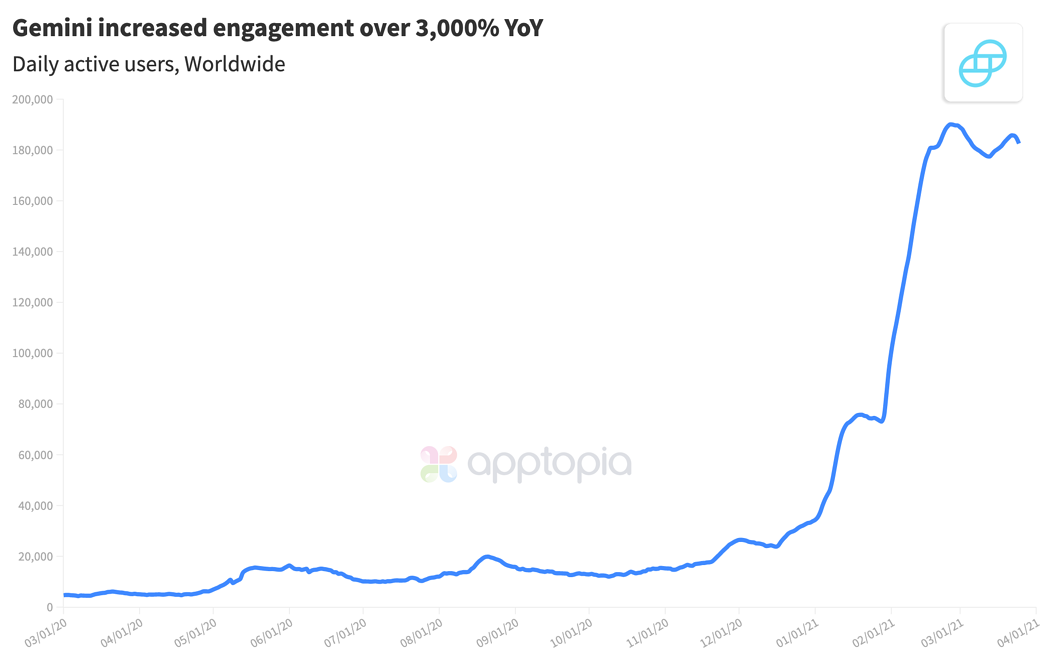 Speaking of marketing, "NFT" may become a more popular search term in the app store. Using Apptopia Search Intelligence, I checked out where things stand now. NFT currently has a popularity score of 54.74. The apps ranking highest for the keyword (organically) are below. Crypto.com, notably, is the only one we know actually advertising for the search term.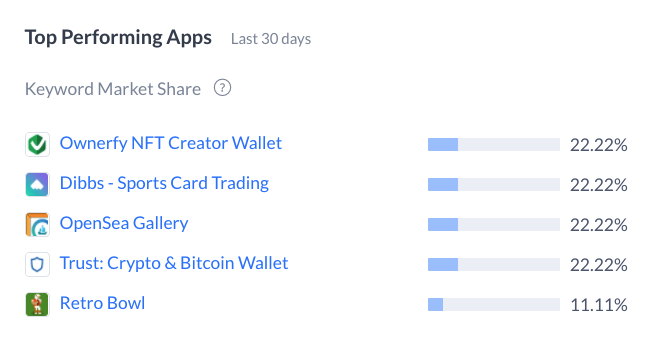 What do you all think? Are digital collectibles the future?
To learn more about the data behind this article and what Apptopia has to offer, please reach out to Connor Emmel at cemmel@apptopia.com.